A styled shoot is a genius way for us photographers to get creative, and show the world what we're made of — but if you're new to wedding photography or have never organized one before, they can be pretty tricky to get your head around.
You've got to plan them, budget them, bring together the right team to make them happen… and that's even without factoring in the extra complications of social distancing, and new health and safety risks 🤯
But none of that means you shouldn't go ahead and start shooting!
In fact, as we recover from a quiet wedding season, now's the perfect time to experiment and hone your skills in preparation for when things pick up again.
So, with that in mind, in today's article, we want to share with you everything you need to know about styled shoots and how you can pull them off yourself without any mishaps along the way.
Sound good?
Then let's get started! 💪
First, what is a styled shoot, and why are they so important?
In a nutshell, a styled shoot is a staged photo session that aims to replicate and capture your dream wedding brief in action, as though you were working with real clients.
To help you do that, you'll usually work with other wedding vendors who are also looking for opportunities to show off their work, and add to their portfolios.
Styled shoots can be invaluable for your business, as they'll give you the chance to:
Show off your unique style 🙋‍♀️
Build your portfolio 🖼
Get some practice in 📸
Position yourself in a niche 🧭
Establish your brand ⭐️
Make new business contacts 💼
Get your work published and seen! 🖥
So, let's go ahead and break down how to pull off a styled shoot, step-by-step.
First things first, you've got to get laser-focused and define the direction of your shoot, in terms of its overall theme.
This means really pinning down the tone of your shoot, and making sure that it matches your brand and the kinds of clients you'd like to attract.
If, for example, you want to target elopers, a generally relaxed, bohemian vibe will do the trick. But if you're looking to shoot traditional weddings, something a little grander and more conventional might be a better fit.
Popular theme ideas include:
Romantic (soft hues, delicate lighting, and floral patterns) 🥰
Alternative (moody colors, upcycling, and shabby chic fixtures) 🕯
Vintage (classic cars, antique detector, and wooden furniture) 🕰
Whimsical (fairy lights, pops of color, and tea parties) 🧚‍♀️
Modern (clean lines, geometric shapes, and minimalism) ⚪️
Bohemian (tipis, patterned rugs, and dream catchers) ⛺️
Beachy (sandy shores, umbrellas and beach gazebos) 🏖
Traditional (top hats, black ties and formal flower arrangements) 🎩
To really drill down into the visual world of your theme, it's worth putting together a moodboard of colors, images and textures that together will provide a creative guide for the kind of aesthetic you want to achieve.
Once you have a vision in place, it's time to go out and invite local vendors to join your project. These are the people who will help to bring your ideas to life, whilst promoting their own services in the process.
You'll want to invite a local:
Wedding planner 📝
Florist 💐
Bridal boutique owner 👰
Gent's outfitters 🤵
Hair and makeup artist 💄
Wedding car owner 🏎
Wedding cake maker 🎂
Videographer 📹
And anyone else you think might benefit from getting involved and having a brand new shoot to show off their work.
When reaching out to vendors, it's important to:
Only contact relevant businesses 🏬
There's no use in contacting businesses that either 1) don't work in the wedding industry, or 2) don't match the tone you're trying to achieve. Make sure to check the portfolios of anyone you invite, then, and only contact vendors that seem like a good fit.
Be clear from the start 💎
This means sending all businesses your original mood board and being clear about your vision for the shoot. This way, they'll be able to decide if your approach is right for them, without having to question who you are and what you want to do.
Have a rough plan in place 📝
For businesses to respond to your invite, they'll need to know when your shoot is going to happen, where it'll be shot (roughly), and how long the shoot is going to take. An approximate date for completion would be appreciated, too.
Keep COVID-19 firmly on the agenda 🦠
Addressing covid right off the bat will show vendors that you're serious about making this work and are committed to ensuring that your shoot is safe, socially distanced and fit for the times. In your introductory email, make clear that everyone will be required to wear a mask and that hand sanitizer will be provided throughout.
Sign an agreement ✍️
Once you've confirmed who's taking part, send out an agreement that outlines that all participators will 'own' the shoot upon completion, and are free to use it in their marketing materials. This will avoid any disagreements later down the line and provide a really solid incentive for getting involved.
After building your team, you should turn your attention to where you want to set your shoot. As the photographer — you'll want to take the reins here but coming to a combined decision is really important.
So, talk to your team, pass round some ideas, and come to a decision that allows for each vendor to truly shine.
Some of your options include:
National Parks 🏞
Stately homes 🏯
Castle grounds 🏰
Beaches 🏖
Hotels 🏩
Once you've made your pick, reach out to a local venue that fits the bill, and invite them in on the action.
If they can give you a few free hours of shooting time in exchange for some beautiful shots… run with it, and do all you can to work within their schedule.
To make the right decision, you'll want to ask:
Is it relevant to my niche? 📸
Does it target my ideal client? 🎯
Does it fit into the rest of my portfolio? 💼
It's also important to keep in mind the restrictions of COVID-19.
You can shoot indoors, for example, but only if there's ample space, and room for a group of people to social distance.
When it comes to choosing your models, you really want to go for a couple that reflect who you want to work with in the real world.
And although, usually, you wouldn't need to book an actual couple for a styled shoot — this time round, keeping it real is a great idea, as covid-free couples (who live together) will be able to get up close and personal without any risk.
You'll still need to make sure they're wearing face masks when around others, however, and for in-between shots, too.
To book your models, you could either lean on a couple you know, reach out to your local college, or put a post-up on social media and see who calls.
Very few will pass on the opportunity of a free photo shoot — so, get the word out there, and you'll find your talent in no time.
Now this is where your local wedding planner will come in seriously handy.
They'll help you:
Secure the required licenses to shoot (if you're working in a restricted area) 📸
Produce a thorough time plan for the day ⏰
Carry out any health and safety checks 🚨
Assess the venue for any covid risks (such as small spaces) 🦠
Arrange transport for your team 🚖
Keep everyone up to date with progress 📣
Tick off important tasks (like selecting the wedding dress) 📝
Make sure face masks and hand sanitizer are available on shoot day 🧼
Of course, you'll need to play a really pivotal role in all this, too. It's on you, after all, to give your coordinator the direction they need to do their job the best they can.
6) Prepare for the shoot itself
As well as handling the more administrative logistics, you'll also have to prepare for the shoot itself. This means:
Writing up a pre-planned shot list, to speed things up on the day 📸
Knowing what props you want to use, and when 💐
Talking to your models about the kinds of poses you want to capture 👰
Organizing (and testing) your equipment before shoot-day 💾
Putting a Plan B in place in case anything unexpected happens (like illnesses, absences or unpredictable weather) 🙏
Ultimately, you want to make sure that you've dotted every I and crossed every T before it's too late.
7) Handle shoot-day like a pro
A styled shoot requires a super streamlined approach — especially if you're on borrowed time.
That's why it's so important to:
Arrive early, and set up as quickly as you can ⏰
Start the day with a team meeting to get everything on track 📣
Minimize the amount of people on set for social distancing 👭
Frequently sanitize your hands for safety 🧼
Stick to your plan to avoid wasting any time ⌚️
Stay calm and remain focused (you've got this!) 🙏
Tick off a checklist as you go 📝
Stay fed and hydrated (so easily overlooked!) 😅
You know the drill!
Congratulations, your styled shoot is complete… 🎉
Well, almost!
Before wrapping the project, you'll need to bring everything together in the final edit.
You should check out our full guide on post-production for a thorough rundown on how to get this right, but ultimately, you'll need to:
Back up your RAWs (SO important!) 💾
Pick your best images 🥇🥈🥉
Make them shine with the perfect presets (we've got you!) ✨
Export your images in full resolution 👌
Optimize your file sizes 📸
It's also important to check in with your partnered vendors at this stage, to confirm that they're happy with the end result.
Once you've curated and arranged your shoot to tell the perfect story, it's time to submit to blogs and share it with the world! After all, you worked SO hard on putting your shoot together, your effort deserves to be seen by everyone!
You may choose to submit your work to a magazine or online publication, (which you totally should)! A couple of things to remember when submitting to online blogs:
Make sure your submission shows an accurate depiction of the entire day, not just the fancy portrait shots! Online wedding/elopement blogs LOVE showcasing full day events to couples that visit their sites.
Try to showcase vertical images! Blogs love vertical images as they take up more screen space and can easily be clicked on to lead to another source.
Check the blog's submission requirements! Lots of blogs will have super specific details that they're looking for, so be sure to read through their submission pages to make sure you're following their guidelines!
So, what are you waiting for?
Follow today's advice, make a plan, and start shooting! The results could be seriously special, and your portfolio will be all the better for it.
Good luck, and don't forget to head over to our blog for more top tips on how to ace it as a wedding photographer 🙏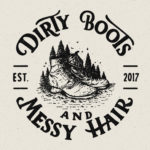 Written by:
Dirty Boots & Messy Hair Team
Connection is what it's all about. Feel free to reach out to us with any comments or questions you might have, even if it's only to say hello. If it wasn't for our beautiful community, this place just wouldn't feel the same.
Photographer Tips
12 Apr 2021