Every wedding photographer remembers their "first". With the proper planning it can be a magical experience, one that's both challenging but rewarding in equal measure. Fail to prepare though, and you could face a first time you'd rather forget. Shooting a wedding is such a big responsibility.
The couple you're working with will be looking to you to document the most important day of their lives, so you gotta get it right. Being a beginner is no excuse, the couple deserve pictures they will treasure for a lifetime. So, before we scare you off, we thought we would compile our top tips for shooting your first wedding. Now take a deep breath, read on, and remember – you got this.
You'd be surprised just how many people throw themselves in at the deep end without having first experienced shooting a wedding as an assistant. It's a recipe for disaster. Before you take on sole responsibility for a shoot, you need to familiarize yourself with the demands that the job entails.
Things go wrong, couples get stressed, guests are unpredictable. You should aim to help out on several weddings before you take on your own for that you know what to expect. Watch how an experienced photographer will adapt to the unexpected. Foggy weather for a mountaintop shoot? Bride that's running an hour late? No problem, with the right techniques you can work around it. But if you show up to your first wedding without having experienced what is – quite frankly – a crazy day, you're going to trip up.
Ask other photographers that you admire if you can help them out on weddings. Work with them as a second shooter, even if you have to do it for little money the first few times. You'll learn absolutely invaluable skills that will set you up for an amazing "first" of your own. Above all, be honest with your couple about your level of experience.
This sort of goes without saying, but it's worth reiterating: make sure you have exactly what you need for your first shoot. You don't want to be faced with a beautiful shot but then realize you don't have the lens you need to capture it perfectly.
Do as many shoots as possible in different settings and lightings before the big day. Get to know your equipment intimately, as well as how to change between your gear as quickly as possible. When you step out on the wedding day, you should have absolute confidence in how to use your camera, and how to edit the images during your post-processing.
If you enter your first wedding shoot with doubts or insecurity it will show, which will ultimately affect the quality of your final work. Your couple should have total confidence that you are in control of the situation, any doubt that this is the case and it'll throw them (and you) off.
There will undoubtedly be some once in a lifetime moments or situations on your first shoot. You need to be able to capture them without them being blurry or overexposed.
To do this you need to get to know your camera settings inside out. Imagine you're an expert playing a piano – your fingers should instinctively know how to change things to get that perfect shot.
Practice shooting in unpredictable environments. Grab your camera and some friends and do test shoots in the mountains or in an environment you've never photographed in before. Trust us, you'll be so grateful you put in that prep work on the day – you'll be able to handle anything!
Above all shoot in RAW! This will give you control during your post-processing to revive any images that are less than perfect.
Wedding photographers have this strange hybrid role between friend and vendor. To a great extent, on the day you'll be closer to the couple than even their friends and family. You'll be there at their most private an intimate moments, a discrete onlooker to a magical day.
To do this relationship (and shoot) justice, you'll need to connect with your couple so that you are able to be totally relaxed around one another. It doesn't take much for a couple to act stiff and unnatural in a shoot. So put in time beforehand so that they are able to forget you are there on the day, and just act naturally.
Meet with your couple a few times before the day. Get to know them a little outside of their wedding; what they like, what they do for fun. Try and incorporate that knowledge into the day somehow to put them more at ease – it'll do wonders to the quality of your shoot!
No matter how prepared you are for your first wedding, you're going to need someone on hand to help you get through the day stress free.
Enlist the help of a second shooter on the day, perhaps someone more experienced who can mentor you through things. This will really help to ensure that you don't miss an important moment, and that you have a sounding board to work through any tricky, unexpected issues.
Above all, make sure your second shooter is someone you trust 100%. There should be no egos on shoot. It's all about the wedding couple, and so you should have somebody by your side who you know only has the best interests of the day at heart.
We can't say this strongly enough…whatever you do: make sure you have enough batteries and memory cards on the day!
There is nothing worse than having a wedding shoot ruined because you didn't prepare the equipment you need to last the whole day. Take more than you need for your first shoot. After a few times you'll know precisely what you need and can cut back, but in the first instance just be over prepared.
This also goes for the post-processing: back up all the images twice!
You would be surprised how easily photographers get caught off guard with a rogue memory card or a dodgy disk drive. Don't leave anything to chance – if disaster strikes, put the necessary measures in place so that you can weather it stress free.
We hope this list helps you transform your first wedding shoot into a day to remember! We wish you the best of luck – don't forget to tag #DBMH in your end results so that we can see and share your work in Insta!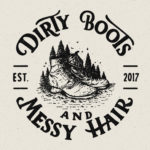 Written by:
Dirty Boots & Messy Hair Team
Connection is what it's all about. Feel free to reach out to us with any comments or questions you might have, even if it's only to say hello. If it wasn't for our beautiful community, this place just wouldn't feel the same.
Photographer Tips
07 Jun 2018