As a bride and groom, there's nothing more thrilling than the prospect of saying "I do" under the Tuscan sun, or at the edge of an Alaskan glacier followed by dancing into the night under a starry sky.
As a guest, it's super exciting to jet off to a wedding in a foreign land to celebrate the love of two people, but that's not the whole story. It can be daunting to consider all the costs involved in attending a wedding abroad. After all, it's not just a wedding gift and a night in a nearby hotel. There are also flights, taxis, multiple nights of accommodation and eating out to think about along with any additional expenses like converters, boots, currency, etc. It's easy to see how costs can quickly escalate. If you want to ensure that as many people as possible can make it to your wedding, here are a few tips to help keep costs down for your friends and family when you're having a destination wedding.
Consider an Off-Season Wedding
This is probably not what you want to read but hear us out. Booking out of peak season doesn't mean you have to get married in Mexico in May (the rainy season). Venues charge different rates dependent on exact date cut offs so it's worth asking what these are. They're usually broken down into peak, mid, and low season. For example, in Europe it might be 50% cheaper to get married the last weekend of May versus the first weekend of June, and honestly there won't be too much difference in the weather between those dates. Flights and transfer costs also follow a similar pattern so if you're clever, you can get a fantastic deal not just for yourselves but also your guests.
Keep Your Bachelor/Bachelorette Party Close to Home
If your guests are forking out money to attend your wedding in another country, it wouldn't be fair to ask them to join you on an extravagant bachelor/bachelorette party as well. Keep it low key and local: a night out at your favorite restaurant or a fun brunch at a friend's place will still be a fantastic way to mark the end of your single life but won't push it when it comes to your guests' understanding and wallets. They'll appreciate the sentiment and be sure to rally in order to make it a day to remember. Trust us, everyone will turn up with their party faces on!
Not literally… If you know you will have thirty plus people arriving on the same day at the same airport – possibly even on the same flight – pair groups up so that they can share taxis or car hire to their accommodation. It's likely they'll all be staying near your venue and it can be extremely cost effective to split a taxi fare between four. Even if those guests have never met before, it can be a great way for them to get to know each other and for different groups to mingle. An amazing side effect of this tactic is that come the day of your wedding, no one will turn up not knowing anyone. It's bound to encourage those celebratory vibes and a friendly atmosphere!
Negotiate Group Discounts
When booking meals at restaurants, ask if they would consider a group discount, especially if it's quiet day of the week. If a restaurant can guarantee a certain number of covers, they may be inclined to offer a good deal or set menu. Your best bet is to try this with a local, independent restaurant that already has a relationship with your venue. Be friendly and flexible and ask politely before you make the reservation – it likely won't go down very well if you ask when the bill turns up.
This also applies to accommodation. If you're block booking several nights in a row, hotels are usually happy to offer a discounted rate. Shop around and speak to as many types of accommodation as possible – exploring options at hotels, self-catering apartments and houses, and Airbnb's. Often exclusively hiring out a multi-bedroom house can be more economical than booking individual hotel rooms. Many Airbnb's even offer discounts if you book the space for a whole week.
Ok, so receiving gifts is always wonderful, but when you're getting married abroad you have to accept that your gift list might not be high on your guests' list of priorities. At the end of the day, you would rather be surrounded by your loved ones on the best day of your life than be given a new set of silverware – no matter how beautiful it is. We say ditch the gift list and make a point of letting your guests know in advance that you would much rather they spend their money actually attending your wedding. Perhaps even turn it around and offer a small gift from the country you're getting married in as a thank you for each guest to remind them that you know they potentially sacrificed vacation days, savings, and time to be there with you. Let's make some memories!
No matter how much you do to keep costs down for your guests, the fact is attending a wedding abroad is expensive. Guests really appreciate when they know exactly how much it's going to cost them upfront, so they can make an informed decision about whether they can afford to attend. This also helps you out when securing attendance numbers and helps to avoid the dreaded last-minute dropouts. Remember to include on the invitation: cost of accommodation, any mandatory meals/events to attend, a rough idea of flight and taxi or car hire cost, and your gift list requests.
Weddings abroad can be an incredible experience for both the bride and groom, and their guests. It's a chance to see a part of the world they may never have seen before and attend an epic party there. What's not to love? There are so many positives that it can be easy to forget the drawbacks, but if you keep your guests in mind, we're sure you'll plan a party to remember… that will actually be attended! Your friends and families want to celebrate you and will enjoy it all the more if they feel appreciated and considered.
Dreaming about your honeymoon? Don't book anything until you've read this post!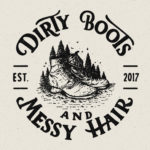 Written by:
Dirty Boots & Messy Hair Team
Connection is what it's all about. Feel free to reach out to us with any comments or questions you might have, even if it's only to say hello. If it wasn't for our beautiful community, this place just wouldn't feel the same.
Wedding Planning
29 Mar 2019