It goes without saying that one of the most important contributions to a successful wedding photography career is taking amazing photos. Duh!
Well, that can only be done when the people in front of the camera are at ease, have fun and feel comfortable with being directed just like you should feel comfortable directing them.
With photography, there are many aspects you can be in control of – location, lighting, time of day, styling, atmosphere – but the people in front of your lens can be a little bit of a wild card. Are they insecure or confident? What mood will they show up in? Are your personalities a good fit?
All of these questions can be quite nerve-wrecking – especially if you're not a super routine photographer yet. And that's why it's smart to have a few techniques in your arsenal to pull out and use on any nervous subjects.
The best way to tackle this is to turn up on the day and take full responsibility for the results you create together. Have confidence in your suggestions, laugh it off if things momentarily turn awkward and approach things from a perspective of curiosity rather than the need to be perfect.
In this post, we've pulled together our tried and tested posing tips to get the best from your models, no matter the situation.
Posing Tip #1: Avoid Anything Cheesy
You see 'em on social media all the time. Hand on the waist, resting weight on one hip, turned slightly to the side, head tilted. Or awkwardly leaning against a tree. Or a couple that hugs, but whose movement is frozen and there's no real emotion to be seen anywhere.
It's understandable that an insecure photographer might fall back on classic poses he or she has seen elsewhere.
But if we can give you just one piece of advice to walk away with: avoid. At best these poses look stiff and amateurish, at worst they're unflattering and quite one-dimensional.
Instead, opt for natural. Opt for real moments, even in this 'artificial' setting. Encourage your models to move around, to come up with their own ideas, to play.
And rather than asking them to hold a pose, give them a cue or two and let them move throughout the pose. It's fine if they need to repeat the same walking pattern or a hug a couple of times. The results will still look more dynamic and real – and you might even get them to laugh in a way that is natural and looks adorable in photos.
Posing Tip #2: Take A Breath and Have Some Fun
Most people are not used to posing in front of a camera for any length of time, so it's no wonder a lot of people freeze. Now, that's very understandable. But if their insecurity makes you uncomfortable then that insecurity might reflect back on them and we got ourselves a whole catch 22 of awkwardness.
That's why it's crucial to ensure that whenever you show up to a shoot you are in a fantastic mood, you feel confident, excited to be there and ready to infect your couple with your enthusiasm. Release the pressure and start the photography session with some fun shots. Don't take it too seriously so it encourages everyone to loosen up and start to feel more comfortable.
Part of that is reading the room. Is your couple more outgoing and more comfortable moving around? Start with that. Or are they quiet and reserved? Then it might be more beneficial to ease into the session with a few standing poses.
Get your models to take some deep breaths and shake out any anxiety. When they start to open up, their shoulders will lower, and their bodies and faces will relax. Then you're ready for a great session ahead.
Posing Tip #3: Look for Inspiration in Unusual Places
There's no shame in coming to the table with some ideas from Pinterest board, movies you watched, magazines or blogs. It's fine to get inspired. Just be ready to potentially throw it all out the window once you show up to the shoot and have a mindset flexible enough to capture what is actually there, in front of you.
Great online resources include everybody's darlings Pinterest and Instagram, but make sure you look beyond the obvious sources. The best ideas can often be found in completely unexpected places. A piece of music. You best friend's outfit. Or the way the light shines through the window.
You don't want to copy someone's work exactly but there's certainly no harm in blending approaches and trying new stuff to get your creative juices flowing. Just make sure your couple knows roughly what to expect from your approach before the couple shoot.
Current trends we're loving include involving sparklers, colored smoke bombs, and drone shots.
Posing Tip #4: Let 'em Work Those Angles
Most people don't know how to pose in front of the camera. Those insta selfies and awkward family photos that most people associate with "taking photos" are a completely different ballgame. That's why it's important to know how to work your couple's angles and think about how to communicate your ideas (and more flattering poses) to your couple without confusing them or making them feel insecure.
It can also be helpful to have a few tricks up your sleeve. Maybe one of the partners is insecure about a certain body part and wants to make sure the photos look flattering. Maybe one of them has chosen an awkward piece of clothing that doesn't look quite right now from certain angles. Maybe there's a big difference in height that makes things tricky. No reason to get nervous if your go-to poses don't work here, if you've done a little bit of research beforehand about what posing tricks work for which occasion.
Posing Tip #5: The Devil Is in The Detail
You always want to capture a variety of images, from portraits and close-ups all the way to full-length shots.
And while your couple might be beautifully styled, and the location is breathtaking, potential unease or awkwardness is often expressed in the details of your couple's body language.
Say, your couple is looking at each other, but the feet are turned away from each other. They gaze towards the horizon, but their mouths are tensed. The setting is relaxed, but someone's fist is clenched.
These are things the viewer only grasps on second sight or only subconsciously, but they can greatly influence how the image is perceived.
That's why a little warm-up in the beginning is so crucial. And, we'll say it again, give your couple patterns to move in or cues, more like a film director on a set rather than someone arranging figures in a wax museum.
If you need a couple of minutes to think, send them on a little stroll. Get them chatting. Get them laughing. Give them space, so they feel comfortable moving closer once they're used to being in front of the camera.
We hope to have given you some useful tips in getting the best out of your models. It can be daunting trying to get an anxious couple to open up and relax. A handful of subtle techniques are all you need to crack even the toughest nut.
The message is: get them moving, get them having fun, and get that shot! We're positive you'll be able to capture that perfect moment and please not only your clients but also your own high standards.
Wondering how to improve the relationship between yourself and your clients? Check this out.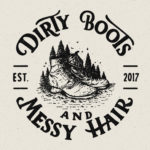 Written by:
Dirty Boots & Messy Hair Team
Connection is what it's all about. Feel free to reach out to us with any comments or questions you might have, even if it's only to say hello. If it wasn't for our beautiful community, this place just wouldn't feel the same.
Photographer Tips
05 Oct 2019