Ever wondered what to expect from a Vancouver Island Mountain Top Elopement? Well, now you can take a peek behind the scenes of this day for inspiration, as shot by Canada-based wedding photographer Ang McCabe of Myrtle and Moss Photography.
Couple Jenna and Justin met through their love of hiking. So there was no better way for Ang to capture their love than with an hour long hike up to the peak of Lone Tree Hill on Vancouver Island.
The results of this nature-infused, mountain top inspiration shoot are simply spectacular. We love all of the small details that point back to Mother Nature: from Jenna's beautiful bouquet of wild flowers, through to the gorgeous little moss-filled ring holders.
Ang shot the couple as the sun was setting, enveloping the couple in a golden, ethereal glow throughout the images. There is a certain romantic whimsicality to the session – it feels dreamy, warm, even somewhat heavenly.
The age old adage is that you head to a mountain top to scream your feelings out loud. But contrary to that, this session has an understated calmness to it. Nothing – and no-one – other than the couple on that mountain top matters. For us it epitomises the magic of an elopement. Deciding to take your vows in private means dedicating yourself fully to one another, without distraction, freeing yourselves up to be present and connected. This shoot wraps all of that up into beautifully composed images that tell a gorgeous story of two people totally in love.
"Since this was a teaching session, I had to get the couple to do things a few times over to make sure the other photographers could get the shots they needed. So, after the 3rd time pretending to do a first look and Justin acting surprised, it got pretty hilarious! Whenever I am teaching, I always use real couples because although it may not be a real wedding or elopement taking place, one thing that in undeniably real is the love between them."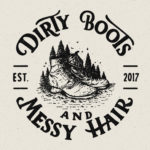 Written by:
Dirty Boots & Messy Hair Team
Connection is what it's all about. Feel free to reach out to us with any comments or questions you might have, even if it's only to say hello. If it wasn't for our beautiful community, this place just wouldn't feel the same.
Weddings & Elopements
17 Mar 2018