France is a country of such contrast. From the gorgeous farmlands in the north, to the mediterranean vineyards in the west, soaring mountains in the east and luxurious coastline in the south there is something to suit every taste.
If you dream of a French elopement but don't know where to pick for your day, then you've come to the right place. We've picked our top 5 romantic locations to elope in France to help you make your choice. 
Ahhh gay Paris. What French elopement destination list would be complete without the most romantic city on earth? Paris is the perfect playground for any couple looking to take their vows in style. Either you can choose to elope by an iconic Parisian landmark, such as the Eiffel Tower, Notre Dame Cathedral or the Louvre. Or you could opt for a more intimate setting in one of the city's many green spaces. 
If you are thinking of eloping at one of Paris' landmarks, it's worth bearing in mind that it will get very busy with tourists throughout the day. So, to beat the crowds, we suggest opting for a sunrise or sunset wedding.
If, on the other hand, you want to guarantee something a little more private, then perhaps one of Paris' parks would be a better option. Whilst you won't be completely alone, you will definitely have much more privacy than at a landmark spot. You can find parks and green spaces dotted all over the city. From the laid-back Parc des Buttes-Chaumont, to the more formal Tuileries, there's something to suit every couple. 
The great thing about a Parisian elopement is the endless opportunities for your post-ceremony elopement photoshoot. With such an array of cobbled streets, iconic architecture, and that indescribable Parisian je ne sais quoi, you'll be spoilt for choice for photography backdrops.
Provence in the French Riviera is renowned the world over for it's beautiful vineyards, lavender fields and quaint old towns. It's a unique part of the world where you can enjoy not only lush, verdant nature, but also a beautiful coastline. This makes it the ideal choice for any couple looking for an idyllic backdrop to their French elopement. 
For a traditional chateau experience, why not take a look at the Chateau de Brégançon. With its large terrace overlooking the bay of the Riviera, it's one of the few places in France where you can enjoy a chateau wedding with a sea view.
Or, for something with a touch of glamour, then Nice could be just for you. One of the most majestic locations to elope in Nice is the hill of Mt Boron. Think breathtaking panoramic views over the azure blue sea, parks with endless nature to explore, and even an ancient castle – this location pretty much has it all. 
The Bordeaux region in the South West of France offers culture, history and charm in equal measure. Most famous for its medieval chateaus and rolling vineyards, Bordeaux offers the perfect location for any couple who dream of a classic French elopement.
Whilst there are many beautiful big towns in Bordeaux, the true magic of this region lies in its countryside. 
Saint-Emilion, for example, is a breathtaking wine town that offers beautiful scenery, fine wine, and even finer food. Situated just 30 minutes outside of Bordeaux, Saint-Emilion was awarded UNESCO world heritage status in 1999. Offering a heady mix of history, culture and magnificent food, this is the perfect location for a quintessentially French destination elopement. Palais Cardinal is located right in the heart of the old village, and offers the perfect intimate spot for your big day.
Anyone who's ever been to Brittany will know just how proud the locals are of this seaside region. Sitated in the North West of France, Brittany has its own culture, language and national identity and its wild, untamed landscape is just impossibly beautiful. 
One of the most spectacular places in Brittany for an elopement is the côte sauvage (wild coast) in Quiberon, at the very tip of the peninsula. With its jagged rocks and crashing, crystalline ocean, this is a place for couples who want to celebrate the wild adventure of their life and love together. 
Or, for one of the most seculded spots in the whole of France, you could elope on the pedestrianised island of Belle Ile. Only accessible by boat, this tiny island has only a handful of inhabitants and the most incredible view out into the Guld of Mobihan. Only a few inhabitants have cars, so this island really feels like stepping back to simpler times. We suggest heading to one of the many vistas on the island for your ceremony, but if you prefer something indoors, then The Citadelle Vauban is a great option.
Situated in central-southern France, Ardèche is a little known location in France. Nestled into the south-west corner of the Rhone-Alps, it's one of the most remote and dramatic landscapes in all of France. But that's not the only reason it's on our elopement destination list…
Head to the centre of the area's natural reserve (Réserve Naturelle des Gorges de l'Ardèche) and you'll find the utterly majestic limestone arch known as Pont d'Arc. It is the largest of its kind in Europe, and – coupled with the emerald-green river below – provides a sensational backdrop for any elopement. 
If you don't mind having others around, then you can elope right on the banks of the natural arch. Otherwise, you can have your ceremony at one of the surrounding hotels. For something totally unique, we love the Prehistoric Lodge which offers secluded wooden huts in the forest for the perfect intimate getaway. 
We hope this list inspires you in your hunt for the perfect location to elope in France! Wherever you pick, we're sure it will be spectacular.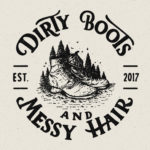 Written by:
Dirty Boots & Messy Hair Team
Connection is what it's all about. Feel free to reach out to us with any comments or questions you might have, even if it's only to say hello. If it wasn't for our beautiful community, this place just wouldn't feel the same.
Wedding Planning
08 Sep 2018