As a photographer, it's easy to think that your only earnings can come from taking photos — but that simply isn't true.
In fact, if you get creative and think outside of the box, there's a whole host of ways you can earn money away from the camera.
In particular, you could:
Monetize your audience 👭
Monetize your expertise 🎓
And expand your client services 👰
This can be pretty daunting if you're not used to pivoting your skills and trying something new — but if you get it right, building new revenue streams can be seriously rewarding, especially during times of such uncertainty.
So, to help you increase your bank balance without having to pick up the camera any more than you already do, in today's article we're going to delve into the three opportunities above and share with you our top tips for earning more money as a photographer.
Today's article is all about the top 10 ways to make money as a photographer, besides taking photos! Ready? Let's dive in!
Monetize your online audience
However big or small, an online audience is like gold dust when it comes to building alternative revenue streams.
After all, if you're already trusted and recognized by a pre-existing audience, you're in the perfect position to use that to your advantage.
But how can you monetize your online audience, exactly?
Start a blog
If you don't already have a blog, you're seriously missing a trick.
Not only will it help to bring more clients to your door, it can also — overtime — become its own revenue stream, entirely separate from client bookings.
Direct your audience to your blog, and you can monetize it with:
Affiliate sales (recommend your favorite photography products, and earn a commission for every sale you make) 🛒
Sponsored posts (post reviews of photography equipment, and get paid to do so) 📸
Banner advertising (earn money every time someone clicks an ad on your website) 📣
And so much more!  💸
Sure, you'll need to build up a solid and relevant collection of articles that provide value to your audience — but once you've done that, the sky is your limit.
Check out our guide to blogging as a wedding photographer for a thorough breakdown of how to get this right. It'll talk you through what to write about, how to write about it and why blogging can be such a powerful tool.
Launch a YouTube channel
Once you're on the way to building an established audience, a YouTube channel is a must.
Why?
Because video content is, by far, the best way to attract and retain online attention. In fact, over 70% of customers would rather watch a video than read a blog article.
This doesn't mean you shouldn't go ahead with starting a blog (they're still incredibly useful platforms to have) — but it does mean that you should create videos to accompany your articles, giving your audience the option to read or to watch.
This way, you'll be able to earn even more money from sponsorships, adverts and affiliate sales on the back of, essentially, reused (or reformatted) content, all whilst building an additional revenue stream. Genius!
To grow your YouTube channel, as well as posting videos to your blog, you'll also need to take a cross-platform approach that encourages your existing audience (on Instagram, Pinterest and your email list) to check out your work.
The key here, as with any other platform, is to create top quality content that speaks directly to your audience and provides genuine value.
To do that, you could create videos, like…
'How To Prepare For Your Wedding Photo Shoot' 👰
'How To Launch A Wedding Photography Business' 💼
'How To Take (And Edit) The Perfect Wedding Photos' 📸
'10 Top Tips For Booking A Wedding Photographer' 🤔
The exact topics will be down to you and your niche, but if you consistently provide value to your audience, you'll soon reap the rewards.
Open an online shop
If you've got an audience that trusts you and loves your work, launching an online shop is really a no brainer.
You could sell…
Photo album templates 📓
Photography accessories 📦
Whatever you sell, just make sure it offers genuine value to your audience and isn't an obvious cash grab. This could have a seriously negative impact on your reputation and simply isn't worth the extra cash.
And don't think that setting up an online shop is impossible, either.
Platforms like Shopify and Squarespace have knocked down pretty much every barrier imaginable, making the process easier and more affordable than ever before.
As well as monetizing your general audience, you can also monetize a very specific segment of your audience — those who want to learn from you and your expertise.
The fact is, us wedding photographers usually attract two kinds of audiences: couples wanting to book us, and other photographers wanting to learn from us.
Both audiences can be monetized, but only one of them offers the chance to earn money without taking photos — and that's other photographers.
This requires you to turn your expertise and experience into a product or service and sell it to those in the industry. You could do this by:
Launching an online course
You've probably heard it a hundred times before, but if you've got a particular skill — you should absolutely teach it!
In today's climate, online learning is absolutely soaring, and it shows no signs of slowing down. So why not get in on the action, and launch your own photography course?
Platforms like Udemy and Skillshare make it easier than ever to set-up your own online course, market it, and sell it to the masses.
Depending on your skills, you could teach people how to…
Take the perfect photos 📸
Launch a photography business 💼
Earn money online 💸
Impress clients with a stellar service 👰
Build a brand identity 💡
And the great thing about an online course is that it could provide you with a passive income — that is, money when you sleep!
Sure, you'll have to build the course and market it effectively, but once that's done, you'll be able to reap the rewards with very little input.
Hosting a workshop
If you don't have time to build a full online course, there's no reason why you couldn't scale things down a bit and start with a stand alone training event or workshop.
Either in person or online, you could teach a select group of people a specific lesson in photography, business management, social media or something else connected to your experience and expertise.
A physical event would require a little bit more work, as you'll have to find a venue and provide for your guests — but an online webinar would be pretty simple to arrange, especially if you're already familiar with video content.
Working as a consultant
For those who want something a little more hands-on, working as a consultant is a great way to cash in on those who want to learn from you and follow your lead.
In a nutshell, a photography consultant would help other photographers run their business more efficiently, offering recommendations and suggestions on how to increase earnings and create a stronger, more rewarding reputation.
To become a consultant, you'll need to have a very successful track record and the evidence to prove it. You'll then need to promote your services online, and communicate your value in adverts and potential client meetings.
Offering mentorships
While a consultant will provide advice and recommendations to already established photographers, a mentor will start from the basics, and train new photographers on the job, bringing them up to speed.
This is a really great way to train others, whilst developing your own business (and skills) in the process.
As a mentor, you'll…
Teach an up-and-coming photographer on a one-to-one basis 🤝
Train them in the basics, right up to the more complex skills 🎓
Show them how to run a business, and book clients 🙌
Share the secrets to your success 🤫
In return, you'll be paid a fee, and your business will be all the better for it, as it'll benefit from fresh perspectives and new ideas.
It's a win-win scenario!
Expand your client services
To end today's article, we want to talk about how you can earn extra money from your clients, without having to take extra photos.
Yes, really!
Your clients can pay you for more than just your photos.
In fact, once you've established a great relationship with a client, they're in the perfect position to spend more money on your services — so long as they offer genuine value and are worth the increase in price.
But what, exactly, can you offer your clients, beyond your camerawork?
Your know-how and experience
As a wedding photographer, you'll know the wedding industry like the back of your hand — and from local suppliers to venues, you'll have a contact list to match.
So, why not offer your know-how and experience in the form of a 'wedding planning' package?
In this, you would help your couples organize their weddings, connect them to local suppliers, and piece together their special day — all for a premium price.
You could also earn money from building affiliate relationships with local vendors, whereby you receive a percent for every client you send their way.
Of course, something like this is going to demand a whole lot of time, and it might even be something you'd need to hire someone to help you with — but if you can make it work, your knowledge of the wedding industry could be seriously rewarding.
Premium add ons
Most couples would be more than happy to pay a higher price for things like…
A fast tracked turnaround 🏎
A USB stick for their wedding photos 📸
Wedding guides 👰
A second shooter 👭
Video and audio footage of their special day 📹
A physical photo album 📓
Again, for some of these you'll need to bring in other freelancers to help you out — but if you price them correctly, there should still be room for you to pocket some extra cash, too.
For more ideas on this, check out our guide on 9 fun extras to offer in your wedding packages today!
Alongside premium add-ons, you'd be surprised by how many couples would be interested in:
Framed photos 🖼
Canvas photos 💑
Collages 📸
Glassware prints 🍷
And so much more! 🙌
These are all directly related to photography, of course — but they don't require you to take any more photos. They simply offer the chance to earn more money on work that's already done and paid for, whilst giving your clients more options, too.
What's not to love?
Time to build those revenue streams…
Next time you think you can't earn money without picking up a camera — think again!
Follow today's advice, pivot your existing skills, and you'll find that there's a whole host of ways to build new revenue streams, and expand your brand, as a result.
And on that note: good luck, and don't forget head over to our blog for more advice on how to achieve your goals as a wedding photographer 💪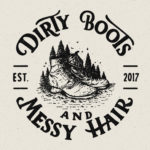 Written by:
Dirty Boots & Messy Hair Team
Connection is what it's all about. Feel free to reach out to us with any comments or questions you might have, even if it's only to say hello. If it wasn't for our beautiful community, this place just wouldn't feel the same.
Photographer Tips
29 Mar 2021