Wedding photography is a crowded marketplace, which is why it's pertinent to find ways to set yourself apart from everyone else.
But how do you do that? Well…it's time to think outside the box.
There are a whole range of fun add-ons that you can offer to your clients when they're booking a photography package. Something that lets them know you're not like everyone else, that you've put extra thought in to help make their day even more special.
Here are some fun and unique ideas that are surefire ways to inject some personality into your brand –– after all, that's how you get new clients!
If you're a fan of shooting on film as a hobby, why not introduce it into your wedding packages?
It's not for everyone, but have a chat with your clients about the differences between film and digital. Some people absolutely love the look of analog film photos. It evokes a real sense of nostalgia and longing, which is often hard to replicate with digital images.
You don't have to shoot the wedding exclusively on film, but it could be an additional extra that you can introduce. Maybe the ceremony and the reception can be with a regular digital camera, but your posed wedding party shots can be on film.
Consider presenting these shots separately to the digital images so that they really stand out — you could even leave a little note with them to explain what makes them so unique and special. Point out the grainer quality, the purposefulness of each and every shot (which is lost a little when you have unlimited capacity on a digital camera).
Discounted engagement photo sessions
Offering your clients a discounted engagement shoot if they book you to do their wedding can be a really nice touch.
Not only is it a good way of increasing the value of each client, but it'll give you a chance to really get to know your couple and get used to shooting them. It might be the first time that either of them have been professionally photographed, so it's also a good way to get them comfortable in front of the camera.
You can get a feel for what they're like as clients and how they want their photos to look, and it helps build the trust that is so essential between a couple and their wedding photographer.
Plus, it's nice for couples to have some cohesion between their engagement and wedding photos, which is easier to do when they're taken by the same person!
A popular add-on to wedding photography packages is an after-wedding session. Sometimes the wedding day can be hectic enough, and your couples want to focus on enjoying time with their loved ones rather than spending a significant part of their wedding day taking their romantic photos (hey, to each their own!). The very best and also super fun solution to this is to have an after-wedding session! Plan a day either the same weekend or in the weeks following the wedding where the couple can dress up again in their wedding attire and have a completely uninterrupted photo session in the location of their choosing! This is the perfect way to get all the photos together they want and may not have had the chance to get on the wedding day, as well as get to shoot at a totally different location (maybe even a super adventurous one in the mountains or on the beach!). This can also help out with getting those crucial couple shots when your clients decide to forgo the first look (which often leaves very little room for the couple portrait time!). Either way, this time is a super awesome opportunity to relive their special celebration and ensure a totally stress-free and unrushed wedding day!
Now that we all have iPhones, we really have no need for disposable cameras at all. But everyone still loves the novelty of them!
Why not offer to bring along a bunch of disposable cameras to the reception –– you could place one on each table. The couple can encourage their guests to get some great snaps. At the end of the night, they can collect the cameras and get the film developed, or you can do it for an extra fee.
Sometimes the guests manage to capture some truly terrific moments that you may miss while you're busy shooting something else.
Or, if you want to keep costs down, you could simply take some shots yourself on a disposable camera to use as part of the final images.
Just like disposable cameras, everyone loves a cute Polaroid snap. There's something about that retro-looking, overexposed little picture that evokes something 'normal' images don't.
Offer your clients an add-on of a Polaroid camera. Before the ceremony or during the reception you can get some candid snaps of the guests and give them their photos on the spot.
If you don't want to have to carry around a second piece of equipment, you could introduce an add-on fee for a couple of Instax Mini cameras that you can leave around the reception venue. Keep spare film on hand, and let guests play photographer for the night.
Everyone is usually pretty excited to have an instant keepsake like a Polaroid –– we guarantee you'll see guests taking iPhone photos of the hard-copy photos and posting them to Instagram. It's a really unique touch that'll hopefully be a talking point, which in turn may get you more clients!
Some photographers have recently been getting into the idea of setting up a static photo booth at weddings for an additional fee. It's such a fun way to add a bit of character to the reception, and really capture the essence of the guests. It will require you to lay out a substantial fee up-front, but you'll make that back in less than a season.
There are a couple of ways you can go about this. You can buy a physical photobooth unit that you take along with you to the wedding. Set it up at the back of the reception, and let guests go to town with it.
Many of these photobooths are just tablets set up in a contraption with a ring light and backdrop –– they're pretty easy to use, but you could task a friend or family member to help operate it all night. The software will instantly send the photos or GIFs to the guests' phones.
You could also make your own photo booth, with a tablet, app, tripod, light, and backdrop. It might be cheaper than purchasing a ready-to-use one but may require more set-up and maintenance.
Be sure to stock up on props to make your photo booth extra fun! Things like hats, wigs, novelty glasses, and feather boas are a great place to start.
One of the most amazing things you can do with your wedding photos is get them printed in a high quality and beautifully designed photo album. Creating one for your couples can be a special add-on option that you can create for them after the wedding. Select some of your favorite shots that help tell the wedding day story (or let them decide their favs!) and give them a physical momento of their big day that they will keep and look back on forever. If you need some help with finding an incredible photo album company to use, you bet we have a blog post for that!
Similar to the idea of a Polaroid camera, you could instead invest in a mini portable photo printer. It's a real crowd-pleaser, and a pretty inexpensive one to execute.
There are a range of small handheld printers that can connect to your camera or phone through Wi-Fi. You just press a few buttons and, hey presto, your photo is printed right before your eyes. It's a great way to engage the guests during any downtime, and they'll love the novelty of posing for a pic and being able to get a hard copy of it straight away.
Yes, the printers aren't the best quality, but it's more of a keepsake than a representation of your actual photography skills.
Along with a digital album, you could put together a quick and easy slideshow video of the best shots from the day. Use an awesome, easy-to-use tool like SmartSlides which helps you create the perfect, personalized slideshow as a surprise delivery along with their photo gallery (we have a discount code for this too!*). Otherwise, it's super easy to splice together photos in iMovie or Premiere Pro. And no matter what tool you use, don't forget to add your couples first dance song to the background!
*Get 20% off your annual plan with Smart Albums and Smart Slides with our code DBMH60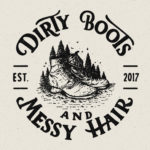 Written by:
Dirty Boots & Messy Hair Team
Connection is what it's all about. Feel free to reach out to us with any comments or questions you might have, even if it's only to say hello. If it wasn't for our beautiful community, this place just wouldn't feel the same.
Photographer Tips
22 Feb 2021