Valentine's Day 2021 is fast approaching!
And what a year we've all had since the last one 😅
Thanks to COVID-19, finding time for romance might well have been pushed to the bottom of your to do list.
If your love life has been a little sidetracked — you're probably not the only one.
But what better time to reignite that spark than Valentine's Day? ❤️
If you're in a relationship, Valentine's Day is the perfect chance to show your loved one just how much they mean to you — and to spend some quality time together.
And if you're single, this is a great time of the year to get to know new people — something which has probably been more difficult than usual in recent times!
So, are you starting to think about Valentine's Day date ideas?
If you're stuck for unique Valentine's Day date ideas this year; worry not. Here at Dirty Boots and Messy Hair, we've got you covered.
Read on for our best Valentine's Day date ideas for 2021.
You know what's sophisticated, classy, and ever so romantic?
A large glass of red wine.
And you know what makes wine taste even better?
That's right — cheese. And lots of it.
A romantic wine and cheese night is the perfect inexpensive date idea. You can choose fancy wines if you want to — but a couple of bottles from the local supermarket will definitely do the job.
This Valentine's date idea gives you the perfect chance to chat to your special someone in the most chilled and casual setting possible — your own home!
Top tip: make your wine and cheese night even more romantic with some scented candles and your loved one's favorite playlist!
Themed dinner and movie night
OK, so a movie night is probably one of the first things that pops into your head when you think about Valentine's Day date ideas.
And we all know a delicious home cooked meal can be one of the most romantic ways to say 'I love you'.
But have you ever thought about combining the two?
A themed dinner and movie night is a really fun way to plan out a whole evening of entertainment for you and your loved one.
Here are some of our favorite themed dinner and movie ideas:
Italian: Bruschetta, spaghetti and meatballs, pizza, ice cream: the options are endless. Follow with Roman Holiday — the first American film to be shot entirely in Italy!
Mexican: Nachos, tacos and fajitas (with plenty of chips and dips!), followed by Disney's Coco.
American: Why not choose a theme that's closer to home? Think big cheese burgers, hot dogs, French fries, and a tasty apple pie for dessert. What's more, you'll be truly be spoilt for choice when it comes to choosing a film. We personally think When Harry Met Sally is a great choice for a rom-com — and it's set right in the heart of New York City!
Greek: Tzatziki, olives, and Moussaka are some of the staples of Greek cuisine. And this just has to be followed by Mamma Mia, right?
Hey, if there's ever a year that we all need to get out and moving more, it's this one.
So, a romantic bike ride isn't just a good option for those who spend lots of time on their fitness.
It's actually a really lovely Valentine's Day date idea for almost everyone!
Why not pack your bikes into the car and travel to somewhere more scenic for this special day?
Or — with a bit of research — you may even be able to find somewhere to rent bikes for the day.
Getting out in the fresh air with your loved one is a great way to spend Valentine's Day 2021 — and you could even stop off for a refreshing drink somewhere on route!
Even if you're not normally a morning person, Valentine's Day is the perfect excuse to get up super early and watch the sunrise with your loved one!
And why not make it even more special with a home-cooked breakfast?
Bacon and eggs, syrup and pancakes, or a bagel and cream cheese — whatever you fancy, it'll taste even more delicious if you're eating it while watching the sun come up!
OK, it's February — meaning it might not be the best weather for a picnic outside.
But is there anything more romantic than an indoor picnic?
You can really go all out with this one. Grab a traditional picnic basket and blanket, some paper cups and plates, a bottle of something sparkly, some tasty snacks, and maybe even some home-made sandwiches and cake — and you're all set!
Your Valentine's date will really appreciate all of the effort that goes into an indoor picnic. And what's more, it's the perfect way to spend quality time together — all while staying warm and dry!
If you've got a gamer in your life — our next Valentine's Day date idea is the perfect way to treat them!
Even if you're not someone who loves to play video games, they can be pretty fun to play together.
So, why not turn Valentine's Day 2021 into your very own games tournament? Just grab Mario Kart — or your personal favorite video game — and get competitive!
Or, if you prefer traditional board games, pick out some of your favorite ones and get stuck in.
Make sure to grab a few drinks and some tasty snacks from the shop before you start — or you could even order in your favorite takeout!
Whatever your Valentine's Day games tournament includes, the most important thing is that you'll be spending quality time together.
Are you both working all day on Valentine's Day 2021? Do you only have the evening free?
Then stargazing is the perfect Valentine's Day date idea for you!
Being 'too busy' is no excuse not to celebrate Valentine's Day — because all you really need is a couple of hours free at the end of the day.
Grab your coziest blankets and fluffy jumpers and head outside with your special someone.
Stargazing is a beautiful and romantic activity — and can really make you appreciate your place on Earth and the love you have for each other.
Not sure what you're looking at?
Apps like SkyView Lite are great for identifying stars, constellations, and satellites in the night sky!
Live near the coast?
Or can you take a train or car to a beach not too far away?
Beaches are one of the most romantic places on Earth — and are a great excuse to get outside and explore nature!
If you and your loved one have a couple of days to spare, booking a beach getaway is a fantastic way to relax, unwind and de-stress together.
And it doesn't need to cost you loads! Airbnb have plenty of inexpensive coastal accommodation options that are worth having a look through.
As wedding photographers, we spend all year taking photos of other couples.
But how many photos do you take of you and your loved one?
You've got all the skills to create some really special Valentine's Day photos — so why not have a go?
These could be simple selfies or portraits of your special someone — it doesn't really matter.
What matters are the memories that your photos will capture — because they're ones that both of you will be able to cherish forever.
Baking is always great fun — but it's even better with someone you love!
Buy a load of baking goodies in advance of Valentine's Day 2021 and you'll be all set to get baking when it comes to the special day.
Cookies, cupcakes, flapjacks, brownies: the options are endless.
Valentine's Day baking is a great way to get messy together — and we know you'll enjoy eating all of your delicious treats afterwards.
Mmmmm, brownies right out of the oven…we're hungry already.
Singing is good for our mental and physical health in so many ways.
So why not crack out some of your favorite karaoke tunes and sing the night away with your Valentine?
You definitely don't need to be good at singing to enjoy this Valentine's Day date.
It's all about bonding, spending time with, and laughing (probably at all the notes you can't hit) with your special someone.
Is there anything more romantic than being out in the great outdoors with the one you love?
Camping is a really great way to feel at one with nature — and relax in a super peaceful setting.
It's also the perfect excuse to get cozy: think fluffy blankets, smores, and hot cocoa with marshmallows.
What's more, you can set up camp pretty much anywhere — including your own back garden!
When camping is as easy as setting up your tent on your back lawn — and listening to the sound of bird song with your loved one right next to you — we really couldn't think of a better way to spend Valentine's Day 2021!
Valentine's Day 2021 is the perfect chance to spend quality time with that special someone — or even meet someone new.
After the hectic nature of last year, the world needs more love. Take the chance to really focus on your loved one — and show them how much they mean to you!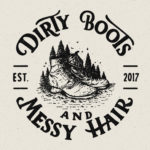 Written by:
Dirty Boots & Messy Hair Team
Connection is what it's all about. Feel free to reach out to us with any comments or questions you might have, even if it's only to say hello. If it wasn't for our beautiful community, this place just wouldn't feel the same.