If you're planning a same sex wedding, the great news is that you have so many exciting ways to propose! Want to go the traditional route and get down on one knee? Great! Wanna instead do something a little different? Also great! There are so many ways to honor the love you share, and in this article,  we'll dive into our top tips for planning a same sex proposal.
As with all proposals, there are no rules – you have the freedom to incorporate your ideas of what romance means to you and your partner. Here are a few tips to plan one of the most special occasions of your life.
It's easy to look at Instagram for #proposalgoals, but not everyone wants to be asked to marry someone with fire or helicopter. We so often hear about, and see photos of, extravagant public displays of love that it can feel overwhelming when you're planning how to ask your partner to marry you.
Take a step back and really think about you both as a couple and individually. Are you the kind of people who would enjoy a public proposal, or would you feel more comfortable keeping it private? Do you love being outdoors, or do you love cozy nights cooking together? Whether you want to propose skydiving or by making your partner breakfast in bed, the proposal is right when it's right for you two.
Trust us, if you stay true to yourselves, you'll enjoy the experience much more and the memory will be one you cherish forever.
Once you've made the huge decision to make your relationship legally binding and forever, the next step is to buy a ring, right?
Maybe not.
Have you thought about whether you're even "ring people?" If neither you nor your partner have ever worn rings before, you might decide it's not your style anyways.
Maybe you'd prefer tattoos? Something that symbolizes your relationship – a vine, tree branch, or even a phrase from your vows can be tattooed in a circle to have as a lasting reminder of your commitment.
Many couples from the LGBTQ+ community opt for a luxury watch instead. As with any investment purchase, make sure you do your research, and, if you're buying vintage or antique, speak to several dealers about what you're looking for.
You want to make sure you're spending your money wisely on something that will stand the test of time. When it comes to style, if you go down the classic route, it's more likely to be current even in 30 years' time. Having said that, if your partner has an eclectic style, reflect on whether they would prefer something a little more out-there.
The important thing is choosing something you'll love wearing for decades.
The short answer: whoever wants to propose.
One of you may feel more comfortable with planning an extravagant proposal, while the other may choose a different way of popping the question. In fact, there doesn't even necessarily need to be a proposal at all.
Having a frank conversation about your future together over a home-cooked meal can be just as romantic and thoughtful. It really is up to you as a couple. Dreaming of a proposal under the stars or at your favorite fancy restaurant? Go for it!
You never know, your partner could also be planning to ask you, too. If that happens, go with it! Just because they proposed first doesn't mean you can't surprise them after!
Most couples have talked about spending their futures' together before one goes ahead and proposes. We're all for spontaneous and impulsive acts of love, but it's probably wise to have had a conversation about what you both want out of life first.
If you don't want to ruin the surprise of the proposal, you can keep this exchange casual and chatty.
But if you're the kind of couple who prefers to be completely open and honest about where they're at and what they have in mind, it doesn't make it any less romantic to be able to talk about the kind of proposal you both would like, and whether rings (or any other piece of jewelry) are something you'd like to incorporate.
If you do decide to go this route, extend the celebrations and make a day of it. Shop for jewelry together so you know exactly what you'd both like.
However you choose to pop the question, whether you're planning a proposal in front of a crowd or simply in your kitchen at home, make sure you celebrate it! Open a bottle of champagne and propose a toast to your futures together – and that wedding you'll now need to plan!
Enjoy every minute of this special time; it's ultimately about both of you and your love for each other.
Planning a wedding in a hurry? Read this before you start!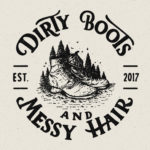 Written by:
Dirty Boots & Messy Hair Team
Connection is what it's all about. Feel free to reach out to us with any comments or questions you might have, even if it's only to say hello. If it wasn't for our beautiful community, this place just wouldn't feel the same.
Wedding Planning
20 Apr 2019