Blogging for wedding photographers is a hot topic. It's one of the best ways to drive potential clients to your wedding photography site. It's also a tough nut to crack.
As we speak, couples all over the world are searching for very specific examples of photographers, locations and wedding styles. Blogging is your best chance of boosting your search rankings and being top of those search results. Better still, blogging gives people a glimpse into not just your style, but your personality too. It will give you a channel to show off the magic of your work, as well as the story behind it. And that's invaluable insight in helping potential clients decide if you could be right for them.
That said, blogging takes time. Unless you're a natural writer as well as a photographer, it can be something that you find tough to do. But worry not. We've created our ultimate guide to blogging for wedding photographers to help streamline your process and flow. Take these tips, turn them into your own blogging template, and say goodbye to writer's block!
The story behind the shoot should be front and centre of your blog post. Every couple and every wedding is unique, and your post should shine a spotlight on this. No couple wants to feel like they're part of a factory line. They want to know that by working with you, they'll develop an individual relationship with you. By telling the story behind each shoot, you'll be demonstrating that you take the time to develop meaningful and personal relationships with your couples, which is priceless.
You could tell the story of how the couple met, or how they got engaged. If you don't know these details, you could also focus on how you got to know them, or what your general impressions of working with them were. All of these small details will help the audience to put themselves in the shoes of the couple in the shoot and bring the images to life.
Help your readers to imagine the day by talking about the location and venue of the wedding or shoot. You could describe anything from why the couple chose to get married here, what kind of unique services the venue had, or anything that made it stand out.
Describe the sounds, smells and sights – transport the reader there. Was there a particular kind of tree or plant in the garden that had a distinct smell? Or a bird singing happily away as you photographed the couple? Could you hear the crash of waves? The taste of pollen in the air? Whatever you experienced, describe it.
The more you can help your reader to really picture themselves in the moment you're describing, the more likely they are to be able to emotionally connect with you through your words.
Remember to link to any businesses or venues that you mention in your post. With a bit of luck they'll link back to you on their own sites (which will boost your SEO rankings). They might even share it to their audience, expanding your reach.
Every wedding has that one moment that stays with you. It could be a big thing, like a unique aspect the couple designed into the day you've never seen before. Or it could be something totally subtle. Perhaps a fleeting look you witnessed between the couple that spoke a thousand words about how they feel about each other.
Whatever the anecdote, include it in your story. By doing so, you'll be demonstrating to your readers that you take the time to be emotionally present with your clients. Ultimately this will help people to get to know you and your style better, and understand if it's a good match for them.
Most weddings are the result of the collective efforts of dress makers, event designers, cake bakers, caterers, stylists and much more.  Mention the vendors that really stood out to you in your post and talk about why. Link to their websites and encourage them to share your post.
This is not only great from a back-linking perspective (which is great for SEO), but it's also a really helpful way of connecting your readers with great vendors. Imagine, most couples reading your post are facing an immense set of choices about their day. Worse still, they have no real way to verify which choice is best. The more you can help your couples find great vendors, the easier it'll be for them to make decisions.
Ask your couple for a few lines on their experiences of both their day, and of working with you. It can be anything from why they decided to have the wedding as they did, any challenges they faced along the way, and how they felt on the day itself. Ask them for a few sentences on how it was to be photographed by you and how they feel about the final photos. All of this will really help to bring your post to life.
And there you have it. Easy breazy tips to help you cut through the blank page and write your next blog post to showcase your work. Happy blogging, people…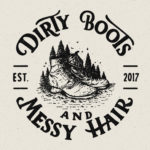 Written by:
Dirty Boots & Messy Hair Team
Connection is what it's all about. Feel free to reach out to us with any comments or questions you might have, even if it's only to say hello. If it wasn't for our beautiful community, this place just wouldn't feel the same.
Photographer Tips
18 Jun 2018