Taking photos is great. Sharing them is even better. That's where having the best photography portfolio websites come in.  Whether you're a budding pro, a dedicated hobbyist, or simply someone looking to show a few photos to friends, the easiest way to share your photos is online.
There are a ton of photography portfolio options available online. Photographers who want to build a following and get their work in front of as many people as possible will benefit from a service like Flickr or 500px. Those who just want to share photos with friends may be better suited to Google Photos or Dropbox.
So, how do you decide which photography portfolio website is right for you?
In this article, we take a look at seven of the best solutions out there. Whatever your goals, we're confident our list will have something you love. And so, in no particular order, we present you our top list!
Let's jump in…
Best Photography Portfolio Websites – #1: Instagram
Instagram has 1 billion monthly active users. That's a huuuuge proportion of the planet regularly using the social network. This means Instagram users can get their photos in front of an incredible number of people.
Uploading photos to Instagram is easy, as long as you're happy doing it from your phone. Desktop functionality is still limited. There are also plenty of easy-to-use options to help you edit your photos and tag the people and places in them.
Instagram is probably your best bet for those looking to share their photos in the quickest and easiest way possible. Put plainly, if you want exposure as a wedding photography – you gotta be on Insta.
Don't worry if it's not your number 1 choice. It's is a great platform to share photos with, even if you choose to use it alongside some of the other services on this list.
Price:
Instagram is completely free.
Instagram Pros:
 Instagram has a massive user base.
The built-in sharing features make it possible to get photos in front of a large number of people.
It's easy-to-use and has simple editing features built-in.
Instagram Cons:
Photos can't be stored in their full resolution.
No option to let people download images.
While Instagram works great on mobile, its desktop version leaves a lot to be desired. Users can only upload photos through the mobile app.
Best Photography Portfolio Websites – #2: Flickr
Flickr is a platform for sharing photos that is hugely popular with amateur and pro photographers.
Those looking to share photos can create profiles and upload images and albums to display on the profile. Powerful tagging features also make it easy for people to search for your images. Photographers can even share the exact setup they used to take each picture, which is great for photography lovers looking for inspiration.
Users can also choose and clearly display the license for each photo. If you choose an open license, people will be able to actively use your photos. This could provide some business boosting exposure.
Flickr also has a great community powered by features such as follow buttons and commenting.
Price
There is a free version of Flickr. The Pro version offers unlimited storage and other benefits for $4.99 per month billed annually or $6.99 per month.
Flickr Pros:
Flickr has a large community of professional and hobbyist photographers.
Photographs can choose which license they upload their photos on.
Users can add details about their camera setup.
Flickr Cons:
It's easy for people to steal high-res versions of your photos.
Free account is limited to 1,000 photos.
Photographers may also feel the need for a personal website to help build their brand.
Best Photography Portfolio Websites – #3: 500px
500px allows users to quickly and easily create profiles and portfolios to share their photos online. It has around 15 million users which, while less than Instagram and Flickr, makes it one of the portfolio options with the highest traffic.
500px lets users choose how to license their photos. It is also possible for to sell your images on the 500px marketplace. The "Pulse" voting system helps great photos reach a larger audience.
Price
500px is free to sign up to. Users who want to upgrade can choose from three plans ranging in price from $2.50 per month to $11.99 per month when paid annually.
500px Pros:
Similar search and licensing features to Tumblr.
Users can create portfolios to show off their photography.
Unique "Pulse" system makes it possible for photos to get in front of a large audience.
500px Cons:
Many of the best features require a subscription.
There are reports that the platform has a lot of self-promotion, which can get annoying.
Only accepted photos can be sold via the marketplace.
Best Photography Portfolio Websites – #4: Google Photos
Google Photos is an excellent option for people who want to share their photos with a limited number of people. For example, those who want to share holiday snaps with friends or professionals sharing the results of a photo shoot.
Google Photos is also a great way to backup photos from your computer and your phone. It can be set to do so automatically meaning you'll have access to photos even if you lose your device. The photos will also stay with you wherever you go. The downside is that in order to share high-quality images (above 16MP), you'll need a paid account.
Price
Unlimited free storage on photos up to 16MP and videos up to 1080p. Users can use their Google One cloud storage account to store higher quality photos and videos. This starts at $2.99 per month.
Google Photos Pros:
Unlimited free storage.
Automatic tagging makes it easy to search through photos.
Can be set up to automatically back up phone photos.
Google Photos Cons:
No built-in audience. You need a way to get photos in front of people.
People who want to share high-resolution photos will almost certainly need to get a paid account.
iPhone users may find it more convenient to use iPhotos.
Best Photography Portfolio Websites – #5: Dropbox
Dropbox is a huge name in the cloud-storage business. It lets users easily upload and share their photos, either publicly or with select people. Photos can be viewed in a gallery and you can set the app to automatically upload your phone photos.
Dropbox's search and tagging options aren't quite as comprehensive as Google's, however. Those sharing even a moderate number of photos will also find they quickly need to upgrade to a (pricey) paid plan.
Price
The free version offers 2GB storage. Paid versions cost either $11.99 or $19.99 per month.
Dropbox Pros:
Simple to upload files in full resolution.
No need to create profiles or portfolios.
Limited collaboration options are available.
Dropbox Cons:
The paid option is on the expensive side and will be required for many photographers.
Search and tagging not as comprehensive as competitors.
No search or community options. This means you'll need your own audience.
Best Photography Portfolio Websites – #6: Unsplash
Unsplash is a platform that allows photographers to upload photos on an open license. While this means people can use your photos freely, which many photographers will understandably have a problem with, it can also be a good way for photographers to gain exposure.
Unsplash's reputation as a place to get high-quality stock photos means a lot of businesses and websites use it to download photos, so the chance of people using your work can be high. It's also possible for photographers to create a profile on the site, allowing those looking for photos to get a better idea of a photographer's overall style.
Price
Unsplash doesn't cost anything, either to upload or download photos.
Unsplash Pros:
Unsplash is a go-to site for people looking for photos. This means there is a good chance someone will use your photos.
Provides the opportunity for photographers to get exposure, backlinks, and credit.
Users can build profiles that people can follow.
Unsplash Cons:
Users have to agree to the Unsplash license.
Established photographers may not want to give work away for free.
Unspashed has strict guidelines for what photos are allowed on the site.
Best Photography Portfolio Websites – #7: Exposure
Part photo sharing site, part blogging platform, Exposure makes it easy for users to create and share visual stories. Photographers can do this by publishing stories consisting of images and text and share them with followers.
The platform is a nice alternative to the other options on this list which mainly focus on sharing photos. While those with the resources may find it better to create their own website from scratch, Exposure is a good option for those looking for a simple solution.
Price
The Pro version is $9 a month and the business version is $59 a month.
Exposure Pros:
Exposure users have a lot of control over how they display their photos.
Users can display all their stories on their own domain.
Easier than starting your own blog or website.
Exposure Cons:
Pro version is more expensive than many other paid products.
Users who just want to share photos won't need all the features.
You'll need your own way to get your photos in front of an audience.
So, there you have it: our top list of photography portfolio websites.
If there's one thing we've learnt over our years in the biz, it's that photographers have a ton of options for sharing their photos online. But don't let that overwhelm you. Each and every business is different, so it may take you a little while to find the best place to share your work online.
It could be a good idea to try out a few of the services on this list to find the best one for you. See which ones seem to get you the best exposure, and which ones you most like to use. Every system will have a different interface, and you may find yourself intuitively preferring one over another. This is easy to do as all the platforms offer a way to try the service for free – winning!
Above all, remember that building exposure online takes time. If you're trying to crack a site like Instagram, for example, it'll take you some months before you start seeing some gains on all your efforts. The most important thing is to develop a clear brand, and to be consistent in how and when you post.
If you need some help with Insta, here are 7 simple hacks to get you started.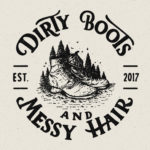 Written by:
Dirty Boots & Messy Hair Team
Connection is what it's all about. Feel free to reach out to us with any comments or questions you might have, even if it's only to say hello. If it wasn't for our beautiful community, this place just wouldn't feel the same.
Photographer Tips
08 Sep 2019