Okay, let's get real: when was the last time you did something just for you?
Subscribing to a top lifestyle blog could be just what the doctor ordered.
"Me time" can take all manner of shapes and sizes. And, while some of us are better at it than others, we all need time to rest and rejuvenate.
The secret is to re-frame what it means to take a few minutes to yourself. It doesn't mean you're lazy, and it certainly doesn't mean you're selfish.
Deep down, we all know that it's super important to take a step back. But it can also help you be more effective at work.
How?
Because if you're not resting, then you're not operating at full capacity. If you really want to be able to put your all into your career, you've gotta learn to take some time out.
Thankfully, it's easier than you think.
Not sure where to go?
We've pulled together a list of six top lifestyle blogs to put on your reading list…
#1 Top Lifestyle Blog: A Girl in Progress
In their own words, A Girl in Progress is "a lifestyle blog for women who are working on themselves, for themselves. We believe it's possible to strive to become the best version of yourself, while simultaneously accepting yourself exactly as you are."
Hands up who could do with a slice of that inspiration every day?
With articles covering a whole host of topics — from careers to relationships, and cruelty-free beauty tips to sustainable living — A Girl in Progress is an honest, up-front and truly inspirational blog to check in with when you can.
#2 Top Lifestyle Blog: She Said
Honesty is also definitely the policy over at She Said.
This blog tackles the titles that others may shy away from, meaning some of their content is a little NSFW… you've been warned!
But, even when writing about sex and modern dating, She Said keeps it classy: it's written by real women, about their real experiences (good and bad!).
And we've got a lot of time for that!
#3 Top Lifestyle Blog: I AM & CO
Their tagline — "Feel Good" — sums it up perfectly. I AM & CO is a purely positive space; with no negativity, but also no BS either.
If you're looking for daily affirmations and empowerment messages: you'll find them here.
We all have those days where we feel deflated; maybe work has entered a slow phase, and no matter how much effort you put in you just can't seem to book new clients.
This lifestyle blog is the exact right place to go when you need a pick-me-up or pep talk. Have a read of their 'Feeling Unappreciated? Here's How You Can Deal' article, for starters.
#4 Top Lifestyle Blog: Freelancing Females
And if it's career and work support you're after, you'd be hard pressed to find a more comprehensive and inspirational resource than Freelancing Females.
These guys post most of their content through Instagram, rather than as a web-hosted blog, so you'll always have them to hand through your smartphone.
Let's face it: girls have each other's backs.
Freelancing Females is the place to go for support, advice, mentorship and networking opportunities with career-driven women, who want to work with like-minded ladies. And their Facebook group is a great place to start connecting with the community.
Ever wondered what you should be charging for your time? Freelancing Females has user-generated rate card, so you can double check how competitive your pricing is compared to other photographers in your area or field of expertise.
But it's not all about work with this brand; they also deal with tricky conversations like self-care and entrepreneurship and how to fire a client.
Seriously: check them out!
#5 Top Lifestyle Blog: Girlboss
We can't mention inspirational career bloggers, without mentioning Sophia Amoruso and her Girlboss empire.
You may have come across Sophia through her podcast, her Netflix show or her book… jeez, she's sure got a lot of things going for her!
And that makes her an ideal source of inspiration; whatever the topic, it's likely she's been there and done it!
Because her reach has been so extensive, Girlboss also gets some really impressive guest writers and interviewees, including New York senator and presidential candidate Kirsten Gillibrand.
If you're looking for a multimedia blog, full to the brim with the best possible career, relationship, wellness and money advice, look for Girlboss.
#6 Top Lifestyle Blog: The Literary Edit
Stepping away from career building again — as we did say that catching up on these inspirational lifestyle sites should be time for you to relax! — our final blog suggestion is truly aspirational, in the best possible way.
A lot of us would like to find the time to read more; to unwind or to learn or for a bit of healthy escapism from the stresses of modern life.
Lucy, over at The Literary Edit, has built her life around books.
And her blog and social media feeds are a constant source of wanderlust —whether that's into the fictional worlds in which she's delving, or simply to her Sydney-side home (be prepared for lots of envy-inducing photographs of Bondi Beach at sunrise!)
Originally from the UK, Lucy's literary blog also touches upon her personal experiences, with raw and real posts sharing her anxiety and insecurity of being so far from home.
Whether it's for the book reviews, or for her authentic story of life down under, The Literary Edit should be on your reading list.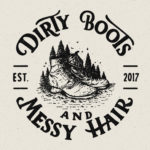 Written by:
Dirty Boots & Messy Hair Team
Connection is what it's all about. Feel free to reach out to us with any comments or questions you might have, even if it's only to say hello. If it wasn't for our beautiful community, this place just wouldn't feel the same.