There's no doubt about it: creating a killer wedding photography portfolio is no easy feat. Particularly when you are starting out as a photographer, you may not yet have images that reflect your vibe.
For this – and so many other reasons – hosting a wedding styled shoot is becoming a great way of producing gorgeous photos that attract your ideal clients.
Styled shoots are a vital part of a wedding photographer's toolkit. While examples of previous work are important, a styled shoot allows you the creative freedom to really express yourself and to show potential clients exactly what you can do.
ORGANISING A WEDDING STYLED SHOOT IS A GREAT WAY TO BUILD YOUR PORTFOLIO AND ATTRACT YOUR IDEAL COUPLES
It's also a really great way of experimenting with your brand (if you need a hand on building a wedding photography brand, you might want to check out this post) and finding your style.
Unless you happen to be friends with a squad of models, stately homeowners, and wedding dress designers, getting your perfect styled shoot together can sometimes be a tricky business.
We've got a few ideas that have worked for us to help you pull all the loose threads together and shoot some creative images that will make your portfolio pop.
Create A Theme for Your Wedding Styled Shoot
First things first, you want to pick a theme that reflects your unique style and amazing skills.
Ask Yourself: What is the purpose of this shoot? What kind of work do I want to create?
Whether you are looking to target adventurous, outdoorsy couples who want to get out into the wilderness or more traditional pairs marrying in stately homes, your portfolio should reflect this.
BEFORE YOU GO INTO PLANNING MODE IT'S IMPORTANT YOU GET VERY CLEAR ON WHAT YOU WANT FROM THE STYLED SHOOT AND WHO YOU WANT TO ATTRACT
So, before you start diving into the particulars, make sure you know who your clientele is, and figure out your personal style.
Then you can acquire the right permits (for public lands) or ask for a trade (photos for space) from a real estate company or wedding venue in town.
Find the Right Models to Take Your Shoot from Good to Great
It might sound obvious, but models are probably the most important part of a styled shoot. Finding the perfect people can take a shoot from good to great.
Whether you are reaching out to an agency or are putting two friends in wedding attire depends on what exactly you are trying to create. We all know how hard it can be to get the best out of models who aren't used to being in front of the camera…
Talk to other photographers and ask for recommendations for models they have worked with before.
THERE ARE A MILLION WAYS TO FIND AWESOME MODELS – MAKE SURE YOU TUNE INTO YOUR NETWORK
Some professional models are happy to help out photographers in return for images to add to their own set cards. But that obviously means that you need to be able to guarantee a certain level of quality.
If you're in a relationship you can always ask other photographer couples to trade you a styled shoot for a styled shoot where you then model for them.
Travel blogs and forums are a great place to start looking for available models, too. It never hurts to ask!
Be sure to communicate clearly what your models should expect as part of being in your styled shoot. This avoids the risk of any conflicts later down the line and sets you up for a great relationship.
A Styled Shoot Is A Great Way to Collaborate with Other Wedding Vendors
One extra bonus of working on a styled shoot is that it gives you a great excuse to network and get to know other professionals in your area. Take the opportunity to make great relationships with other photographers, wedding vendors, event planners and florists. It's bound to have knock-on benefits above and beyond the shoot itself.
It is worth reaching out to vendors early, asking them for help, and offering them the benefits of being involved. Most vendors will be happy to work with you, as it is a great chance for them to promote their own business. And get some professional images to use in their own PR.
ORGANIZING A STYLED SHOOT IS A GREAT WAY TO GROW YOUR NETWORK – WEDDING VENDORS ARE OFTEN HAPPY TO TRADE THEIR SERVICES AGAINST AWESOME IMAGES OF THEIR WORK AND A CHANCE TO COLLABORATE
Of course, there are loads of things you can do on your own. If you don't fancy working with other professionals – that is totally fine. But keep in mind that little things like professional hair styling or custom jewelry can make a shoot that little bit more special.
Check out this guide by Ruffled if you're looking for more guidance on how to collaborate with vendors, which runs you through some super helpful tips.
Getting the Setting of Your Styled Shoot Just Right
Finding the right venue for your shoot is crucial and can be the perfect opportunity to go and take photos of somewhere you've never been before. Just remember, it does take some planning, and is worth thinking about carefully.
If you are looking to get out into the country and pull off a bit of a wild, natural shoot that's amazing, but it's worth looking into the rules and regulations of where you are going. You'll need permission from the owners if you are heading onto private land, and even public land often requires a permit to carry out certain activities.
DEPENDING ON YOUR LOCATION YOU WILL NEED TO GET PERMITS OR WORK OUT AGREEMENTS WITH VENUES – SORT THAT OUT BEFORE, SO THAT EVERYTHING GOES SMOOTHLY ON THE DAY OF THE SHOOT
Basic still photography in National Parks is usually permit-free. However, if you are using props or models, you'll need to apply for permission and can often only use certain flora in your bouquets. National forests and state parks are similar (if not easier to get permits from).
Reach out to wedding venues, beautiful houses, and anywhere else you might want to shoot. See whether they would be interested in working with you in return for the images themselves. A friendly request with a decent offer often opens a lot of doors.
And if you're traveling for your styled shoot, be sure to think about how to offset your carbon footprint. We gotta take care of this beautiful planet of ours!
Wedding Mood Boards Work Wonders
Creating a mood board is a great way to help you visualize the style you're going for and help all your vendors be on the same page. Pinterest is a great place to start and can be used as a digital mood board for all your inspiration.
Make sure you put together a decent array of mood and inspiration images, to guide you during the shoot. If you are using Pinterest you can also get your collaborators to add their favorite images to your board during the planning process!
A MOOD BOARD IS A CRUCIAL TOOL TO MANAGE THE EXPECTATIONS OF EVERYONE INVOLVED – AND IT'S A TON OF FUN TO CREATE
Styled shoots can be great fun, and are a wonderful way to express yourself, define your style as a photographer and attract new clients. As we've said above, they aren't as hard to pull together as you might expect, so why not have a go and see what magic you can create?
And if this is your first proper shoot – don't panic. Check out these tips to help you rock your first gig.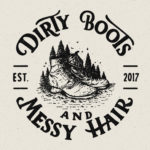 Written by:
Dirty Boots & Messy Hair Team
Connection is what it's all about. Feel free to reach out to us with any comments or questions you might have, even if it's only to say hello. If it wasn't for our beautiful community, this place just wouldn't feel the same.
Photographer Tips
14 Jul 2019