There are not many scenarios in life that make your palms sweat, turn your brain to mush and have your words fumbling out of your mouth with reckless abandon quite like…
Evoking equal parts nerves and excitement, a date is a massively pressured scenario!
You never quite know whether it's going to go catastrophically, or if you'll meet the person of your dreams.
Of course, you want to make the best impression. But to do that, you have to get comfortable.
So, if you find yourself lacking a little self-confidence, despair no more. In this article we've pulled together some scientifically proven self-confidence tips to help you nail those nerve-wrecking first get-togethers.
Self Confidence Tip #1: Channel Positive Vibes
Sometimes a better experience can just be about a matter of perspective.
What are your thoughts before you go on a date? Is it "Another evening I'll waste meeting someone who definitely isn't right for me." Or do you think, "I can't wait to meet someone new and get to know them"?
By changing the way you think about something, you can influence how the event plays out.
THINKING POSITIVELY ACTUALLY INCREASES THE CHANCES OF GOOD THINGS HAPPENING. IT'S SCIENCE.
Cognitive Behavioural Therapy (CBT) proves it: If you're channeling positivity, good things are more likely to come your way and you'll be better equipped to deal with unexpected negativity.
It's easy to let past experiences cloud your expectations for future dates. Try to think of each one as a new opportunity, without putting pressure on your partner to be The One.
You might meet a new friend, learn something, or just have a fantastic day out with a like-minded person. Either one is a win and you should absolutely see it that way.
Self Confidence Tip #2: Manage Your Energy
Adrenaline can be the bane of the nervous dater. While it's useful when dashing out the door in the morning to get to work on time (or during the final stretch of a 10k run) it is not your friend when you're trying to make a calm and cool impression.
To channel that energy in the right direction, make sure you schedule a bit of time before the date to take a few deep breaths and gather your thoughts.
TAKING A FEW MOMENTS TO CALM DOWN BEFORE YOU WALK INTO THE BAR CAN ACTUALLY SHIFT THE WHOLE ENERGY OF THE DATE.
Even if it's as short as 10 minutes, listen to a meditation app, take deep, belly filled breaths, or go for a short walk around the block. You'll feel immediately better about yourself and handle the situation more effectively.
You want your brain to be as calm as possible so it's able to fire back those witty replies and come up with interesting questions on the spot.
Self Confidence Tip #3: Express Yourself
Nervous about meeting someone new and not having anything to talk about? Or concerned you might say something stupid if you talk too much? These are normal worries when meeting someone for the first time. Don't let them overwhelm you to the point of anxiety.
Speak to a friend or close relative before you head out for your date. Tell them your concerns, ask them for conversation ideas and generally talk it over. They're bound to put your mind at ease and gently stroke your ego with some kind compliments. Listen closely and believe them!
REALIZE IT'S OKAY TO BE YOURSELF – PLAYING A PART DOESN'T WORK LONG TERM ANYWAY
Walk into the venue with your head held high and a mind full of curiosity. Know that it's okay to be yourself, ignore the impulse to lie if your hobbies don't align. You're looking for a romantic match, not your twin and your differences are what make you interesting to each other.
Self Confidence Tip #4: It's All About Posture
You wouldn't think it, but the way you stand and present yourself can have a big effect on the way a date goes. Hold yourself tall, standing up straight, with your shoulders back and an open posture.
It's been proven that the way you position your body can have a psychological impact on the way you perceive a situation. It boosts confidence, makes you feel more in control and prepared for the date. Not to mention the energy you feel just by walking proudly.
'FAKE IT TIL YOU MAKE IT' ACTUALLY WORKS WELL FOR YOUR CONFIDENCE
Your date will also respond well to this. If your arms are rested on the table, or by your sides (rather than crossed in front of your chest), you will come across less intimidating and easier to talk to.
This is actually a great tip for all social scenarios, and you might be surprised how your colleagues or friends react when you test it out. It never harms to come across more confident than you feel inside during an important sales pitch at work or speech at your best friend's wedding.
Self Confidence Tip #5: Pat Yourself on The Back (Not Literally… Well, Ok Then)
Even after taking all these steps to feel your best and hoping for the dreamiest date ever, it might not work out. Sorry to be the bearer of bad news but there is no magic formula!
In these cases, try to see it as steppingstone to finding love later on – it's a marathon, not a sprint after all. Be kind to yourself and congratulate yourself for going into a situation with confidence, and a positive attitude. It's their loss not yours.
BE PROUD THAT YOU PUT YOURSELF OUT THERE – EVEN IF THAT PARTICULAR DATE DIDN'T WORK OUT
Draw a line under dates that don't work out and don't lose faith. Next time will be a new opportunity so don't haul that negative luggage around with you. Brush it off in the knowledge that a bad date is not a reflection on the way you acted.
We hope we've given you some new excitement in the quest that is your dating journey. It's completely within you to be more confident, get yourself out there and meet new people. Have faith in yourself, you're incredible – why wouldn't your date love meeting you?
Following these tips will set you well on the way to having an exciting dating life and finding long lasting love. Good luck!
Living in the city and need some date inspiration? Look no further.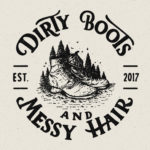 Written by:
Dirty Boots & Messy Hair Team
Connection is what it's all about. Feel free to reach out to us with any comments or questions you might have, even if it's only to say hello. If it wasn't for our beautiful community, this place just wouldn't feel the same.