Being 'the salesman' doesn't come naturally to all photographers, which is why it helps to know how to write a follow up email to prospective clients.
Cause let's face it – we've all been there.
Sometimes, even after your very best efforts, a client who was once super keen to get to book you just drops off the radar. You may have sent several emails back and forth, and then you get radio silence.
Nothing.
Nada.
So, what went wrong?
Chances are, it's nothing you did — most clients are busy people and replying could have simply slipped their mind.
But: almost all emails are opened the day they are sent, so if a client was to respond they'd likely have done it already. So, what you do next may be make or break.
Dropping back into their inbox with a casual but persuasive follow up email can be the key to you sealing the deal.
But, we hear ya. That's often easier said than done.
So how do you write effective follow up email to clients?
In this article, all will be revealed…
First Things First, When Is It Right to Send A Follow Up Email?
Email is the preferred marketing channel for 72% of people. However, it's not always appropriate to send a little nudge via email. You don't want to nag, or interfere, or push a potential client away.
You need to reflect on the time that's passed, and the relationship you've had so far with the recipient, before you hit 'send'.
A follow up email after two to three days of silence is a good time to act.
Next, you need to re-read a client's language — and behavior if you've met them in person. This will help you decide if they need a little follow up encouragement.
For starters, did they sound keen and interested up until the point they dropped off? Read back through your emails and be honest with yourself; were they asking all the right questions, were they sharing details such as wedding dates and photoshoot aesthetics?
If no: they may not really be a viable lead.
If yes: then it's time to draft a follow up email — this interested client isn't one you want to let get away.
Ready?
How To Shape A Follow Up Email To Clients…
Good news: there is a recommended approach when shaping a follow up email.
Whilst the detail and minutia will change from client to client — so please, please don't copy and paste any content from one email to another! — do feel free to adapt the following flow each time.
1. Ask Yourself: What Are You Trying to Achieve?
What's the ideal outcome of this follow up email? Where in the booking journey had you got to with this client?
These are both important questions, as they help you set the objective of your message to the client.
An email objective could be anything from: receiving a deposit to book in a photoshoot; confirming the date and time of an in-person meeting; or thanking a client, post-wedding, and asking for a review to use on your website.
Be crystal clear on your objective, and you'll be able to get straight to the point in your follow up email.
Now it's time to start writing…
2. Cut Through the Noise with A Killer Subject Line and Opener
Spam emails are a scourge of the 21st Century. Whatever you do, you do not want to be seen as spam by potential clients!
The slightest whiff of spam, and your message will be going straight into trash or worse (69% of people will report an email as spam, so be warned!)
So, you need to really think about the language you use in your subject line and opening line.
Speaking authentically is super important here. You don't want to come across all business, business, business.
Don't forget: a wedding is the most important day in the lives of many of your clients. Just because this email is a formality to you now, anything and everything related to their happy day should feel sentimental and meaningful.
Reach out on a personal level —  a subject line with the client's name in it, and an opener which references your previous conversations, e.g. "I was so enjoying discussing the details of your winter wedding…".
Reminding a prospective client of the connection you had is a extra effective to get them back on board.
A quick note on discounting. You may have read that discounts help to close a deal. And sure… price can help a client make up their mind.
But you should hold your discount card close to your chest until it's absolutely necessary to use (and, it may never be!)
At the end of the day, your wedding photography service is your livelihood. If you can't afford to offer a discount (or if you simply don't want to), you shouldn't. your work has a value – honor it.
You've got enough challenges as a wedding photographer, without being constantly asked for knock-down pricing.
3. End Your Email with A Clear Call-To-Action
You should always finish your follow up message by asking for what you want.
Now, there's a good and not-so-good way of doing this. You need to be direct, but friendly; assertive, but not bossy.
Ultimately, you want to make it easy for the recipient to respond. If you're looking to arrange a meet-up, offer a date and time that works for you. If you're in the final stages of set-up, and just need the client to fill in a wedding photography booking form, then attach the link or downloadable doc at the end of your message.
Just as you'd use a call-to-action in your other marketing messages, like on Instagram or Facebook, do the same in your follow up emails.
Still Feeling Unsure? Here Are A Few Follow Up Email Templates to Help You Find Your Feet…
Remember how we said to never copy and paste an email from one client to another?
We meant that!
But it can be okay to lift from existing follow up email templates, if you're still a little lost on where to start.
A Follow Up Email Template for When You Want to Know If They're Still Interested
Email subject: Let's talk about your wedding day, [Name]?
Hi [Name],
It's been so great to discuss ideas for your big day – I love your vision of [insert a personal and specific comment here in reference to your previous chats].
Just wondering if you're interested in learning anything more about my photography approach, or costs?
If so, please do drop me an email — or a call on [phone number] if that's what you'd prefer.
Looking forward to hearing from you.
Thanks,
[Signature].
A Follow Up Email Template for When You Want to Close A Sale
Email subject: Hey [Name], let's get your wedding photographer booked in!
Hi [Name],
How are preparations for your [specific details] wedding ceremony coming along?
If you're looking to tick something off your list, I'd love to get your booking completed from my end –I'd be thrilled to capture your special day!
I've attached a booking form to this email. Please fill this in and get it back to me as soon as you can (preferably by the end of the week, so I can protect my time for your wedding day).
Any questions on the booking form, you know where to find me.
Thanks,
[Signature]
A Follow Up Email Template for The Day After the Wedding
Email subject: Thanks so much, [Name]. I'm editing your wedding photos now!
Hi [Name],
How are you feeling after [day of the wedding]? I hope you had the most amazing day.
Just to update you: I've started editing your wedding photos now — they are so great; I can't wait for you to see them!
In the meantime, I'd really appreciate if you could write a short review for me to use on my website.
Reviews really help me to secure new business, so even just a few words would be fantastic. Feel free to email back with just a few sentences.
I'll be sure to get your photos to you by [achievable date].
Thank you and speak soon.
[Signature]
So, That's Everything You Need to Know About Effective Follow Up Emails to Clients
If you've ever been ghosted by a seemingly interested connection, you're not alone!
But now you know what you need to do, if you need to send a client a little nudge, at any stage of your professional relationship.
And if you're hungry for more wedding photography marketing tips like these, check out our blog on how to market your business on Pinterest – with this social media platform being the holy grail for wedding planning, it's a great place to connect with potential clients.
Go out there and win that business!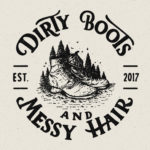 Written by:
Dirty Boots & Messy Hair Team
Connection is what it's all about. Feel free to reach out to us with any comments or questions you might have, even if it's only to say hello. If it wasn't for our beautiful community, this place just wouldn't feel the same.
Photographer Tips
05 Sep 2019