This week we are crushing on Johnna Johnson of the Johnsons Photo. Johnna and her husband are a husband/wife photography team based out of Northwest Arkansas. They specialize in wedding photography and truly know how to evoke genuine emotion with their subjects. Take a look at what they have to say!
Where are you sitting as you are writing this right now? How's your day going? How are you feeling?
As I type this, we're sitting at the kitchen table, our two children are eating donuts for dessert, and our goldendoodle puppy is at our feet trying to catch anything they drop. I was actually able to accomplish everything on my to do list today, so I'd say it's been a pretty good day!
To those that might not know you just yet, please introduce yourself – Who are you? Cat or dog person? What's your photography style?
We're a husband and wife wedding photography team based in the northwest corner of Arkansas. We have two children, and they're basically the coolest humans we've ever met. We know we're biased but what other kids do you know that regularly listen to 80's music?! I mentioned earlier that we have a goldendoodle puppy – we also have a rescue cat, so can we be a cat AND a dog person?
As for our photography style, I'm always kind of at a loss when I have to describe it. I tell our clients pretty frequently that we just capture the day as it felt.
Can you show us 1 or 2 photographs that are particularly meaningful to you and share the story behind them?
This first one was actually taken on the Isle of Skye of our friends Keely and Aaron. I think this one stands out to me personally because we all had such a good evening. We drove around, stopping the car as we saw places for photos, and then at the end we watched the sun set over the Quiraing. There wasn't any pressure to capture the "perfect" shot, we just got to explore and make art.
The second one was taken at the couple's proposal which was so special to get to be a part of, and then we became good friends with them over the course of shooting their proposal and wedding, so now it's even more special to us that we got to be a part of two really big events in their lives.
What role does Instagram play for you as a photographer? Is it important for your business?
As we've started booking more from it, I do think Instagram has started to play a bigger part in our business than it did even a year ago. Honestly, though, if I'm having a week where I'm behind and my to do list is miles long, keeping up with our Instagram will probably be the first thing I slack on. I'd rather have happy clients than an Instagram I prioritize posting on every day, haha! While I definitely think it's played a big role in booking our out of state/country work, I try not to live on IG or else I start comparing and feeling lacking.
If you had to pick just one thing, what would you say you love the most about being a wedding photographer?
The people! It's been amazing getting to interact and connect with people from all over the world. I still can't believe we get to tell their stories – I know it's cliche to say but I couldn't imagine a better profession.
What's the biggest challenge you've faced that could be a helpful lesson for other photographers?
Just like our favorite thing about the job is the people, I think they can also be the biggest challenge. Sometimes we might have a mother of the bride or a guest or someone be a little difficult, and when we first started out I think I kind of approached that situation the wrong way – I'd think of the bride and groom as the only people I had to please and if anyone else didn't see eye to eye with me I wasn't super concerned. As I've grown as a person, I now try to see things from their perspective a little more. Now on wedding days where someone is difficult, I make it my personal goal to have them happy with me by the end of the night. Obviously, you can't please everyone, and this isn't always possible, but a little kindness goes a long way. I'd rather go a little out of my way to make someone happy and have them telling everyone how great it was to have us by the end of the night.
Who or what inspires you?
I think our biggest inspiration is traveling and personal experiences. We try not to look at other wedding photographer's work too often, haha! But I also always find myself feeling really inspired when I get to shoot with another photographer. Getting to see how someone else works always gives me a fresh perspective.
What are your dreams for the future of your career?
We would love to shoot weddings forever, but it's such a physically and mentally punishing job, we're not sure we could do it! We'd love to get into education in some form eventually.
Major thank you to the Johnson's for sharing all of their know how with us! To see more of their work, follow them on Instagram here!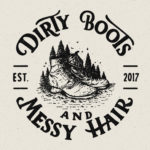 Written by:
Dirty Boots & Messy Hair Team
Connection is what it's all about. Feel free to reach out to us with any comments or questions you might have, even if it's only to say hello. If it wasn't for our beautiful community, this place just wouldn't feel the same.
Photographer Tips
13 Mar 2019