If you've attended a wedding recently, you'll know that it can sometimes be crazy expensive. What with forking out for the hotel, travel, outfit, bachelor/bachelorette party and gifts: costs can quickly spiral.
The average American wedding now costs over $1000 to attend, so depending on how many you're going to a year, the location and how involved you are, it's a serious amount of money you need to budget for.
When it's your turn to be the bride and groom you obviously want your guests to have the most incredible time, and part of that involves having some consideration for their expenses.
In this article, we highlight some of the ways you can keep costs down for your guests, no matter your wedding budget. After all, the happier your guests are the more fun they'll have, and in turn, the more fun you'll have too.
Budget Option Hair and Makeup for Your Wedding Party
When it comes to your bridal party, you understandably want everyone to be looking their best for your photos. Paying out for a hairdresser and makeup artist for every single one of your bridesmaids can easily run into the thousands, but it's not necessarily fair to ask them to pay for it themselves. There are so many other  options out there – many of which are way cheaper!
All the top cosmetics brands now offer free makeup tutorials at their stores. They do this in the hopes you will buy products from them, but there's no obligation. Give each 'maid an idea of the kind of look you're going for and ask them to head to their local beauty counter to be taught how to replicate it. Keep the look universal and straightforward so it will suit everyone while ensuring even a makeup novice can carry it off on the day.
Likewise, with their hair, find a style you like – keeping it as simple as possible – and scour the web for a tutorial. You can send this out to your bridal party and ask them to get practicing. Use it as an excuse to get everyone together for a rehearsal and to catch up on the wedding plans!
Make sure your wedding gift registry has low budget options
If you're trying to save money by making economical wedding decisions, it's only fair to pass these savings onto your guests, too. So, for example, when registering for gifts, think about adding items at a range of different prices to suit all budgets.
This gives your wedding guests the opportunity to spend as much or as little as they feel comfortable with. Ideal lower priced items include towels, crockery, place settings and home decor. And there's always the option to add experiences to the registry as well, such as a trip, or smaller experiences like cooking classes or even a gift certificate to your favorite coffee shop!
That way your guests can contribute towards some vital newlywed time after the big day, without feeling they have to break the bank to do so.
Your bridesmaid and groomsmen outfits can be a key element to the overall style of your day. By all means scroll Pinterest for inspiration, but don't get carried away! Think about how much you'd want to spend on a bridesmaid dress.
Make the most of seasonal sales, online discounts and email offers. Sign up with all your favorite brands and make sure their newsletters aren't going straight to your junk folder — they'll often send exclusive coupons to their email subscribers.
If your maids live close by, it could be fun to go thrifting with them! Not only will you find potentially amazing deals, but you'll also be with them to help coordinate their looks. Plus, mismatched bridesmaids are on trend right now!
And your bridal salon? If they carry bridesmaid dresses or suiting, keep in touch after you've bought your gown and check in with them regularly to see if they have any sample sales or promotional events coming up.
This tip could apply to a few areas of your wedding. Set a casual dress code for the wedding day so your guests don't feel pressured to purchase a brand new, (often high-priced!) black tie outfit. This way they'll have the freedom to shop their current wardrobe instead, thus relieving some of the burden.
Other areas you can keep casual are any events surrounding the wedding: drinks the night before, breakfast the day of, brunch the day after; make them all optional and casual affairs so your guests are under no pressure to spend additional money to be there.
We hope you've found these tips helpful in your pursuit of planning your dream wedding day! And no matter what, at the end of the day, the thing that matters most is that you get married.
Worried about how your best man is getting on writing his speech? Send him here before he writes another word.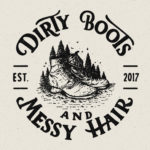 Written by:
Dirty Boots & Messy Hair Team
Connection is what it's all about. Feel free to reach out to us with any comments or questions you might have, even if it's only to say hello. If it wasn't for our beautiful community, this place just wouldn't feel the same.
Wedding Planning
06 Apr 2019