If you're planning to give a long distance relationship a shot, you should enter it with your eyes wide open. The fact is, being in a long distance relationship isn't easy. Without the right mindset and strategies, it can be really tough to make it work. Having said that – long distance relationships are also an opportunity to make your relationship flourish. 
According to a 2013 study, the myths are true: absence really does make the heart grow fonder. Those is effective long distance relationships are not only to share their emotions more readily, but they're also more likely to enjoy greater intimacy (both emotionally and physically) with one another.
So – it can be done! Get it right, and a long distance relationship won't break your relationship, it'll make it. But how do you get to that point? We've created a guide that every person in a long distance relationship should do in order to to achieve relationship bliss. 
Set some ground rules, and stick to them
When you're in a long distance relationship, you need to be prepared to make a real effort to see one another. That means making a conscious effort to speak with and visit one another. There are always a thousand excuses to skip that Skype call, or to call off that weekend visit. After all, you're building a new life wherever you are, and that's important too. But if you're going to make your relationship work, you need to commit to the ground rules you set up front about when (and how frequently) you'll see each other. 
Make a rule about the maximum amount of time you're willing to go without seeing one another. Depending on how far apart you are, this could be anything from a few days to a few months. The one important thing is that you respect this rule – it's what your relationship needs and deserves if it's going to survive.
Share what's going on every day
In a non long distance relationship, you would usually fill your partner in on your day whenever you get home. Obviously when you're in a long distance relationship this can't happen. Despite this, sharing the seemingly insignificant ins and outs of your day are super important for building a closeness with your partner, so you should still be sure to share what's going on in your daily life. 
If you're in different time zone and a daily call isn't possible, then you could instead write each other a daily email with your news. You could even consider setting up a special inbox for your emails – like a modern day love letter. In years to come you'll be able to look back at exactly how you felt doing this long distance thing, and see just how far you've come together.
Have an end goal in sight
Long distance relationships only work if they are a means to an end. It doesn't matter if you have to do it for years, it just matters that you have an end date (or goal) in sight. 
Perhaps you are having to go long distance because of your studies, or perhaps you're trying to figure out visa issues. Whatever your reason, you just need to know that one day it will be over. That in the grand scheme of a lifetime together, this period is a mere blog in the ocean.
Don't put too much pressure on visits
If you haven't seen each other in a while, it can be easy for visits to feel overwhelming. Some trips will be amazing, others might be full of bickering and arguments. And you know what, that's ok. If you were in a non long-distance set up, this would be a totally normal part of being in a couple. It's only normal that these same issues arise when you're far apart, too. 
The experience of a long distance relationship will be a rollercoaster ride. Sometimes it will be incredible. At others it will be really, really hard. Both are a-okay if your heart is still in it. 
Make your time together as 'normal' as possible
Whilst it can be tempting to maximize the time you do have together by going on crazy trips or adventures. These are great to do once in a while, but it's also super important that you take time to just 'be' together. 
The normal 'couple-stuff' is the essence of a relationship. It's nights in on a the sofa watching Netflix and binging on junk food. It's walks in the park. It's cuddles in bed. It's simply being together, with no agenda. Make time for these moments of normality to express themselves in your relationship, even though your time together is scarce. 
If you're serious about making a long distance relationship work, know that you can do it. The right person is worth waiting for, and in the meantime, the long distance will just make it all the more exciting and intimate when you do get to share time together. Good luck, and enjoy it… after all, if you want to live together, you first need to learn how to live apart.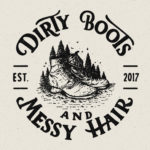 Written by:
Dirty Boots & Messy Hair Team
Connection is what it's all about. Feel free to reach out to us with any comments or questions you might have, even if it's only to say hello. If it wasn't for our beautiful community, this place just wouldn't feel the same.
relationships + dating
30 Aug 2018