More and more couples are making the spellbindingly wonderful decision to turn away from traditional weddings, and elope. 
We get it. With all the pressure and formality of a traditional wedding, we can't think of anything more romantic than deciding to head off and do things solo. 
Whilst elopements are becoming more common, myths about them still prevail. Often elopements get a really bad wrap. There's so many stereotypes about what they are and aren't that many couples are scared off. 
So, if you're thinking about eloping but are put off by some of the things you think they are or aren't: stop. We're putting the most common myths to rest in this article, so that you make a decision that's right for you.
Myth #1: Elopements don't need planning
This honestly couldn't be further from the truth. Deciding to elope doesn't mean that you're having a shotgun wedding. There are literally a thousand different reasons why you would decide to elope, and getting it right takes just as much care an planning as any big wedding. Intimate doesn't equal easy. You'll still have to consider all the different aspects that make traditional weddings special, just on a smaller scale. 
To avoid running into any unnecessary stress, consider getting a wedding planner to help you get things organised and make the day run smoothly. 
A good elopement planner will be your sounding board and champion throughout the whole process. They'll listen to your goals for the day, and then work with you to create something magical. 
Want to experience your wedding meal on the rooftop terrace of that historic building whilst being serenaded by a mariatchi band? Your wedding guide will work all their experience and local contacts to make that vision come true. 
Myth #2: Elopements are selfish
Oh please. This one really needs to be put to rest. If you can't make a decision that's right for you on your wedding day, then when can you? You're getting married for you, no-one else. Sure it might be disappointing to family and friends that they won't be with you when you say your vows, but ultimately they'll support you if it's what you truly want. 
The trick to avoiding any upset is clear communication. There are countless reasons why you might pick an elopement over a traditional wedding. Maybe you are doing it for financial reasons. Or perhaps you simple want something totally intimate. Whatever your personal reasons, communicate them to those you love and they are sure to give you their full support. 
Remember though, decisions about your wedding day are yours and yours alone to make. Invite your family and friends into your thought process – perhaps even get them involved in the organisation of the day – but accept that it's also ok that not everyone will be ok with your decision to elope. 
Myth #3: Elopements aren't legally binding
You can absolutely opt to have a legal ceremony at your elopement. This just means that you'll have to find a place which is legally permitted to hold an official ceremony, and you'll have to be joined by a registrar and witnesses. 
The other option is to take care of the legalities ahead of the day, freeing you up to have a symbolic ceremony. The incredible thing about this option is that you can literally pick anywhere on earth for your blessing. You'll already be legally wed on the day, so you can pick wherever your hearts take you for your vows. 
Myth #4: Elopements can't involve anyone else
This one is just totally not true. There are no rules about elopements – they can be as intimate as you want them to be. If you want to invite a handful of your closest loved ones along for the ride, then do it! 
In fact, you could even opt to involve them more formally in your day. We even recently featured this dreamy elopement on the Isle of Skye where the groom's husband was the celebrant! 
Sure you might not want a big traditional wedding with all your distant relatives. But that doesn't mean you can't have something that involves those you really love. 
Don't get caught up in thoughts of how your day should be. You've already come this far – so do whatever feels right for the two of you.
Myth #5: Elopements aren't as special as traditional weddings
Nothing irks us more than this nugget of untruth. Think about it: what could be more meaningful or special than sticking two fingers up to tradition and doing things your way? 
Elopements are the most wonderful expression of love between two people. Having the courage to create the day that's right for you, whatever that might be, is nothing other than utterly special.
Who says that having a hundred people around you makes your wedding more wonderful than opting for something more intimate? 
That's just what people tend to do, but it doesn't make it more special. In fact, in many instances, it simply makes it more stressful.
So ignore that niggling voice telling you that an elopement won't be as wonderful as a more traditional day. It will be everything a traditional event, and so much more!  
In the end, whatever you decide to do for your day will be magical. If you do decide to opt for an elopement, however, then know that there's not a myth on earth that will stop you from having a truly perfect day. 
Enjoy!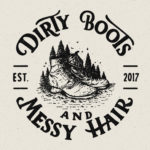 Written by:
Dirty Boots & Messy Hair Team
Connection is what it's all about. Feel free to reach out to us with any comments or questions you might have, even if it's only to say hello. If it wasn't for our beautiful community, this place just wouldn't feel the same.
Wedding Planning
29 Aug 2018