Ahhh COVID-19. You've upended our lives in almost every way imaginable. You've made us afraid. You've changed our routines. You've made the world a little smaller.
But you know what you didn't do?
You did NOT stop the love.
In spite of how difficult this year has been, so many amazing couples have found innovative ways to tie the knot and celebrate their love in entirely new ways.
What's even more incredible is how you – the photography community – have adapted to document the weddings people never thought they'd have.
This month, we wanted to shine a huge spotlight on some of the incredible images that you have captured in this strange new world of unexpected micro and modified weddings.
Welcome to this month's challenge series: #CovidCantStopTheLove
"They'd planned a huge wedding then COVID came and crushed their plans so they just planned to do whatever was legal at the time. Then the government announced they were allowing weddings with up to 30 guests so that day they went and registered and got the first date they legally could (4 weeks later). In those 4 weeks they planned the most beautiful wedding with their English family and then 2 days later they went across to Ireland to do the same with their Irish family!
It was intimate, beautiful and honestly I couldn't have imagined them celebrating their wedding any other way!"
"This couple originally had plans to get married in Hawaii, but due to Covid had to shift gears, so they headed to the desert instead."
"Mikayla and Brandon originally had a big Vegas wedding planned, but COVID forced them to cancel. Wanting to keep their original May wedding date, and with the future unknown, they drove into the mountains to say their vows at the Garden of the Gods park in Colorado (with their family watching on Zoom, propped up by my camera backpack), followed by a golden hour portrait session at the Paint Mines."
"We did consider postponing our Wedding. Back in the spring, We were both laid off due to COVID-19 and had countless discussions about our future plans. With lots of patience, we got back on our feet and decided We wanted this Wedding, knowing We would have to make some hard cuts and sacrifices. At the end of the day, We wanted a day to celebrate Us, and Love and to feel normal. It was tough to accept We would be compromising on a day We had been waiting 12 years for, but after all was said and done, it was amazing. A Wedding with our closest friends and family ended up being a perfect fit for us".
"Ella and Brandon Cobb grew up as best friends and ended up getting married in their parents backyard on Aug 8th 2020. Originally set to include a quite large guest list they decided to cut their to 40 people to ensure it was COVID-19 safe. After bouncing around a bunch of different locations in the Shenandoah Mountains & scouting; they inevitably decided to transform her parents backyard into the boho wedding of her dreams. They kept everything flexible up until that last few days so if anything needed to be adjusted last minute it could be done easily. Although this wasn't their Plan A B or C, the wedding was more than they could even have imagined with their closest family & friends present to celebrate with them."
"Through all odds they were persistent to share their special day they've always dreamed of…even if it meant changing a few things around. Prior to the wedding they decided to treat Mia's bridal photos as their "first look" at the venue of their dreams. Instead of being surrounded by tons of people they decided to share this special moment with themselves just a few days before their official ceremony."
"I seriously have no words for the beauty of this day. Congratulations Kenya + Wesley! I'm honored to have been able to capture such a special and intimate celebration."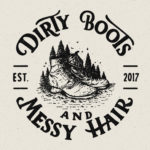 Written by:
Dirty Boots & Messy Hair Team
Connection is what it's all about. Feel free to reach out to us with any comments or questions you might have, even if it's only to say hello. If it wasn't for our beautiful community, this place just wouldn't feel the same.
Photographer Tips
29 Sep 2020