'Sustainability' is the word on everyone's lips right now.
And for good reason — hardly a day goes by without a news story related to environmentalism.
But it can be hard to understand exactly what we can do, as businesses and individuals, to help combat the negative effects of climate change.
Do we all need to stop eating meat? Is it time to trade in your car for a bicycle? Must we only hop in-n-out of the shower, to avoid wasting water?
Truth is: if we all do just one little thing, then it will amount to a lot of good change.
So, what small acts can photographers do to give back got the environment?
There's quite a few, actually.
If you're looking for inspirational ideas to support, protect and share the beauty of the environment through your work as a photographer, then read on…
Charity Starts at Home – And Photographers Are Ideally Placed to Promote the Beauty of Their Local Neighborhoods
There's beauty to be found in every corner of the world, no matter where you live! And as a photographer, you'll be especially skilled at noticing the beautiful, sometimes tiny, details which other people simply pass by.
So why not share your eye, by holding a walking photography tour of your local area?
Whether you take a group around a nearby forest, or through an urban jungle, you can teach people an important lesson about appreciating what they have around them.
Why is this important?
Well, by developing an understanding and gratitude for the immediate world they live in, you'll encourage others to consider the impact their presence has.
And if they can begin to think about how their way of life affects their immediate locale, they are on their first steps towards thinking about the environment at large.
Nice!
Remember: if you're going to do any walking photography tours deep into nature, make sure you adhere to the photographers' 'Leave No Trace' principles, please!
Use Your Talent for Visual Storytelling to Draw Attention to Environmental Concerns
Photography is an incredibly powerful medium — if you've ever taken a portrait and been simply blown away by the look in your subject's eyes, then you'll know how arresting a photographic image can be.
So why not flex your talent from portraits into landscape photography, and set yourself the challenge of documenting an area of environmental concern, either in your local area or further afield?
You'd be — sadly — surprised to learn how many natural spots are under threat from human interference, like meadows which used to burst with color, but now have been so down-trodden they may never be in bloom again.
If you can find an area that's under threat and use your photography to campaign against its destruction or over-use, then you may be able to save it!
And, who knows, this kind of environmental photojournalism may even become your photography niche, moving forward!
Hold A Print Sale and Give A Proportion of The Sales to An Environment Charity
So, what should you do with these photojournalism shots once they are ready to go?
Sell them, of course!
And another way photographers can give back to the environment is by donating a portion of their profits to an environmental charity or wildlife fund.
What's more: if you advertise that you'll be selling prints in order to raise money for a charity or donation-led organization, you may even get more customers through the door as a result.
More customers = more sales = more promotion for your wedding photography business aaaaand more funds raised.
It seems like a win-win, doesn't it?
That's because it is!
Make A Point to Only Work with Like-Minded, Environmentally Conscious Partners
When you're trying to make a positive impact, it can be really frustrating to suddenly be in a working relationship with someone who just. doesn't. get. it!
But you can protect yourself from this kind of angst, by trying to only partner with clients and other photography or wedding vendors who share the same values as you.
These could be wedding dress makers who specialize in using vintage or re-purposed fabrics, florists who plant and yield their blooms in a super sustainable way, or printers who can make your business cards from recycled paper.
Plus, when it comes to final shots, you should always ask yourself: does this really need printing?
These days, online photography galleries have so much data storage space that only the most treasured of frames should be printed in hard copy.
And don't be afraid to make small suggestions to your clients, too. If you've been asked to cover an elopement, see what you can do to help make sure they are eloping in an environmentally conscious way.
Let's face it — for many brides and grooms, environmentalism isn't necessarily going to be top of the agenda for their wedding day. But every little counts!
Maybe you're just the person they need to influence them to start thinking more sustainably?
Use Your Instagram Following to Spread the Message
Speaking of influencers… social media is a fantastic place to promote your new, environmentally aware way of thinking.
If you're stuck for killer Instagram captions, you can always take the opportunity to share a story or environmental message — especially if you've taken onboard our previous idea of environmental photojournalism!
So, what if you've only got 300 followers?
Whether you've got 100 followers or 100,000, each and every individual you reach with your image will have a better awareness of what's going on in the world around them.
And that's exactly what we're here for!
You can also build your network and make some friends in the world of sustainability by connecting with them through hashtags like: #EcoMonday, #Recycle, #Green, #Environment, #EcoFriendly, #Wildlife, #ClimateAction…
Lastly, You Could Do Some Pro Bono Work for An Environmental Organization
At DBMH, we're of the opinion that under-pricing yourself is a mistake that many beginner photographers make.
Whilst under costing can be damaging to your wedding photography business at the start, there's definitely something to be said for volunteering your time to help purpose-driven businesses, when you're a little more established.
And, hey, if you know you can financially support yourself and do some pro bono work on the side, then it shouldn't matter whether you're a beginner photographer or you've been in the game for years.
But what kind of pro bono work may be relevant to photographers?
Many social and environmental enterprises, charities and non-profit organizations may struggle to gather together the budget for photo and video content production.
This means their social media and website can be somewhat… lacking. And that's where you can step in!
You'll know how to tell a visual story on your own social media and photography website, so you can share some of that wisdom with them, too.
It may be that you offer to take some photos of videos, free of charge. Perhaps you just give them the time for a coffee and some quick consultancy on what they can do.
No matter how you choose to donate your time, you'll know that it's going to a good place.
Psst: this kind of work is great to do during low season. Sure, this project may be for free, but you never know who they'll put you in touch with next.
So, There's Six Great Ideas for How to Give Back to the Environment Through Your Photography Business…
… what are you going to do with them?
We hope to see more of you wonderful photographers working in environmentally conscious ways and encouraging others to do the same.
Don't forget to tag us in your Instagram or Facebook posts, or add to the DB&MH Facebook group — we'd love to see what you're up to!
And if you want more tips and tricks on sustainable wedding practices, check out our guide to the best eco-friendly alternatives to floral bouquets.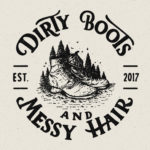 Written by:
Dirty Boots & Messy Hair Team
Connection is what it's all about. Feel free to reach out to us with any comments or questions you might have, even if it's only to say hello. If it wasn't for our beautiful community, this place just wouldn't feel the same.
Photographer Tips
04 Nov 2019