Yes, it's that time of the year again.
With its golden views and cozy nights, fall has returned with all its romance and autumnal delight.
And with Halloween just around the corner, it's time to pull out the vampire cape, carve a pumpkin, and decorate your home in cobwebs and all things spooky. But away from all the fanfare and celebration – fall is also the perfect time for some much-needed, couple downtime.
Even if your summer was one filled with love, fall is still the perfect time to turn the romance up a notch.
And with Halloween creeping ever closer, when could be a better time for a scary movie night with your loved one? It's free, fun and spooky… all the things you need for a romantic Halloween date!
So, light a pumpkin spice candle, grab the popcorn, and pick from our list of the best scary movies for Halloween below.
And don't worry: scary movies don't have to mean all blood and gore. Our picks are super couple-friendly (even for you horror-haters).
Let's dive in…
Scary Movie #1: The Addams Family – (Paramount Pictures, 1991)
The first feature outing for the Addams', this 1991 cult-classic offers a macabre and satirical look at the unit we call 'family'.
Look beyond the drama of fake brothers, walking hands and Frankenstein monsters, 'The Addams Family' – at its very core – is a film about love.
An odd reminder of what matters most, this is a comically touching scary movie for Halloween that will resonate with any romantic pair.
Scary Movie #2: The Nightmare Before Christmas – (Touchstone Pictures / Disney, 1993)
When Halloween comes around, it's almost inevitable that thoughts of Christmas begin to start ticking. And that's just one of the reasons why this film is so great and so timeless, too.
Celebrating both Christmas and Halloween in one, 'The Nightmare Before Christmas' offers a classic look at the tale of Jack Skellington and how he planned to steal all things festive.
Spooky and yet endearingly heartwarming, this is a must-see, scary-but-cozy Halloween movie for any couple (or singleton!) out there.
Scary Movie #3: Coco – (Disney Pixar, 2017)
Why is it that Disney films are always the ones that make you cry the most?
Seriously, they must have some secret formula to turn on the waterworks.
And Coco is no different: on a journey filled with discovery and love, protagonist Miguel accidentally finds himself in the spooky-yet-stunning Land of the Dead.
With its bone-shaped paving stones and dancing skeletons, it is here where Miguel seeks generations of his past to help him reverse his family's ban on music.
Inspired by Mexico's 'Day of the Dead', this scary movie for Halloween is a colorful and joyous odyssey through all things creepy – ideal for those cozy and romantic, fall nights ahead.
With a moving moral message about familial love, this is a perfect flick to curl up in front of whether you've got a family, are soon-to-be parents or just love a bit of Pixar!
(But have the tissues at the ready!)
Scary Movie #4: Corpse Bride – (Warner Bros. Pictures, 2005)
Similar in style to 'The Nightmare Before Christmas', Tim Burton brings his uniquely ghoulish tone to the second of his macabre masterpieces on our scary movie list.
A love triangle between the living and the dead, the 'Corpse Bride' is the perfect scary movie for Halloween.
Who will Victor, the son of a merchant family, choose to marry? Victoria – his high-society fiancé – or Emily – the corpse bride he mistakenly married in the forest?
Find out in a story filled with twists, turns and tragedy: a recipe for the perfect Halloween date night.
Scary Movie #5: The Rocky Horror Picture Show – (20th Century Fox, 1975)
Another cult-classic, 'The Rocky Horror Picture Show' is a scary movie fit for any Halloween night-in.
A musical hybrid of comedy, horror and sci-fi: 'Rocky' tells the story of how an innocent couple (Brad Majors and Janet Weiss) find themselves in the company of Dr. Frank-N-Furter – a cross-dressing hedonist whose pursuit of pleasure is deadly.
(If you haven't actually seen The Rocky Horror Picture Show… then this is all going to sound pretty crazy. And it is! No two ways about it. But believe us – this is essential viewing. You really have to see it to believe it. So keep reading…!)
As the self-proclaimed 'sweet transvestite' introduces his latest creation to the unsuspecting pair, they are soon seduced by the doctor's surrealist fantasies.
Campier than camp, and more sexy than scary – 'The Rocky Horror Picture Show' will give any date night a truly uncanny, Halloween edge.
Scary Movie #6: Coraline – (Focus Features, 2009)
Colorful – yet equally dark and disturbing – 'Coraline' is the critically acclaimed fantasy-horror that teaches us to appreciate those we love.
When a young girl feels ignored by her parents, she discovers a secret door that leads her to an alternate world that closely resembles her own. One thing is different, though – her world is much better than she knows.
But soon after her discovery, Coraline realizes that all is not as it seems, and her adventure takes a dangerous turn.
A magically eerie expedition that highlights the importance of family and love, Coraline is a must-watch scary movie for Halloween – this year and beyond!
Go Get Spooky with These Scary Movies for Halloween!
And that's it for the scary movies that we think will make for the perfect couple night in, this Halloween!
From button-eyed-counterfeits to doctors from 'Transexual, Transylvania' – we hope that one of these scary (and not-so-scary) films will keep you entertained for the long, autumnal nights ahead.
And once you've worked your way through this list, why not check out our recent guide on what not to miss on Netflix? Give our recommendations a try and let us know if you enjoy them!
For more content just like this, click here to give our blog a read. From relationship advice to top lifestyle tips – we've got you covered!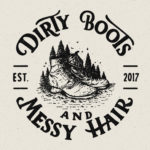 Written by:
Dirty Boots & Messy Hair Team
Connection is what it's all about. Feel free to reach out to us with any comments or questions you might have, even if it's only to say hello. If it wasn't for our beautiful community, this place just wouldn't feel the same.