It's weekly crush time again! This week, we are crushing on Lindsay Vann! Lindsay is a couples photographer based out of the Virgin Islands. She has a heart for shooting love stories and a passion for travel. Check out what she has to say below! 
Hi!!! I'm a wedding and elopement photographer based out of St. John in the Virgin Islands. I love 80's movies (Don't Tell Mom the Babysitter's Dead is life) and camper vans and my handsome dread locked photo partner in crime. I'm always hiking, hanging with my pups, traveling, and recently into scubadiving. I would say my style is a little messy and natural and dreamy and moody and anything that makes my heart feel the fuzz.
What are three words your friends would use to describe you?
I actually asked three of my best friends and they said open minded, optimistic and free willed. And then we proceeded to all give each other our three words and it was a really nice friend time exercise so thanks!
If you could only take one lens with you on a desert island, which lens would you take?
The canon 50 mm 1.2 hands down. It's just my happy little place. My little baberoni. My best pal. I could shoot an entire wedding on the 50 and be happy. If there's a shot that I'm trying to get and it's not quite feeling right.. I'll put the 50 on and it's just like butta.
Social media: love it? hate it? love to hate it?
I go back and forth on this one. I love it so much for the opportunity to share my work, share who I am and connect with so many clients turned new friends and other photographers. Probably 75% of my clients come from the gram and I'm so so grateful for that! Where I don't love it sometimes is when I just want to be present but I'm feeling like I need to share because it's good for my business, so I just need to work on separating the two. I pride myself on trying to be as personal as I can on social media because I think it's important for people to not only connect with your work but to connect with you, but there has to be a line amiright?
What was the most helpful thing you did starting out that you still reap the benefit from now?
I think from the beginning I knew I had this fire in my guts, this serious need to get my feelings across through photography and in turn help my clients get their feelings across as well. I've always stuck by that and honored it and dug deeper to listen to my heart. And I still feel the benefits from that now. It's easy to feel overwhelmed with a lot of opinions and energies on a wedding day, and sometimes that can crowd your mind, but I always bring it back to my heart and it always ends up being what's best.
And what's one thing you think photographers looking to grow their businesses should invest in?
Workshops workshops workshops. All day everyday. The amount of knowledge I've gained from going to two workshops a year over the last few years has been priceless. Not to mention, this is a lonely business and we don't get to connect with a lot of other photographers often like you might connect with your coworkers if you're sharing an office. So you get to go to these workshops and connect with other photographers who are like minded, you feel seen and heard and make lifetime friends and it's just the best. Also just go listen to Wyn Wiley speak about anything and cry your eyes and then love your job even more.
What do you wish you had known when you were starting out?
Leave room for couples to be themselves and give up this grand idea of what you think is going to happen while you're working together. I used to show up to shoots and weddings with a perfect plan, with shots in my head of what I would have them do and where we would go, etc. Like WHAT? Without even knowing their body language or seeing how they interact. And once I let go of that and just left space for the couple to just be.. to go with the flow together, to not just ramble off a bunch of prompts, but to think of things as I go based off of who they are has released so much tension and stress and more than anything the photos have turned out so much better because they're an actual reflection of the couple.
What do you see as the role of a wedding photographer? To be an artist that captures the day as they see it? Or are you there to serve the client and his/her expectations? Or is there a balance, and if so, what ought it look like?
I think it's a happy blend of the two. I think the client hires you because they love your eye and the way you see a wedding day. But it's very much a collaborative thing in the sense that I'm 100% there for them. I ask if they have any favorite locations in mind, anything special that they want to incorporate, and what it is about my photography that they like so we're on the same page. I put a lot of effort into getting to know them before we shoot so I feel like I'm shooting from a friend's perspective and they feel comfortable and trust me. This is big because it's important that your clients leave space for you to capture things creatively. So it's all a balance!
What would you like to see change in the wedding industry?
I think more than anything, remembering that it's not about us. It's not about the vendors. It's about the people who are trusting in us to be there on the biggest day of their lives. They're inviting us to spend such an intimate day with them and that's a big freakin deal. So let's make it less about what will look coolest on the gram and remember that there are two people who are looking at you and trusting in you and wanting the best experience and it's our duty to give them that.
 How do you achieve work life balance? What does self-care look like for you?
It's so hard!! Especially when you work at home and you can just pick up the computer the second you start your day or when you're watching a movie with your guy.  So, every morning I wake up, and I read a page or two out of "you are a badass everyday" by Jen Sincero. If you don't know this book get it get it get it. Or lately I've been into "Tiny Beautiful Things" by Cheryl Strayed. I'll write down ten things that I'm grateful for, followed by a quick 5-10 minute meditation sesh setting my intentions for the day. I also travel a lot, not just on work trips but personal ones. I try to be as present as I can be and every time it brings me right back. My favorite quote is the best photographers are the ones who love life more than photography. And I believe that so hard. In order for us to feel the moments that we're capturing, in order for us to be empathetic with our clients, and in order for us to see with our hearts, we have to feel life and moments ourselves. So, I'm forever striving to hold on to feeling the sweet stuff in my own life so I can be better at what I do.
Thank you times a million to Lindsay for letting us pick her brain! To see more of her work, check her out over on the gram!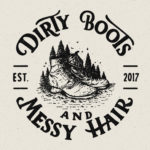 Written by:
Dirty Boots & Messy Hair Team
Connection is what it's all about. Feel free to reach out to us with any comments or questions you might have, even if it's only to say hello. If it wasn't for our beautiful community, this place just wouldn't feel the same.
Photographer Tips
01 May 2019