The weather's warming up, evenings are getting longer, and it feels like spring may finally have sprung. That means only one thing: if you've been hibernating all winter, it's time to pack away the thermals, grab your significant other and head outdoors for the best spring date!
If a night at the cinema, or fancy dinner sound a little mundane for you, we've got some great ideas for the ideal date for any adventurous couple. Grab your other half, or find a friend, get out there and try something you haven't done before. Take it from us: unconventional dates are the best, and you don't need to go skydiving to get an adrenaline rush!
Spring date idea #1: Drive in movie
For al-fresco film fans, what could be better than catching a film at a drive-in movie theatre?
Think Sandy and Danny's date in "Grease" (only perhaps without John Travolta singing "Sandy", alone on a swing in front of a hot dog commercial).
To set the mood, it might be a good idea to give your car a bit of a spring clean beforehand. If you want to go the extra mile, you could consider renting a convertible for the evening.
Otherwise, choose a movie you'll both enjoy, stock up on sweet snacks to share, put on your hoop skirt and leather biker jacket and bring back a bit of old school magic from the 50s.
Bonus points for a diner themed dinner beforehand!
Spring date idea #2: Overnight camping trip
If you're at that stage in your relationship when your first vacation is in the cards, rather than jetting off for a city break, why not do something that requires you to stick together for warmth!
Camping isn't for the faint hearted, but nothing says romance like star gazing, an open fire and s'mores. Throw in a double sleeping bag and you've got the ideal romantic weekend getaway.
If completely roughing it isn't your style, lots of campsites have cabins or yurts to rent, as well. It's all the romance of camping with many of the comforts of home! Or at least, some solid walls and a heater!
Spring date idea #3: Picnic in the park
If low key is more your vibe, take advantage of the great outdoors and pack a picnic.
It's important to check the weather forecast first (you don't want to get caught in the rain unless you've planned an epic Notebook inspired moment). And make sure to give yourself time to prepare some tasty food – think fresh salads and summer berries, or a fancy cheese board.
Add that extra touch with homemade lemonade or freshly baked cookies and the picnic is sure to go down a treat. Make sure you bring a picnic blanket big enough for two to relax, a portable speaker loaded with your favorite playlist, and get ready for the best afternoon in the sun.
Spring date idea #4: Botanical garden
The great thing about this date is that it's the perfect opportunity to get to know each in beautiful and calming surroundings. Take a leisurely stroll through a botanical garden and enjoy quiet conversations while admiring the tropical plants and flowers.
You don't even need the perfect weather for this date as you can make the most of the garden's warm greenhouses. And thankfully taking a walk around a botanical garden often costs nothing, avoiding any bill-splitting debates!
Once you've visited the gardens, sharing a coffee in the café is sure to inspire your own blooming relationship.
Spring date idea #5: Baseball game
Hear us out on this one. A baseball game can be enjoyable for anyone. Yes, even if you're not into the sport. Attending a game in person is very different to watching it on TV. The energy will set the perfect mood for a spring evening!
With the atmosphere and team spirit infectious, it's hard not to start rooting for a team. If one of you is a sports fan but the other isn't, take one for the team and head to a game together on a sunny day. And make sure to share a beer or some Cracker Jacks for the ultimate game experience!
Your date will appreciate it and we guarantee you'll have a better time than you anticipate. There's always a hot dog during the seventh inning stretch to sweeten the deal. Batter up!
Spring date idea #6: Bike brewery tour
Beers and bikes? What's not to like?!
Breweries all over the country offer tours where you can find out all about how the beverage is made from harvesting to fermentation, bottling and finally sampling the end result.
A day out spent together is bound to be enjoyable anyway and adding a learning element creates endless conversation topics if you're getting to know each other or trying to reconnect.
Combining the brewery tour with a bike ride gives an opportunity to have some competitive fun and explore the local area.
There's nothing better to get your heart racing, feeling the wind in your hair and blowing away all the winter cobwebs. These are the moments that are guaranteed to build intimacy and deepen your connection!
If adventurous dates are what you're dreaming of, we hope we've given you a few ideas to inspire those spring evenings. Make the most of the improving weather and get outside!
You don't even need a detailed plan – a hike to watch the sunset, a visit to a food market, or an early morning walk ending in breakfast are great opportunities to connect, get to know someone and build or maintain a relationship.
While we're on the subject, how about 5 romantic gestures to show your special someone how much you love them?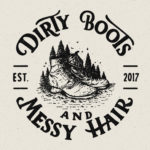 Written by:
Dirty Boots & Messy Hair Team
Connection is what it's all about. Feel free to reach out to us with any comments or questions you might have, even if it's only to say hello. If it wasn't for our beautiful community, this place just wouldn't feel the same.
relationships + dating
01 May 2019