Where are you sitting as you are writing this right now? How's your day going? How are you feeling?
Currently this is my first day in my new office seperate from home. This morning was a rough start as my son of 18 months had a horrible night sleeping and then fell down a set of steps after not watching where he was going. So to say it was an emotional morning is an understatement. To make matters even better, I woke up this morning completely crook! Rough start haha.
To those that might not know you just yet, please introduce yourself – Who are you? Cat or dog person? Who was your teenage years celebrity crush? What's your photography style?
Well, my name is Joel and I am from Newcastle, NSW Australia. I was born in 1993 and have a beautiful wife and gorgeous baby boy called Taj. Currently it is summer, and I am hating it! I dread the heat and crave colder wilder climates, so would love to move to New Zealand down the track for sure.
I think cats are spawns of satan… Nothing they do is in your best interest, they literally live to destroy your life!!! So in saying that, dogs are a mans best friend.
My teenage celebrity crush??? Woah, that is a hard one! Mila Kunis is definitely up there! Her eyes are insanely seductive.
I don't know… "I think that looks cool" style? Hahaha.
Let's go way back. How did you first get in contact with photography? What was it that drew you in?
I was always interested in photography when I was young, especially surf photography. When I first got involved in the hobby I got a wicked set up with a housing and fisheye lens (yuck!!!) and get in barrels photographing my mates surfing, which was really fun!
After a while I discovered the industry wasn't what it seemed.. Not very constructive. So I leant towards lifestyle portraits for a while, then a couple who were friends of mine wanted some shots of them for an engagement shoot, I hesitantly accepted as I didn't know what to expect. Turned out I LOVED it!!! Here I am now. 2 years later and 88 weddings under my belt haha.
As a typical male, I love the satisfaction of creating something, I think the whole "capturing a moment in time" was intriguing, but that wasn't enough, I strive to create unique experiences in EPIC AF locations around the world. Moments couples don't think are possible!
What was it like shooting your first wedding? Did you set out to become a wedding photographer?
I was lucky enough to have my first wedding I ever shot featured on a bridal blog local to Australia. That was really humbling experience that I think reassured me I was doing something right! I think that was because I just copied each and every single pose and composition photographers were doing back then. Made it easy and was safe haha.
After that wedding, that was my main goal and vision! I want to be the best!!!
"My teenage celebrity crush???
Woah, that is a hard one!
Mila Kunis is definitely up there!"
Can you show us 1 or 2 photographs that are particularly meaningful to you and share the story behind them?
This shot was taken during an elopement at Cradle Mountain in Tasmania Australia. I love the expression the " best places in the world aren't the easiest to get to".. This shot is a great example of this. The couple had a small intimate ceremony at the bottom of the mountain, then we hiked 1hr straight up in minus degree temperatures in snow to get to this epic location. What makes this story even cooler (no pun intended), is that I was suffering first degree frostbite on my hands! So sick!!! Luckily I warmed them up and didn't loose any fingers haha.
I know this shot isn't a couple/wedding shot, but it is one of the most iconic images I have taken. I took this shot of this mound above a glacial lake in Icelandic highlands… Moments after this photo was taken, I walked with my partner over on top of it and dropped a knee and asked her to marry me! One of the best moments of my life!
What is your advice to fellow photographers wanting to start out in the wedding industry? What are mistakes you see newbies make?
I think networking is the most important thing in the industry. Not just with photographers, but stylists, venues, hair and make up etc… We are all in this industry to create epic shit for the couple, so make friends in the industry and vibe off each other.
I don't think you can make mistakes, I think every decision and move is a step closer to where you will end up. Everyone is always constantly learning and developing, so do it however you want!
Do you mind sharing your go-to set-up for shooting weddings?
So like most photographers, I have a heap of shit!!! I actually shoot whole weddings, elopements and engagements on a Sigma 35mm w/Nikon D4s… One lens, one camera the whole day… I am a big believer in keeping it simple and consistent.
Except for when I do party shots I use a Nikon D750 w/ Nikkor 20mm and Nikon Speedlite.
What does it take to truly master the art of wedding photography in your eyes?
Awww god, I have no idea because I am still trying to figure that out myself! Just like my photography style question "I think that looks cool". The first person that needs to be happy with your work is yourself!!! There is no point creating images that are "in" and "trendy" if you don't like them. Create stuff you are proud of, that is what I call success!
Any adventures on the horizon? What experiences are you currently planning for?
2018 is a big year for me with a heap of different countries for elopements, weddings and workshops.
February I am shooting a wedding and running two workshops in New Zealand.
April I am off to Faroe Islands for an elopement and 2 weeks adventuring around.
May I am co-running an epic workshop at Mount Hotham in Victoria with my great mate Aaron Shum.
July I am off to the states for a Vegas elopement and speaking at two workshops whilst I am over there in Washington and Oregon.
September I am off to Canada for a workshop, then off to Morocco for an elopement. Soo currently just trying to get my head around all of that! Haha.
What is your advice for couples looking for a wedding photographer? What to pay attention to? What questions should they ask?
Find a photographer you get along with and trust their work. If you get along with the photographer as a person, then you will feel a lot more comfortable around them making it easier for them to get better shots. Last thing you want is to feel intimidated and awkward around the camera, find a photographer who eliminates that!!!
Follow your gut instinct. If it doesn't feel completely right and comfortable, then it probably isn't.
Just get to know them, you obviously like their work so there is no need to talk about pinterest boards or any of that bullshit. Just talk about life and your special day! Everything else will happen organically.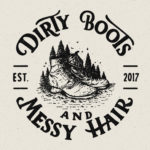 Written by:
Dirty Boots & Messy Hair Team
Connection is what it's all about. Feel free to reach out to us with any comments or questions you might have, even if it's only to say hello. If it wasn't for our beautiful community, this place just wouldn't feel the same.
Photographer Tips
16 Dec 2017