We understand that for most photographers, photography isn't just your job — it's your passion!
You eat, sleep and breathe your trade.
However, we also get that sometimes in life you have to do other non-photography related things like laundry, driving, working out, etc. So, here's some good news — all you really need is a set of good wireless headphones to turn some of those mundane daily activities into a chance to learn and grow in your art!
Of course, we're talking about podcasts.
Podcasts are a great and entertaining way to get tips and tricks from other pros in your industry — on your own time.
But the world of podcasts is pretty saturated and sometimes it can be hard to find one that hits the mark. So, we've decided to do the research for you.
In the list below we've chosen our very favorite podcasts that we feel you need to be listening to as a photography biz owner.
These shows have a little bit of everything. From business development to marketing and customer service, we guarantee you'll learn some useful lessons to help your business grow and thrive.
These are in no particular order of importance — we love them all equally! So, charge up those Airpods and let's get to it!
The name of this podcast alone should be enough to get you excited. Who doesn't want to make more money doing something they love?
The Six Figure Photography podcast is hosted by Ben Hartley, an award-winning international wedding photographer who scaled his photography business to six-figures in just two years. Speaking from his own experience and in interviews with incredible guests, Hartley shares actionable tips you can use to build not just a photography business, but a photography empire.
His show covers a wide range of topics from how to eliminate fear and go after what you want, to how you can effectively use social media to build your brand. Basically, it touches on every aspect of running a successful photography business. It's not to be missed!
As the trusty steed is to a storybook hero, a great camera is to their photographer. And The Digital Story podcast will tell you every little thing you could possibly ever want to know about your best friends Nikon, Canon, Sony and Olympus.
The Digital Story is hosted by Derrick Story, (see what he did there?) a renowned photographer, teacher, and writer. Story's podcast focuses pretty intensely on photography equipment — what settings and functions to use and when, how to clean your equipment properly, the latest advances in photography tech and so much more.
If you're really into the technical aspects of photography, you'll love geeking out with this one!
As the title for this one implies, The Business of Photography is heavily centered around sharing ways to grow and scale your business. The podcast is the brainchild of Sprout Studio, a popular studio management platform for photographers.
The Business of Photography is chalk-full of useful, informative interviews called "Expert Edge" episodes. You can listen to fellow successful photographers discuss topics ranging from how to use mini sessions for marketing to how to add video to your service list.
If you're stuck on brainstorming creative ideas to grow your business, this podcast can definitely act as your elbow grease.
Looking for a muse? The Candid Frame has you covered from all angles (photography puns 🙂 ).
This podcast can mainly be described in two words — conversational and inspirational. It features prominent photographers from around the world on how they live (what the podcast describes as) a photographic life.
Hosted by Ibarionex Perello, this highly rated show dives deep into what it looks like to have a passion for photography. Both the questions and insights are far from mainstream, so if you're looking for a listen that's a little different, be sure to check this one out.
Want to know more about how your passion came to be? The History of Photography podcast is basically what you'd think it is — a podcast that explores the rich history of photography.
This show is hosted by Jeff Curto, a Professor of Photography, veteran of the Ansel Adams workshop and a leader of photography workshops in Italy. Basically, he knows his stuff…
In the podcast, Jeff covers different eras and the prominent photographers in each. Learning from the past is one of the best ways to improve the future, so we think even the non-history buffs will really enjoy this one!
We all love a power couple! The Creative Rising podcast was created by husband-and-wife wedding photographers Jeff and Erin Youngren. If you feel like their name is familiar, it's probably because you have seen their work. The Youngren's are some of the most in-demand wedding photographers around.
The podcast topics here are pretty wide-ranging, but we love that the overall feel of the podcast is one of community. The Youngren's share a lot of great information that is meant to help new- and new-ish wedding photographer's capture their dream gigs and work with their ideal clients.
The tone is down-to-earth and easy to follow. This is one you could put on in the background while editing and still gain some valuable knowledge from.
While not photography specific, this podcast is a must-listen for any entrepreneur. It gets special bonus points for being hosted by a professional photographer and having quite a few amazing photography guests. But there are a lot of pertinent business lessons as well!
Kutcher has some big names on the show (including entrepreneurial guru Amy Porterfield and others!) We love all the actionable marketing advice she includes, as well as the uplifting and encouraging feel of the podcast.
Kutcher runs an entire online community/empire with a ton of valuable resources beyond just the podcast. If you like the show, you may enjoy the mini-trainings and guides as well.
Don't let the title fool you, this podcast means serious business! Brought to you by two veterans of iStockphoto (currently the creators of Stocksy United) this podcast is one for the pros. And while the tone is very nonchalant, the depth of information packs a punch.
The show covers a plethora of topics: photography (of course) and why it's an amazing career, cameras, tech, lenses, workflows, lighting, social media and almost anything else you can think of. The hosts also have another show, The Stalman Podcast that dives more into cinematography and technology, if you're into that kind of thing!
The length of the episodes for Cameras or Whatever range from as short as 20 minutes to as long as 70, so just be aware of that before you get ready to listen!
FroKnowsPhoto is one of the longest-running photography podcasts on-air, and we can definitely see why! This show takes a witty, and very up-front look at some of the issues facing photography business owners.
Host Jared Polin can sometimes be a bit rash in the way he shares his views, but if you're ok with a no-nonsense type of show this one may be up your alley.
What we love most about FroKnowsPhoto is that the episodes are pretty bitesized. In 20 minutes, you can absorb some great information about business practices, gear or industry information. Perfect for a commute or a quick walk around the block!
We know it sounds a little bit like a shocking Netflix documentary, but the only secrets being shared on this podcast are secrets to success!
The Photobiz Xposed is a fun show hosted by industry veteran Andrew Hellmich, the most-awarded wedding photographer in Central Coast Australia. In the show, Hellmich interviews some incredible professional photographers who share insights on exactly what it was that made them such a success.
Hellmich's guests talk about things they'd wish they'd know when they started and how they got to where they are today. So grab a pen and enjoy the free advice.
In order to listen to the full interviews on this podcast, you do have to pay a subscription fee. However, there is a free shortened version that will still give you some invaluable tips, so you can take a listen and decide if it's right for you.
Ready to get your listen on?
Shoutout to all the amazing podcast hosts on this list for sharing all your wonderful information with the world.
This list includes some of our favorites but it is by no means comprehensive! We'd love to learn what other podcasts you're listening to in the comments below.
Thanks for checking in with us, and if you want even more content on how to be the best wedding photographer you can, check out more from our blog!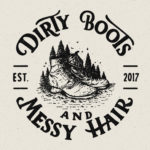 Written by:
Dirty Boots & Messy Hair Team
Connection is what it's all about. Feel free to reach out to us with any comments or questions you might have, even if it's only to say hello. If it wasn't for our beautiful community, this place just wouldn't feel the same.
Photographer Tips
07 Jan 2021