It's Monthly Challenge Series time, and this month we're celebrating Happy Tears.
Is there anything more moving or emotional than capturing the beautifully candid shots of guests shedding a tear at a wedding? Often these moments are the quiet, intimate moments that guests tend to keep for themselves. So when a wedding photographer captures them from the sidelines, the results are often magical.
Here are some of our favorite shots that you guys submitted this month for our #HappyTears challenge. Be warned, you may need a hanky, they're pretty emotional.
"During bridal portraits, I told Angelica + Evan to look at each other and soak it all in for a second. He looked into her eyes, and then immediately broke down with happy tears!! Such a surreal, sweet moment to witness!"
"When you can't decide who's more emotional, the maid of honor crying as the bride walks down the aisle or the groom when he holds his bride's hand at the altar, you know it's a wedding day so full of love. When all eyes are on the bride, it's these moments that are so precious to capture."
"This bride is reading a card that her fiancé wrote to her before they went to the ceremony and also gave her a gift. While she read it out loud she began to tear up! It was a very sweet moment."
"Onna had just finished a first look with her father and brother and was minutes away from heading outside for the ceremony to begin. Hundreds of people chattered as they took their seats in the woods. I cleaned up this spot under a top bunk and pulled back the curtain a bit for some natural light. I sat down in front of Onna as she read a letter and poem from her soon-to-be husband. He has a way with words, because she started crying happy tears as she read them. I cried too, as I photographed my friend during these special moments."
Next month, we'll be celebrating those very special men in our lives, the Father of the Bride. Head over to our Facebook group and tag your entry #FatheroftheBride (remember to include your insta handle!) and share your favorite shots.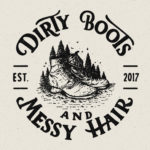 Written by:
Dirty Boots & Messy Hair Team
Connection is what it's all about. Feel free to reach out to us with any comments or questions you might have, even if it's only to say hello. If it wasn't for our beautiful community, this place just wouldn't feel the same.
Weddings & Elopements
16 Feb 2019