How did you feel when you were asked to be Best Man? Ecstatic, grateful, overwhelmed, nervous? Any of the above would be fair; whilst it's a mammoth blessing to get such a title, it's also a big commitment with some heavy responsibilities. The task men tend to worry about the most? The Best Man's speech.
Whether you've got reams of public speaking experience, or this will be the first time you stand up in front of a group of people, it's totally natural to feel a few pangs of fear. What will help you control your nerves, though, is planning well ahead and getting on top of the speech sooner rather than later.
Figure you can leave it until the night before, have a few beers and then pen something that will blow the room away? Think again.
Out of respect for the newlyweds, and respect for the title you've been given, you shouldn't procrastinate when it's time to write your Best Man's speech.
The planning: do your research
The very fact that you're reading this article suggests you're taking the responsibility seriously, so congrats. Doing proper thinking into what makes a good Best Man's speech and what may let you down on the day is a good first step to take.
Research into the couple in question is, of course, also a no brainer. And iff you've been asked by the Groom to stand up beside him at the altar, you probably know him a bit better than you know his partner and what they are like as a pair.
Speak to his spouse's friends and family, start paying attention to the way they are together — the nuances they have and how they talk to each other — so you'll be able to speak confidently about the married couple as one.
The planning: templates are okay
Truth is, there are shortcuts you can take in the writing of your Best Man's speech; a quick search online will show just how many templates, examples, classic jokes and meaningful quotes you can incorporate into your performance on the day.
A word of warning though: do not rely too heavily on these online sources. Not only will they represent the minimum viable offer for Best Man's speeches, they are likely to be laden with over-used, generalized and, quite frankly, uninspired content. The recipe for a truly remarkable Best Man's speech? Authenticity and hard work.
The planning: the first sentence is key
As with any good book, you'll want to capture your audience's attention with a killer opening line. "I first met…", "Marriage is…", "I never thought…": come on, you can do better than that!
The first sentence of your Best Man's speech will sent the tone for the rest of what you're delivering, so if it's going to be full of gags, or more on the sentimental side, give the guests a sense of where you're heading so they know what to expect.
The planning: edit, edit, edit then rehearse, rehearse, rehearse
Once you've got a first draft of your speech down on paper, put it aside for a few days and then revisit it again. You'll probably find that jokes which had you in stitches at the time no longer seem as appropriate, and better turns of phrase pop into your head thanks to a little distance from the task itself.
Don't be afraid to rehearse your speech out loud. This will allow you to get a sense for how the words feel in practice, and highlight any parts where you stumble or hesitate; a sign you should perhaps rework what you've got.
If you're worried you'll fumble on the day, forgetting your words, you can create prompt cards to help you pace your flow. However, recording one of your better read-throughs, and then listening to it on your commute or when you're chilling out at home will make the words stick in your head surprisingly easily.
On the day: it's never too late to rehearse
Sneaking yourself a chance to practice where you'll actually stand to deliver your Best Man's speech will make you feel even more ready when the time comes. You'll be able to experiment with how loud to be and how you'll engage with the room.
On the day: don't be afraid to ad-lib
Sometimes, the best-laid plans go awry. You may have put months of preparation into this moment, only for a certain element not to feel right, or perhaps a sentimental moment during the ceremony surpasses your script and becomes the focal point for what you really want to say.
As long as you speak from the heart, no matter what you end up saying will be moving for the newlyweds and all their friends and family. Having said that; if you're tempted to ad-lib just because you've had a little bit too much champagne, best to stick to your plan!
You're the Best Man; you'll know how to play it on the day. With a bit of prep and a lot of heart, your best man's speech is guaranteed to nail it. Need a little inspiration from some literary greats? Worry not, we've got you covered with these unconventional readings that are guaranteed to have guests in tears.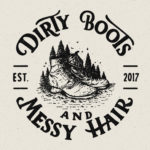 Written by:
Dirty Boots & Messy Hair Team
Connection is what it's all about. Feel free to reach out to us with any comments or questions you might have, even if it's only to say hello. If it wasn't for our beautiful community, this place just wouldn't feel the same.
Wedding Planning
15 Feb 2019