So – you've created a killer photography website. Your portfolio is on point. You've carefully selected your very best work and crafted the finest copy. Now what? 
Well, now comes the fun tasks of optimizing for search, so that people actually find your site.
Your social media activity and word-of-mouth recommendations will only go so far, the real gains will come from making sure that your search engine optimization (known as SEO) is as good as it possibly can be. But what is SEO and how do you crack it as a photographer? This article will run you through everything you need to know for the best chance of success.
Good question. 
Put plainly, SEO (search engine optimization) is the term used to describe how you improve your website's chance of ranking highly on search engines. 
Search engines like Google have sophisticated bots that crawl every single website to determine how credible the information on one site is vs another. The search bots will weigh up a lot of factors about each site, from key word usage, through to how much 'authority' your domain has, and it will index your site based on these features. That index then feeds into an algorithm, which is how it eventually decides which websites to put at the top of the search results.
So let's say, for example, someone searches for 'Elopement Photographer in Denver', Google will dive into all the sites it has indexed and rank results based on those that seem to most conclusively answer the search term. 
There are a series of tweaks, adjustments and additions that you can make that will give you a competitive edge over all the other sites competing for the same search terms as you. The issue is, there's no standard formula of how you do this. SEO is the result of many, small adjustments to what you include and say on your site, as well as how you structure it. 
Tricky as it might be, let's take a look at the things you should definitely start doing today to improve your overall site ranking.
1. Create awesome content, and lots of it.
In order to rank for a specific search term, you need to let search engines know what you're about. That means writing lots of content that helps Google identify what kind of site you are and how good your content on a particular subject is compared to everything else on the web. That means you need to write a lot of content, and write it well. Here are some tips for your photography content:
Make it unique: You should make sure that your content is completely original. Never copy text on multiple pages of your site, and never copy content from another website. It's not only a douchy thing to do, it'll also really harm your rankings.
Think: 'what would make something refer to this?': The more credible Google thinks your information on a particular topic is, the higher it will rank you. Things that help Google to understand your credibility are how much your content is shared, and how much people link to it. So when you're writing content, always ask yourself 'is this something new that others would want to share or talk about?'. If not, find another angle.
Make your images work for you: Your blog post images must all be tagged with relevant names that help search engines to understand what they are about. Content naming should be extremely literal, for example, "Summer Denver Garden Elopement', and you'll boost your chances of higher search rankings.
Make it easily shareable: Every single post you share needs to have quick and easy access for people to share it.  The more people share content from your site, the more Google will think your site is credible – so you need to make this a top priority. Add social share buttons to all your posts and pages, and incentivize people to share your content however you can. Run competitions, email other websites that might find your content interesting, set up a newsletter to distribute your content far and wide and get.your.content.shared.
2. Speed up your page load time
One of the biggest mistakes that photographers make with their sites is having big, heavy images that seriously slow down page load time. This is a total no-no if you want to boost your rankings. 
Google will actively downgrade your site if it is slow to load, so maximising your page speed should be a top priority. 
Of course, as a photographer you want to make sure that your images are shown in the highest possible quality. Worry not, your rankings don't have to come at the expense of image quality. Thankfully there are a bunch of tools available that drastically cut down image size, without compromising on quality. Our personal favourite is JPEGmini – check it out here along with other tools you should definitely start using as a photographer. 
3. Double check that all your links work
It's so easily done. You rename a page, forget that another page links to it, and boom – broken link. Those 404 pages are not only super irksome for readers, they also drive the Google bots crazy too. 
Broken links suggest that your site isn't credible, which – as we've already discussed – will impact your ranking. Again, there are lots of tools that can help you check if your site has any pesky broken links. Siteliner is a great (and free) option that we love.
The more sites that link to yours, the more credible your site will appear to Google. And the more authority a domain that links to yours has, the more it will boost your rankings. 
Let's use an example to illustrate this. Imagine that the New York Times features your work and links to your site. Aside from that being really awesome, it also signals to Google that a very authoritative source (the NYT) believed your site was credible enough to link to. Ergo, your site will have an improved credibility (also known as domain authority) as a result.
There's no quick way to build backlinks. You have to put in time, effort and a little luck and eventually it will pay off.
The simplest way to get backlinks is to get featured in as many huge photography platforms as possible. When they link back to your online portfolio, it will impact on your SEO.
You can also actively reach out to large sites with content that you've written and ask if they'd be willing to link to you. Make it relevant for their audience, and make it totally unique. If your content helps to answer a problem or need that either the publication or its readers have, you could be in for success! 
You may have realised by now that SEO is definitely a long game. But, slow and steady wins the race. Making small, incremental improvements to your site will have an impact on how much organic traffic you see. 
For more easy-to-understand advice on how to approach SEO, take a look at this article. Good luck peoples! 
4. Optimize for mobile visitors
We simply cannot stress this enough – your site must be mobile friendly. We live in an on-the-go society. It is so rare that people will view your site whilst sat behind a large screen. Aassume that all your visitors are going to visit your site on their mobile. Then design around that. 
Not only is this essential from a user experience perspective, but it will also weigh heavily into how Google ranks your site. Spending some time and investment getting this right will see you make big improvements to your organic traffic. In fact, making your photography site mobile friendly can have almost instant results.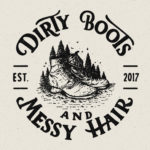 Written by:
Dirty Boots & Messy Hair Team
Connection is what it's all about. Feel free to reach out to us with any comments or questions you might have, even if it's only to say hello. If it wasn't for our beautiful community, this place just wouldn't feel the same.
Photographer Tips
09 Jul 2018