Wedding dress shopping is one of the most exciting, but potentially also one of the most stressful, aspects of planning a wedding. With so many incredible wedding dress brands out there in so many different price ranges, picking "the one" that speaks to your style and personality but doesn't break the bank can be tough.
Many brides-to-be naturally think to bring their bride tribe with them when hunting for their dress. But, is it really wise to bring your entire girl gang when you're wedding dress shopping? Maybe…but then again… maybe not.
Who you choose to bring with you can really make or break your overall experience, not to mention influence the dress you end up choosing? You need to think carefully about the sort of people who will have a positive, yet constructive attitude. No "negative Nancy's" are welcome here.
You should aim to keep the group small when you're dress shopping. Three is an amazing group size. Any more than three and you'll be overwhelmed with opinions. Who you choose to make up your magic three (or two!) really depends on the relationships you have, so in this guide, we'll help you hone in on exactly who you should bring along with you.
And remember, even though we're talking dresses, this could be the search for the perfect bridal jumpsuit, too.
Let's dive in.
Wedding Dress Shopping… with your mom
This is the obvious answer….
Or is it?
The movies show you an image of both you and your mother bursting into tears at the sight of the veil going on for the first time, but in reality, it's not always that romantic.
Perhaps your mother isn't able to make it, or you don't have a close relationship. That's totally ok, you don't need to force the matter and instead we'd encourage you to think about someone in your support network who could take the place of the mother role.
Who would you want to throw their hands over their mouths and exclaim, "Wow!" A person a little older than yourself, who will share in your happy tears but also tell you if something doesn't work for you.
Whoever it is, make sure they know they're there to hold your hand – metaphorically and physically.
Wedding Dress Shopping… with your partner's mom
If you are close, then including your partner's Mum in the process is a really kind and thoughtful thing to do. If you are particularly close, that's great, but even if you aren't, they will massively appreciate the invitation to be involved.
There's one big caveat here, though.
Only involve your mother-in-law if you're absolutely sure that you won't be influenced by her views on what your partner-to-be would want you to wear. This dress is all about you – how you feel in it is all that counts.
So, while inviting your MIL is a brilliant way to bond before the wedding, be honest with yourself about whether she'll be supportive or overbearing.
Wedding Dress Shopping… with your bestie
Your bestie…AKA your ultimate cheerleader.
Your bestie probably knows the most about your vision for the wedding day, so they are the ideal person to support you to hunt down the gown of your dreams.
Don't be afraid to let them pick out something a little off-beat, we've heard from countless brides that the dress they end up choosing is nothing like what they initially had in mind.
Your best friend is also likely to know your style better than anyone else. They should tell you honestly what works and doesn't work for both the shape of your body (in an encouraging way), and theme of the wedding day – there's no use buying a ball gown if you're having a beach ceremony.
The goal is to find something perfect for you, and this person will help you find it.
Wedding Dress Shopping… with your sister
If you're lucky enough to have a sister that you get on well with, then your sister can be a great asset to your shopping squad.
They have known you longer than most and so will have a good idea of how you'll react in the pressured scenario of finding your bridal gown.
It can be a very overwhelming experience, so your sister can fulfill the role of an emotional crutch.
They will also probably be your harshest critic – siblings often are. It may be hard to hear what they have to say but try to take a deep breath and absorb their thoughts. Read between the lines.
They may have a really good point to make, even if it came out a little direct. Understand that they're not there to criticize but are just trying to help because they love you and want you to end up with a dress that looks amazing on you.
Wedding Dress Shopping… with someone impartial
It's often helpful to have someone who isn't too close to you so won't be afraid to be honest when it comes to letting you know if you've found "The Dress". This could be your fiancé's friend or sister, an older relative, or even a male friend.
It helps if this person has similar taste to you or if you admire their style. You need to have the right balance of people who will be eternally positive and those who will tell you if something isn't quite right.
Sometimes it's easy to be distracted by a beautiful dress that doesn't fit the wedding you're planning. That's when your friends need to speak up.
Wedding Dress Shopping… with your fashion forward friend
This role is similar to the one above. It needs to be somebody who really knows the difference between fashion and trends, and classic style.
It should be someone you admire for having great style, with the ability to put looks together effortlessly.
Bonus points if they know a bit about designing or sewing – often they'll be able to suggest an alteration that you hadn't thought about or will be able to have the vision of a gown once changes have been made.
Adding a sleeve or raising a neckline by half an inch can be the difference between a dress being just ok and being The One.
Trust this person and trust their eye. When you feel a million dollars on the day, and your photos come back stunning, you'll be glad you took them along with you.
Wedding Dress Shopping… with your husband or wife to be
Who says you can't bring the person you're about to marry when you're wedding dress shopping?! After all, this is the person whose judgement you probably value above anyone else's.
They know you, know your style, and know from just one glance how you feel. So if you're okay with not having a big reveal on the day, then your SO could be just the person you need to bring wedding dress shopping.
And don't forget, even though bringing them will mean they'll see your dress before the big day, you can still totally surprise them on the day. Your hair, makeup, and emotions on the day will still make the day extra special.
We hope we've made you think a little more about whom you'd like to take to your bridal appointment. There is absolutely no obligation to take anyone, and sometimes it can be a useful exercise to go for an initial session on your own!
Narrowing down to a small edit before taking your bridal party will result in less confusion, and a focused, successful outcome.
Before you invite all 15 of your bridal party, plus both mothers and siblings, think about who will have a positive influence on the day, and will be able to really help you find your dream dress.
Need some inspiration before you go dress shopping? Check out these Instagram accounts to follow right now!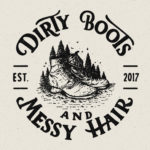 Written by:
Dirty Boots & Messy Hair Team
Connection is what it's all about. Feel free to reach out to us with any comments or questions you might have, even if it's only to say hello. If it wasn't for our beautiful community, this place just wouldn't feel the same.
Wedding Planning
27 Apr 2019