Another week has came and went, which means it's time for our weekly crush feature! This week, we are recognizing and celebrating the work of Peyton Curry. We absolutely love Peyton's candid and natural style. Check out what she has to say about all things photography, below!
Hello!! I'm Peyton. An untraditional wedding, elopement, couple, and lifestyle photographer based out of Richmond, Virginia. I am an ISFJ, and enneagram 2 for you psychology interested folk! I am a red-headed, knitter, weaver, plant-presser, denim lover, & runner. I love a good summer picnic, and you can always find some sort of 35 mm film camera, disposable, or my dad's vintage Polaroid (most likely all 3) on me. I have a quieter approach to photography than most, but find my photos are conveyed most truthfully when documented so.
What are three words your friends would use to describe you?
thoughtful, engaging, & creative
If you could only take one lens with you on a desert island, which lens would you take?
My Canon 35 mm 1.4! It rules!
Social media: love it? hate it? love to hate it?
I definitely don't love it, haha. It's super lovely in regard to connecting with people & for reaching potential clients, but it's so easy to fall into an unhealthy relationship with it. If I didn't need it for business purposes, I think I would be hardly on it!
What was the most helpful thing you did starting out that you still reap the benefit from now?
Good gear from the start! Yes, it's expensive, but it's an investment and was way worth it in the long run. I also shot a TON, nearly every day, learning as much as I could about my camera. & lastly, I had a wicked good mentor who taught me heaps of things I still use today.
And what's one thing you think photographers looking to grow their businesses should invest in?
Quality gear & education, such as using online resources or attending a workshop (local or destination) that you are stoked about + inspired by. I've met some of my very best friends at workshops, in addition to gaining the knowledge they have to offer. Networking with other creatives is so important in this industry. Having a community of like-minded folk who get you, who understand your struggles with this creative career, and who will genuinely celebrate your successes alongside you will help immensely!
What do you wish you had known when you were starting out?
It's going to take YEARS to figure out your style, your voice, your way of creating work, and that is OKAY. Success + self-fulfillment does not come even close to overnight. & it's okay to reach a goal & realize that's actually not what you want you want to pursue and change your direction & goals. This career, and any art form really, is a timeline filled with growth and change. Also, random other note — keep track of all of your business receipts and save at least 20% of all income! Stay organized & taxes will be a breeze.
What do you see as the role of a wedding photographer? To be an artist that captures the day as they see it? Or are you there to serve the client and his/her expectations? Or is there a balance, and if so, what ought it look like?
I definitely go into all wedding days + shoots serving the couple as best I can. I meet + talk with them frequently prior to ensure we are on the same page, with a similar vision + expectations. Every photographer see's things differently, therefore capturing it differently with their one artistic eye — so I suppose you could say it's a bit of balance!
What would you like to see change in the wedding industry?
I would love it if social media didn't seem to have as much impact as it does on the wedding industry!
 How do you achieve work life balance? What does self-care look like for you?
This has been something I've struggled with over the years. I am a bit of a workaholic but have found I create best when I take some time for myself here & there. I make sure to plan a few personal trips (whether it just be a day hiking or weekend camping) with my best pals with no work every busy season. I love to run and try and workout at least 5 times a week in the morning before I start computer tasks such as editing + emails. & lastly, I think it's so important I have other creative outlets + make with my hands! I knit + weave in my free time + I am actually launching a fiber shop selling handmade goods + offering knitting/weaving lessons later on this year which is rather exciting!
Major thanks to Peyton for sharing her thoughts with us on the industry! To see more of her incredible work, be sure to follow her on the gram!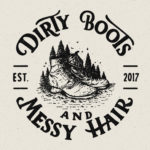 Written by:
Dirty Boots & Messy Hair Team
Connection is what it's all about. Feel free to reach out to us with any comments or questions you might have, even if it's only to say hello. If it wasn't for our beautiful community, this place just wouldn't feel the same.
Photographer Tips
15 May 2019