With increasing frequency, it seems fewer and fewer people are meeting their partners the "good, old-fashioned way". But, then again, what is the traditional way to find love?
Our grandparents speak wistfully of chance encounters and long courting rituals, with men relying on outlandish romantic gestures to win their sweetheart's affection. In comparison, our parents had more chance of meeting at work, as women launched careers and forged identities which were distinct to their roles as mother and wife.
In the 21st Century, is it any surprise that digital technology has so very clearly shaped the way that we find love? We shop, bank, plan our days and enjoy entertainment through a screen; why not taking dating online?
Whilst dating apps and websites may work for some — and if you believe the stats, they really can: in a recent study, 19% of brides said they met their spouse online — what's undeniable is that they aren't the only way to find love in 2019. We're not ready to give up on offline romance; and you shouldn't be either! Here are our thoughts on how to find love without dating apps.
The classic "blind" date set-up
Meeting through friends is still one of the most successful ways new partners get together, even in a dating world obsessed with Tinder, Bumble and Hinge.
Asking a pal to set you up with any of their single friends is a bit like using a dating app — you can still check out their Instagram, Facebook or Twitter account to give your seal of approval — but you know you can also trust your friend's intuition; if they think you'd be a good match, there's little reason to doubt them!
The only thing to be wary of is dating too close to your inner circle. Hooking up with someone close to your other friends is fine if it all ends amicably, but if you end up dating a friend's best friend, sibling or close work colleague, you'd kinda better marry them or end up risking a nasty social situation further down the line! With blind dates, your best off sticking to removed friends and acquaintances.
Back in the day, before we were all glued to our phone screens any spare moment we have, people really did feel the pang of cupid's arrow whilst stood waiting for a bus or train, or sat in a cafe simply watching the world go by.
Problem is, we're not really paying attention to what's happening around us anymore; put your phone down, be observant, and you may be surprised how many cuties you can lock eyes with.
Too nervous to strike up conversation with someone face-to-face? You're not alone; half of British singles would admit to never having asked someone out in person. But you know that phrase, "Nothing ventured, nothing gained"? Fortune favors the brave, so take a deep breath, smile sweetly at a new crush and pluck up the courage to start a conversation.
Relying too heavily on texting to arrange a meet up brings all sorts of potential hiccups — leaving your texts on 'read', misunderstanding humor or intonation — if you ask face-to-face, you'll have an answer immediately. If they say yes: perfect! If they say no: okay, on to the next!
You're not going to meet someone sat at home
Spotted this year on Twitter:
Single at 23: "I have to go out and meet someone!"
Single at 29: "If it's meant to be the right person will find me in my home."
Well, urm, no. Although this Twitter user was, hopefully, making fun of themselves, all too many people are happy to complain about their lack of love life, but are reluctant to really do anything about it.
Taking up hobbies, going to the gym, socializing in bars… these are all potential routes to meeting a new match; there will be plenty of time to hang out on the couch once you've met someone to share it with!
After all, dating is a numbers game. You've gotta pick yourself up, dust bad dates off, and keep pushing on. That's not to say you should start lowering your standards and agree to go out with anyone and everyone. No, not at all. What you should do, though, is look for new avenues to widen your social circle.
Always wanted to try bouldering? Been meaning to take that tour of Europe? Fancy flexing your artist skills in a local art class? Do things that truly interest you, and you may meet someone who is interesting too!
And remember, meeting someone is the cherry on the cake of a great life. You don't need to be coupled up to be happy and contented. In fact, your number 1 priority should be to be totally comfortable single, and only enter into a relationship for the right reasons. That's sometimes easier said than done, so here are some tips to help you be a happy singleton.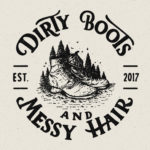 Written by:
Dirty Boots & Messy Hair Team
Connection is what it's all about. Feel free to reach out to us with any comments or questions you might have, even if it's only to say hello. If it wasn't for our beautiful community, this place just wouldn't feel the same.