At DBMH, we've seen some pretty sensational destination weddings. From dreamy elopements on the Isle of Skye, to enchanting intimate events in Olympic National Park, as far as we're concerned: the more wild and adventurous your destination wedding, the better. 
There are, however, a few things to bear in mind if you're planning to head overseas for your day. To help make sure your day is as magical (and stress-free) as possible, here are the 5 things all couples should know about deciding to get hitched away from home.
One of the biggest things to bear in mind about a destination wedding is that it will be a smaller and more intimate affair than a traditional day. A lot of the people you invite won't be able to fly out because of costs or work commitments, and that's unfortunately just the way it is. 
That being said, having an overseas wedding really forces you to think critically about who you actually want at your day. 
When you get wed abroad, suddenly you're totally freed of the burden of feeling like you should invite this or that person, just cause they're in the vicinity of where it's taking place. Ultimately, if you're getting married somewhere that you're going to be with your guests 24/7, you're going to want to make sure you really want them there and that their company doesn't suck. 
You'll be surprised at just how few people you genuinely want to share your day with. Rather than having a huge affair with lots of people you don't actually like that much, you'll get to share your day with those you really, really love. 
This is without doubt one of the best things about destination weddings: spending your special day with only the people who matter. 
You'll be so touched at how many of your loved ones make the effort to fly out to your chosen destination, despite the cost and inconvenience. And you're guaranteed to get even closer to everyone who makes the trip. At local weddings, you only get a tiny amount of time to mingle with your guests. At overseas weddings, suddenly you have full days together. To talk, to catch up, to laugh, to cry. 
It's a gorgeous thing. 
And best of all, all your guests will also become super close too, having effectively been on a pretty neat holiday together! And what could be better than creating a huge friendship group out of everyone you love? Nada.
Aight. So we'll be straight with you. Things 100% will go wrong at a destination wedding. 
You'll forget to arrange some really big thing, or leave an essential decoration at home, or your suitcase will get lost en route, or you'll get a mosquito bite on your face the morning of your big day…. you get the point.
If you're a super stressed out bride, perhaps consider this point before opting for a destination wedding. The fact of the matter is, you simply won't be able to control every aspect in the same way you would a local wedding. 
The trick is to give in to the inevitability of some disaster or another happening. Cause you know what, it doesn't matter. 
Once you're at your destination, you'll get to be 100% present with your closest friends and family, and all the things that felt so important back home will melt away. Truth is, you could get married in a paper bag and you'd still have the most wonderful day ever.
So roll with the unexpected, and know that those little disasters will only make your memories from the day that more special.
3. It won't be like anyone else's day
The fact that you're going overseas already makes your day untraditional. That means that you can truly tailor your whole day to suit your tastes, free from the constraints of traditional protocol.
So you want to have your ceremony after your wedding meal? Sure thing – go for it! You want to get married in a bikini and then go scuba diving right after you say "I do"? Heck yea – sounds awesome! 
Wear that pink suit. Get your guests to dress in white. Go barefoot as you say your vows – do what feels right for you, and you alone. 
Having a destination wedding gives you total freedom to go wild and create a day that's uniquely yours. So go crazy, think creatively, and have a day you'll never forget!  
4. Your photos will be one of the best things about your day
Chances are, you've chosen to have your destination wedding someplace pretty gorgeous. So it makes more sense than ever to allocate a good chunk of your wedding budget to having a photographer who will do that destination justice. 
The images your photographer creates of your day will be the memories that you will treasure for a lifetime. 
This kind of makes them priceless. 
A great wedding photographer doesn't just know how to point and shoot and expensive camera. They know how to capture images that tell stories. Which is exactly what your destination wedding deserves.
5. You should honeymoon elsewhere
Most of your guests will opt to prolong their trip and make a holiday out of your destination wedding. So unless you want to run into your guests whilst you're honeymooning, go elsewhere. 
Often it can be nice to spend the first day or two after your wedding on site, and then hop off elsewhere for your 'honeymoon proper". That way you get to spend a bit of extra quality time with your loved ones, before jetting off to have some quiet alone time as newlyweds.
And that's all there is to it. Destination weddings are a really beautiful way to have an intimate day that's focused on what really counts: the decision you've made as a couple to spend a lifetime together. Wherever you go and whatever you do – it will be absolutely perfect.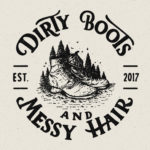 Written by:
Dirty Boots & Messy Hair Team
Connection is what it's all about. Feel free to reach out to us with any comments or questions you might have, even if it's only to say hello. If it wasn't for our beautiful community, this place just wouldn't feel the same.
Wedding Planning
12 Sep 2018