When you've lived a lifetime together already, marriage simply becomes the cherry on the cake. It's not the start of something new, but a celebration of what already is. These kinds of weddings take on a special kind of intimacy, because there's absolutely nothing to prove.
This was definitely the case in this gorgeous forest elopement by couple Travis and Jacquelyn, as captured by Kandice Breinholt. The couple decided to tie the knot after over a decade of life together. And so, when it came to planning their day they decided that it should be something personal; a day that only they (and their beautiful dog) should share.
The one criteria that Travis and Jacquelyn had was to get married somewhere beautiful. The place they settled on couldn't have fit the bill more perfectly. Olympic National Park, with its 992,000 acres of dramatic coastlines, snow-capped mountains and lush rainforests, provided a breathtaking of backdrop for their special day.
"After a gorgeous drive along Lake Crescent, we hiked a short distance toward the spot they had found just a day earlier. We arrived at a clearing in the trees and a forest floor covered in ferns next to a gorgeous roaring stream cascading down a steep incline of rocks and boulders. It was there where they officially promised themselves to each other in words that were hushed by the sounds of the water while their pup, Gracie, lay at their feet." – Kandice Breinholdt
We're pretty sure this is one of the most enchanting forest elopements we've seen. Olympic National Park provided Travis and Jacquelyn with the perfect playground, which they then set out to explore. Because they didn't have any set agenda for the day, they could take their time to find the perfect location and lighting to capture the experience. There is such a rich variety of landscape and colour throughout the shoot. And that's because they gave themselves the freedom to explore what felt right on the day. Few weddings are as free-spirited as this, and we absolutely love it.
Their love for each other
–
and their gorgeous four-legged companion
–
shines through in every shot. There's a gentle tenderness to the day. We are witnessing a family making something that is already beautiful, even better. It's emotional and magical to see, even from this side of the camera lens.
We can't thank you enough for sharing this forest elopement shoot with us, Kandice. It was so beautiful, that truth be told, it had us a little weepy at times. You can see more of Kandice's work on her website and Instagram, links are in the credits below.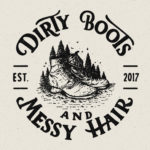 Written by:
Dirty Boots & Messy Hair Team
Connection is what it's all about. Feel free to reach out to us with any comments or questions you might have, even if it's only to say hello. If it wasn't for our beautiful community, this place just wouldn't feel the same.
Weddings & Elopements
29 Dec 2017