Planning a wedding is one of the most exciting creative challenges you'll have in your life. Over the course of a few short months, you get to pull together everything that represents you as a couple – your tastes, your history, your dreams – and reflect that in to a wedding day that is totally 'you'. Exciting as that challenge is, it can also be a fairly overwhelming one. If you don't have a clear vision for your day, then where the heck do you begin? 
We hear ya, and we're right there with you. Planning a unique wedding that speaks to you as a couple is hard. Thankfully, there are tons of amazing resources online to help you through your wedding planning process.
We've pulled together our 2018 pick of the best blogs for your wedding inspo. All of these sites are bursting at the seams wit inspiration to help you design a day that's as wild, adventurous and unique as you are. Let's take a look!
Rock My Wedding is a UK-based wedding blog and planning resource that are killing it with their wedding tips and tricks. With over 230k readers and more than 1.3m followers across social media, Rock My Wedding has been inspiring wedding planners the world over with their gorgeous styling ideas and wedding features. If you're looking to plan a day that's totally unique with flourishes of boho beauty, then you seriously need look no further than RMW. 
Their comprehensive blog features everything from wedding ideas, to DIY guides, to planning overviews. Their resources will help you choose your styling, plan on a budget, and even find your suppliers. What's not to love?
Junebug weddings are one of the leading blogs for wedding inspo, and for good reason. Their huge library of resources celebrates unique wedding styles that will get allll your creative juices flowing. Blending best-in-class writing with images from some of the best photographers in the world, Junebug have established a one-of-a-kind resource to help couples plan the wedding they've always dreamed of. 
Best of all, you can even use their amazing wedding inspiration board to create your own, personalized mood board in seconds – fuelled by images from the most gorgeous weddings imaginable. Check it out! 
Ruffled was founded by a one-lady-band: Amanda Nistor back in 2008 as a hobby project to share vintage-inspired and handmade idea for weddings. Since then, it has grown into one of the most epic and biggest tools for couples in search of inspiration of their special day. Ruffled has a focus on rustic, bohemian and whimsical weddings that ooze elegance. Their library of resources will help you with everything from planning your event design, through to invitations and even event coordination.
We especially love Ruffled for their recently launched 'Recycle Your Wedding', which is a tool to help couples upcycle their wedding decor for other couples to enjoy. Take a peek!
Bride and Tonic is all about simplicity and sustainability, with a love for the smaller, intimate wedding. Their amazing blog features everything you need to create a wedding that's ethically sourced, and that supports independent and local businesses. These are the small touches that really help you to get creative and let your personal love story shine through. The founders Nikki and Elle started the blog after feeling bombarded with information from other sources online. In their words, "wanted to create a simple, stylised blog that was easy to read, calm on the eyes and a soothing tonic to your wedding woes."
We love Bride & Tonic's 'Ethical Bride' section, which covers everything you need to design a sustainable day: from honeymooning eco style, to sourcing sustainable stationary. Go check them out! 
Wedding chicks is the blog for the modern bride. Featuring weddings, engagements and lifestyle topics, Wedding Chicks delivers nonstop creative content for the bride-to-be. From DIY projects to a huge inspiration section, this blog has all the inspiration you need to create the best day possible.
If you're trying to save some pennies for your day, then Wedding Chicks has an incredible free printables resource. With everything from save the dates, to table names, to signs and labels – you're spoilt for choice! Simple select the files you like, edit them, and print at home (or online). This little hack will save you hundreds of dollars and we love it. 
There you have it – our pick of the best blogs for wedding inspo 2018! What other blogs do you love and why? Let us know!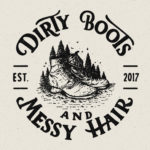 Written by:
Dirty Boots & Messy Hair Team
Connection is what it's all about. Feel free to reach out to us with any comments or questions you might have, even if it's only to say hello. If it wasn't for our beautiful community, this place just wouldn't feel the same.
Wedding Planning
24 Oct 2018