Working with a second shooter can be such a game changer for your photography business especially when you find the right one.
You don't need us to tell you that wedding photographers have so much to do on shoot day.
We've got to work with our couples and their guests, spot the best photo opportunities, carry all our equipment around, have every angle covered… and so, so much more.
That's why bringing in a second shooter is such a great idea. They'll help to:
Take photos when you can't 📸
Support you throughout the day 🤝
Capture moments you might miss 👀
Let you focus on the important stuff 🏆
Finding a second shooter isn't always easy, and nor is getting the most from them on shoot-day. In fact, it can be a pretty tricky process to get right.
We want to help you understand the importance of a second shooter, their benefits, and the boxes you need to tick when working with one.
Sound good?
Then let's get started — here's our ultimate guide to supercharging your photography business with a second shooter 💪
First things first, do you actually need a second shooter?
In a word… yes!
That's if you want to provide the best service possible and can afford it, of course.
But why?
1) You can't be everywhere at once
Sounds obvious, but it's true.
No matter how great you are at your job, you simply won't be able to capture every moment of a wedding day if there's only one of you.
What's more, a second shooter will be able to add extra detail to the bigger moments you'll be taking charge of. The different angles, emotions and reactions — all of which will impress your clients, and be gold dust for your reputation!
 2) A second shooter is the best kind of backup
Imagine the scene…
The bride is just about to walk down the aisle, your camera suddenly shuts down, and your backup equipment is across the other side of the room.
What are you going to do?
You can't run in front of the bride… and even if you could, you wouldn't be able to set up your spare equipment quick enough.
Admittedly, this is a pretty nightmarish scenario, but it's times like these when a second shooter will be your savior. They'll take over the shoot when you can't, and your clients won't have to worry about any missing moments.
And even in more expected occurrences — like needing to disappear for a few minutes, or needing to change your camera battery — a second shooter will always have your back.
3) You'll have a whole lot of fun!
OK, this isn't exactly a need… but, chances are, you'll really enjoy working with a second shooter. They'll help to relieve some of your stress, and make your job a whole lot more enjoyable, as a result.
Weddings can sometimes be lonely places for those outside of the family, so bringing in 'one of your own' is a great way to fill your hours with company and familiarity.
You'll also benefit from having a second creative opinion in the mix, too, as you'll have someone to run through ideas with and talk through your plans.
 4) You could earn more money
There are a whole load of ways your clients will be benefitted by a second shooter.
They'll have more photos to pick from 📸
They'll have more angles of the important moments 💏
You'll be more relaxed, resulting in a better quality of work 🙏
They'll have a backup photographer if something goes wrong 🙌
Sell these benefits to your couples, and they'll almost certainly be happy to pay a premium price for the service.
Of course, you'll have to pay your second shooter for their time (if they're experienced) — but your price point should leave enough room for you to benefit, too.
The direct difference won't be huge once all your costs are factored in — but the indirect difference, on the back of an increased reputation, could be huge.
So, how do you actually find a second shooter?
Hopefully we've sold you on why you need a second shooter.
But how do you actually get started with finding one, in the first place?
1) Use your network!
If you have photographer friends who have similar styles to you, why not agree to be each other's second shooters?
You can also create a group chat or Slack channel of photographers in your area who are always looking for referrals and seconds.
That way you're guaranteed to find someone you know and trust for the big day!
2) Check out second shooter directories
Sites like secondshooters.com and fearlessphotographers.com offer the perfect opportunity to reach out to second shooters in your location, and hire them for your shoots.
Both sites feature job listings, experience and pay expectations for each photographer, as well as contact details and examples of their work.
There's really no better way to find a second shooter — they're verified, looking for work, and eager to get started!
3) Join online photography groups
You'd be surprised by how many second shooters join online photography groups on the hunt for paid work, or some experience.
Usually on Facebook, many of these groups can be a great place to learn about photography more generally, too, as well as how to actually work with a second shooter and get the most from it.
Take the DBMH Facebook group, for example.
It's filled with thousands of fellow photographers who share their top tips, and grow together as a community of like-minded creatives.
4) Use social media more broadly
Alongside joining photographer groups, there's no reason why you shouldn't make a general post on your social accounts asking if anyone is interested to work with you.
Drop in the relevant hashtags and you might be surprised by who you attract.
Sure, it's a less direct approach — but there's nothing to lose by giving it a try.
You can also post in your stories asking if anyone who follows you is available to second shoot for you — or even would be interested in being put on your list of potential shooters.
Compiling a list of potential second shooters and their contact info is a great way to almost guarantee you'll find someone every time!
5) Ask a friend
Got a few photography friends looking for more experience?
Ask one of them to join you for a shoot or two, and you'll soon be able to judge whether they'd be the right fit for longer term work.
The benefits to this are endless — you'll have a lot of fun, you'll know how the other person works, and you won't have any doubts about their legitimacy as a photographer.
And what do you need to do to successfully bring a second shooter on board?
Once you've found a second shooter, you'll need to:
1) Verify their skillset
Review their portfolio, have a chat with them about what they know, and get an idea of their personality.
Have they got the necessary photography skills? 📸
Have they got the proven experience? 💼
Are they willing to learn, and follow your lead? 👩‍🏫
Are they a good match to your personality and how you work?🤝
Tick these boxes, and you're ready to go.
Well, almost…
2) Define payment terms
This is a really important part of bringing a second shooter on board.
Some second shooters will want to be (and should be) paid, whilst others may be looking to simply gain experience.
If, for example, you're working with an experienced second shooter who has a really solid portfolio — payment will, of course, be necessary and you should negotiate with the shooter in line with your budget.
If, however, you're looking to train up a second shooter and offer someone their first shot of working in the wedding business… they'll be grateful for the opportunity to learn from you, and most likely happy to work on a reduced rate basis.
It's important to be clear about money from the start — you don't want to end up under or overpaying someone, and nor do you want to eat into your own margins.
3) Put together a contract
Once you and your second shooter have talked payment, it's time to put it in writing.
This should be in the form of a written contract that confirms payment details, alongside your expectations and other important points.
For example, you'll need to include information on the equipment they need, what expenses you're happy to pay for (such as food and travel), and the level of commitment you expect from them.
Check out this second shooter contract template to give you a good idea of what to include.
Working with your second shooter — our top tips and advice
Woohoo! Contracts have been signed, and you're ready to supercharge your business with a second shooter 🎉
But how do you get the most from a second pair of hands?
Provide the necessary training
Depending on the experience of your second shooter, bringing them up to speed with the necessary skills is a really great idea. You could do this in person or via a video call where you run through the camera settings you use, how you work, and the kinds of shots you're hoping for them to capture.
Always have a plan
Whenever a second shooter is joining you on a shoot, make sure you have a pre-agreed plan in place and that they know exactly what's expected of them.
Have a team call a few days before a new shoot and break down key information about the couple you're working with, how their wedding day is expected to unfold, and where you think the best opportunities might be for extra shots.
Master the art of communication
If you're serious about working with a second shooter, you're going to need to get pretty great at communicating. You'll be a pro at this already having worked with so many wedding couples, but things get a little more serious when you're involving a new person in your business.
Make sure you're constantly talking to your second shooter, and keeping an open line of communication when it comes to what your expectations are, and how they should be working. You should also be comfortable to provide criticism, and happy to point out where things might need improving.
Always review your second shooter
After each shoot, it's worth checking in with your second shooter and reviewing how things went. Highlight what worked well, what didn't, and what needs to change moving forwards. Remember, most second shooters want to learn from us — so do all you can to make that possible, even if that means being critical.
Then start your search for a second shooter today — you won't regret it!
They'll help you wow your clients like never before, boost your portfolio, and could be seriously great for your bank balance, too.
What's not to love? 😍
Good luck, and if you ever find yourself second shooting for someone else, make sure to check out our best tips on how to impress in your first gig as a second shooter 💪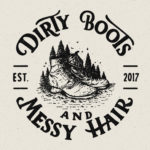 Written by:
Dirty Boots & Messy Hair Team
Connection is what it's all about. Feel free to reach out to us with any comments or questions you might have, even if it's only to say hello. If it wasn't for our beautiful community, this place just wouldn't feel the same.
Photographer Tips
26 Apr 2021