Photographing a wedding as a second shooter is a great opportunity when you're just starting out or if you're moving into wedding photography from other genres for the first time.
A gig as a second shooter allows you to expand your portfolio, gain valuable experience, or even just shoot a wedding for the first time, without having to take on the pressure, or the admin, that comes with being the lead photographer. 
That said, there are definitely things you need to consider and take on board as a second shooter that you might not think about for a normal job, so we've put together a few tips to give you a running start.
One of those simple, little things that is easily overlooked, but can make an enormous difference in the editing suite. 
Take the initiative, and make sure all cameras being used on the job, both your own and the lead photographers, are synced up to the same time. This keeps all the photos taken during the day in chronological order, and saves a huge amount of time. It is also worth making sure you've agreed white balance, filters, and exposure settings in advance, as although this is the sort of thing that can be ironed out in post-production, a little prep goes a long way, and the lead photographer will thank you for it!
This is one of the hardest things to get right as a second shooter, and something that can sometimes feel counterintuitive if you're an experienced event photographer already, but it is very important not to replicate shots and positions that the lead already has covered. 
The point of a second shooter is to get angles, moments and photos that the lead photographer can't cover, and to effectively allow a photographer to be in two places at once! 
It might be difficult, but you may need to restrain your desire to get the 'best' shot, and look more at what works for the job as a whole – remember, you are shooting for the lead photographer, not for your own portfolio.
Key to any job, communicating well is particularly important as a second shooter. 
You need to be absolutely clear with the lead photographer what their expectations are upfront, how the day is going to go, what the needs and desires of the client are, and how things will work once the job is done. 
Getting timings, schedule and payment out of the way early on saves awkward conversations later, and stops any confusion on the day. Continuing to communicate consistently and clearly during the wedding is also crucial, allowing you to be clear where you need to be and when, and to be able to respond to surprises or an unexpected crisis! 
Constant communication will allow you and the lead to works as an incredibly organised, efficient and professional unit, and give a fantastic impression to the wedding party.
A must for any gig, but again here you are effectively representing someone else, and how you act and dress will have a significant impact on their reputation. 
Keep it smart, don't upstage the bride and groom with your outfit, and try and be unobtrusive. Even if the dress code is casual, avoid your favourite Hawaiian shirt, or sequined jumpsuit – this is not the time to demonstrate how fashion-forward you are. 
It is also important to remember again that you aren't there to pitch for new work, but rather as part of the lead's team. Guest and client interaction is obviously important, but don't go around handing out business cards or networking for yourself. 
In this instance, making a good impression on the lead photographer is more likely to generate future work, so keep in their good books!
It is highly unlikely that you'll be called on during the editing process, but that doesn't mean that you can't make life easier for your lead. 
If you can go through your images, get rid of anything not worthwhile, and deliver them to the lead photographer in excellent time, your name will be golden. It's also worth holding off on sharing images on your social channels until the lead has a chance to do so on their own, and until you've clarified that you can use them as part of your own portfolio.
One of the most important things about a gig as a second shooter is to always keep in mind that you are representing someone else, rather than yourself. Being helpful, organised and considerate will go a long way, and ensure the job goes off without a hitch!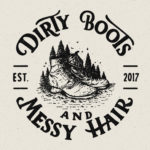 Written by:
Dirty Boots & Messy Hair Team
Connection is what it's all about. Feel free to reach out to us with any comments or questions you might have, even if it's only to say hello. If it wasn't for our beautiful community, this place just wouldn't feel the same.
Photographer Tips
31 Dec 2018