Destination Weddings and Elopement are all the rage right now. Lots of newbie photographers dream of jetting around the world, capturing epic mountain scenery, exotic celebrations and romantic city getaways. And frankly, it's easy to see why people are fascinated with the glamorous image credited to destination photography work. It shines so bright that shooting local weddings is often only considered a first step to eventually move on to international work.
Have you ever considered going AND staying local? There are so many good reasons why having a local wedding photography business makes A LOT of sense.
It's A Lot Less Stressful. And You Get to Sleep in Your Own Bed.
The logistics of covering a wedding day successfully are already stressful in and of themselves – add trip planning and travel days on top and you quadruple the stress of every single job you take on. Dealing with the unpredictability of traveling, with jet lag, missed flights, getting lost driving your rental car to your hotel and staying on top of your daily business To Dos despite being on the road – these are very challenging aspects of being a destination wedding photographer.
Let alone the fact that after a long and exhausting wedding day you'll be so grateful you get to drive home to your own bed, rather than coming back to a hotel, setting your alarm for some ungodly hour in order to catch your plane back home the next morning.
You Will Have A Lot More Time on Your Hands.
We just talked about the amount of planning you'll have to do in order to arrive relaxed, prepared and in time for celebrations all around the world. Just imagine taking that time off your already bursting to do list!
While it's certainly exciting to shoot in some exotic place you've never been before, the anxiety of entering the unknown basically every single week and the amount of preparation you gotta bring to the table to ensure the smooth flow of a wedding day half-way around the world, can seriously add up.
As an industry newcomer you often can hardly imagine feeling overworked or stressed, but once the novelty of entering the industry wears off, you'll appreciate anything taking bullet points of your bursting to do list.
Now just imagine the peace of mind you have when you actually know the venue you're going to shoot at next weekend! Maybe you've even shot a wedding there before, but as a local you've certainly passed by a couple of times. That's why you know how to get there, where to find everything and already have three perfect couple shoot locations in mind, one for every potential weather condition.
Especially when you're early into the game you can hardly imagine ever feeling stressed, tired or overworked, but once the novelty of the job wears off, you'll very much appreciate things that lighten your workload and make the day to day of running a profitable business easier.
And that also means that despite having a job that occasionally makes it harder to hang out with your loved ones (being gone every weekend kinda does that!) – you have just won some extra hours to spend with your favorite people.
Your Business Will Thrive on Word-Of-Mouth Referrals Much Sooner.
Marketing themselves takes up a huge chunk of time, energy and finances in most photographers' schedules – many dream of getting to the point where they've shot enough weddings to have a solid amount of client recommendations under their belt and their business starts almost exclusively thriving on word-of-mouth referrals.
By running a local photography business, you are likely to arrive at that point a lot sooner. After all, friends and family members that see you at weddings and adore your work are likely to also get married in the area – and there's really no reason why they wouldn't reach out to you once it's their turn to tie the knot.
Chances Are, You'll Make More Money.
Shooting destination weddings can be a fairly lucrative business – IF you belong to the world's top percentage of artists that is highly sought after and gets to price themselves accordingly. The reality is that many photographers underprice themselves greatly in order to get those first international engagements – and it isn't guaranteed that eventually they'll be able to raise their prices.
Pricing yourself realistically means putting a hefty price tag on your destination packages – and that doesn't necessarily mean that more money will end up in your pocket.
Charging a couple of thousand dollars per wedding and then adding a couple of thousand dollars on top to account for plane rides, rental cars, hotel nights, extra expenses on the road and compensation for days you aren't able to work due to traveling – pricing yourself realistically means you'll have to put a hefty price tag on your international packages! And you'll need to make it very clear to couples why your work is worth that kind of money.
Chances are if you're shooting locally a lot more money will end up in your pocket without any travel costs that cut into your profit share, no unexpected expenses (we all know how it is with traveling!) and less hours total you will need to invest.
The Environment Will Thank You for It.
With a growing awareness of sustainability and the environmental impact of our actions, it's getting harder to justify frequent traveling. Especially if the area you are traveling to is likely to have equally awesome photographers.
While it may hurt a little at first, referring an inquiring couple getting married abroad to an awesome photographer from that specific area is an amazing thing to do. Why not get together with other cool humans working in the industry and start building a network where you refer each other? That way it's likely that a lot of you will end up with more cool jobs and will eventually be able to return the favor.
Mother nature will thank you for it.
Alright guys, it's settled! Going local with your wedding photography can actually be an amazing way to build a solid client base, make more money and take some stress out of the day to day of running a thriving business.
What do you think about it? Is going local an option for you? Are you maybe already working exclusively around your hometown? Head on over to social media and tell us all about your experience!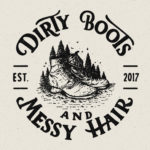 Written by:
Dirty Boots & Messy Hair Team
Connection is what it's all about. Feel free to reach out to us with any comments or questions you might have, even if it's only to say hello. If it wasn't for our beautiful community, this place just wouldn't feel the same.
Photographer Tips
18 Nov 2019