It's that time of the week where we share our weekly crush with you! This time around, we are crushing on Levi Hriczo. Levi is an elopement photographer based out of Seattle! He has such an eye for capturing real moments, and his documentary style has us swooning! Check out what Levi has to say about his business, his inspo, and the industry in general. 
Where are you sitting as you are writing this right now? How's your day going? How are you feeling?
At the moment I'm trapped in my little apartment just south of Seattle! Big surprise, it's been just pouring down rain all day which has had me stuck inside, so I've decided to use my time to start packing for my upcoming trip to Ireland! Sounds fun, right?! I'm heading out that way to go chase this gorgeous couple around in the windy, rolling hillsides. I'm pretty excited to say the least! It's been a wild year so far, full of trips that I'm super grateful for. Staying on top of editing, emails, and juggling a travel schedule for weddings have proven to be a been a big challenge lately, but I'm up for it!
To those that might not know you just yet, please introduce yourself – Who are you? Cat or dog person? What's your photography style?
I'm Levi! I'm an In-and-Out loving, beach lounging California native who somehow found himself up in the rain soaked Pacific Northwest where it's always so cold the air hurts your face, and everyone lives off Starbucks.  My relationship with Christ centers me and gives me a deep appreciation for every story I'm allowed to tell and getting the chance to tell those stories is what makes my world go around. I get up every morning for this, I can't get enough. I wish I had found this earlier, but I'm sure the timing was right so my heart was where it's supposed to be to let me tell these stories the best I can. I love travel and experiencing new cultures. I'm a huge animal person in general, although If I had to pick, I'd say I'm definitely a dog guy, I'll take a French bulldog any day! Apparently, they're incredibly lazy, which is perfect for me. I'd like to think my photography style is a little messy, raw, and candid. I always get a little too close and am a sucker for a good black and white or anything whimsical! I thrive off seeing people feel comfortable enough around me to show who they really are, even if only for a split second. That's always the goal when I shoot. Every time! I want them to look at their photos 30 years down the road and say "Oh my God, look at us. That was so US back then." My work is always going to be an imperfect work in progress, but it gives me something to strive for every time I shoot. Life isn't perfect. It's messy, things aren't always what we'd like, but there's beauty to be found in every moment. I'd like my style to reflect that.
Can you show us 1 or 2 photographs that are particularly meaningful to you and share the story behind them?
So, on this particular day, I met Simeon and Tandy down on the coast of Oregon for our shoot. We had some time to kill before the light was right, so we got to sit on the top of this gorgeous windy cliffside and get to know each other better. They told me their whole story. The struggles of long distance in the early stages of knowing each other, the ups and downs of life and marriage. We really opened up to each other, I remember just feeling so in the moment with them through the whole shoot. Definitely a great connection, I'll always have a soft spot for that day!
I was down in Cabo second shooting for a friend during a wedding she had booked. It was such an incredible day. I caught the groom, just this all-around awesome guy, giving his soon-to-be-wife just the sincerest look of complete pride and affection as soon as she got down the aisle.
What role does Instagram play for you as a photographer? Is it important for your business? 
Instagram definitely plays an important role in the grand scheme of things! While I will say, I spend way too much time on it, it does help me showcase my work! It also gives me a great way to stay in touch with other creatives, meet new couples, and do location scouting before I even show up on site!
If you had to pick just one thing, what do you love most about being a wedding photographer?
Oh man, there are so many different things I love about being allowed to be a wedding photographer! I love the travel! Being able to do this with my life has brought me to some incredible locations and given me the chance to see things and share experiences with people that you just don't get normally get. Every trip with each couple is so different and unique to them, it's unlike anything else I've ever experienced.
What's the biggest challenge you've faced that you could have a helpful lesson for other photographers? 
The biggest thing I've had to overcome is by far confidence. It's hard to put yourself out there. To create something, you feel in your soul, an emotion through an image that you just unexplainably MUST create, and then to post it for the world to see. You're exposed, vulnerable. Especially when you're starting out. That hesitation never really goes away. To this day, I'll judge the hell out of my work, wondering what in the heck I was thinking with that prompt, angle, etc. We're always our own worst critics, sometimes filled with doubt. DONT DOUBT YOURSELF. Some of my favorite images, are from moments where I said, "Screw it", had a couple do something new, or spent my own money to fly somewhere for a shoot I didn't even know would happen, or just took a risk in general. You'll face 1000 failures in the process, but you'll inspire others in more ways than you know!
Who or what inspires you?
I pull inspiration from all over the place! Artist wise, India Earl and Benj Haisch got me into the game. Duh, who don't they inspire?! I was locked into portrait photography when I stumbled across their feeds on good ol' Instagram. I had always wanted to work with couples, but it was just something I didn't have the courage to dive right into. I was utterly captivated with the warmth, rawness and whimsical feel of India's work. It's untouchable. Benj on the other hand, has this ultra clean, pristine style full of natural color. Totally different ends of the spectrum, I know!
What are your dreams for the future of your career?
I'd love to make a name for myself as an intimate destination wedding photographer, although there are SO MANY talented ones already.. Getting your foot in that very specific door is tough. I'm very happy with what I've been blessed with and am just taking it one amazing story at a time. Eventually, I'd love to move into non-profit work. Following around missionaries and relief teams, documenting and bringing awareness to unseen issues in our world has always been on my heart. It'd be indescribable to have that chance.
There you have it folks! Major thanks to Levi for taking the time to answer our questions and share some insight on the industry. Be sure to check out more of his amazing work over on the gram!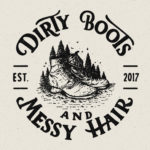 Written by:
Dirty Boots & Messy Hair Team
Connection is what it's all about. Feel free to reach out to us with any comments or questions you might have, even if it's only to say hello. If it wasn't for our beautiful community, this place just wouldn't feel the same.
Photographer Tips
17 Apr 2019