Whether you're newly single, or have been out of the romance game for some time now, you — like tens of millions of others — may be looking online to meet more people in your local area. And why not? It's 2018; the stigma surrounding meeting someone online has all but disappeared. 
Before you get started, here's what you'll need to know…
You should choose a platform that works for you
There is no shortage of online dating sites and apps to choose from. Do your research to find a platform which feels most suited to your wants and needs. Arguably the most popular app, Tinder, has a bit of a reputation for "hookups", but if you're looking for some fun flirting that may lead somewhere this could be a good option. 
On the other hand, if you know you're in the market for a committed relationship, eHarmony or Match (both which ask for subscription fees) may expose you to more like-minded singles, who're looking for something that'll stand the test of time.
…and maybe use a few at the same time
You could increase your chances of finding love by using several platforms at once; this is pretty common practice, so you may come across a number of the same profiles as you browse! Certainly there's no shame in extending your reach.
A photo speaks a thousand words
Whilst it'll be important to communicate your personality through your written bio, you should also think about what your uploaded photographs are saying to potential matches. It's a good idea to include a range of photos (some close-ups, some full body shots, in a variety of settings) which will help give your matches a further idea of what you're all about. Consider yourself an outdoorsy type, looking to meet a wild spirit? Make sure you post a photo of you hiking in the hills, for instance.
Don't swipe left too soon
As you get more comfortable using these platforms, you may find yourself tempted to rush through — deciding 'yes' or 'no' in a matter of seconds. However, you should try not to reject people too quickly. Sometimes, a small detail in a profile bio or photo will pique your interest, making that possible match worthy of a "like". 
Try to resist the temptation to make your online dating game purely superficial, scratch the surface and see if you can find matches who share your values and outlook on life.
Don't be shy to say, "hi!"
When you do match with another single, don't wait for them to make the first move! The rule book has officially been thrown out; whatever your gender, it's totally up to you if you want to say "Hi" first.
…but more imaginative introductions have impact
There's no official research to go off, but you can bet that a primary reason for leaving a new message without a response is because it failed to excite. 
Sure, sometimes a simple "Hey, how's it going?" will do the trick. Yet, where you can, you should try to reference a photo or comment from their profile, to start up the conversation. A word of warning: corny pick up lines rarely, if ever, work!
Love's a game, don't take it personally
So you've plucked up the courage to message a cute new match, and you get no reply. Sure, it sucks: but that's all part of the game.
Don't take it personally. That person might just be inactive for now, or they may have met someone else. Brush yourself off and move on to the next!
Sadly, just downloading the platform and setting up a profile doesn't guarantee you love! You'll need to put in a some effort to match with people you're really interested in.
If you can find time to catch up with your dating platform on a daily basis — maybe in the evening or during your commute — you'll get more out of the experience.
Don't stand for inappropriate conduct
Ultimately, online dating should be as safe and comfortable as doing it the "traditional" way. Just because it's the internet, doesn't mean you should lower your standards or allow yourself to be exposed to any inappropriate behavior. 
All dating sites and apps will have ways to report unsavory messaging… don't be afraid to use it. You'll be doing yourself, and future daters, a favor.
If you approach the online dating game with a thick skin (and a healthy pinch of salt), you'll set yourself up for a fun and exciting experience. Who knows, perhaps the love of your life could be just a few clicks away!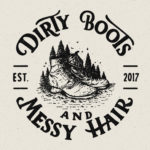 Written by:
Dirty Boots & Messy Hair Team
Connection is what it's all about. Feel free to reach out to us with any comments or questions you might have, even if it's only to say hello. If it wasn't for our beautiful community, this place just wouldn't feel the same.