As a photographer, you're probably more into pictures than words, right? Yet you shouldn't underestimate the power of copywriting to bring you new business.
When prospective wedding clients browse your site, whilst your photographs may do most of the talking, the copy and content you use to support your creative works will also play a valuable role, for search engine optimization amongst other things.
And the better your SEO, the more leads will come your way. Check out our tips on how to write great copy for your wedding photography site.
What can great copy do for your business?
Copy and content will bring new customers to your website.
Think about it: if you're searching for something online, how do you go about it? You'd probably type in a word or phrase that describes the solution you're after. "Camera servicing East Village" or "best Lightroom presets for black and white photos".
Words connect you to clients searching for your service. The right words = bigger business.
As such, you should get to know the keywords and phrases your prospective clients will use through search engines. Chances are, it's along the lines of:
– Wedding photographers
– Wedding photography reviews
– Best wedding photographers [in your location]
… and you can explore this for yourself, using Google. Just search for a term which you believe to be relevant for your business, then scroll down to the bottom of the page, where Google will have listed 'Searches related to [original search term]'.
Use these related terms in your landing page and blog content, and you should see your efforts drive more interested clients to your site.
Copywriting can take the shape of blogs — both long form and snappy "listicles" — webpage blurbs and social media content.
Whatever output you're producing, here are some industry tips and tricks to ensure you create top-notch, lead-producing copy…
Copy tip #1: Always put your audience's needs first
When you sit down to write copy for your wedding photography site, it will be tempting to prioritize content that suits you; what's easy to write, or where your particular interests lie.
And whilst it's good for potential clients to know if you've got skills in a certain photographic niche, top quality copywriting always considers its readers' needs first.
Put yourself in their shoes: what do they want to know, when they browse your website?
Do they want to know the kinds of weddings you've worked at previously? Sure.
How about your professional opinion on lighting a wedding venue, for the best photographic setting? Likely.
Are they interested in your personal views on brides wearing white versus ivory? Probably not.
Push yourself to come up with creative and engaging blog topics and social media posts; don't settle for what's quickest to complete.
Content that's of genuine interest and use to readers, will attract more traffic than copy that's self-serving.
Copy tip #2: Composition is just as important as content
As a photographer, you should know that playing with empty space can do wonders for a composition. You don't need to fill every inch of the frame.
And that same can be said when copywriting; how you present the words can make all the difference.
For instance, would you still be reading this article if all the lines were displayed in one, laboriously long paragraph? We doubt it! Dense, content heavy articles are too demanding to most readers to bother with.
That's why this article has used "grease-sliding" — a copy technique where each line gently nudges the reader onto the next.
If you can keep a reader engaged, not only does your brand perception improve, but so does your search engine optimization.
Why?
When organizing its top rated sites, Google assesses — amongst other criteria — the length of time visitors stay on a page. The longer you keep visitors with you, the higher up the SEO rankings you'll fly!
Copy tip #3: Take a break, then edit
Even when you're up against a deadline, you should always find time to step away and come back to your copy before posting it.
With a fresh pair of eyes, you'll be able to notice repetition, sentences which don't flow optimally, or parts which are just a bit…"meh".
Keep your sentences short and to the point. A paragraph should contain no more than 5 of 6 sentences. Or 200 words in total.
With 52.2% of all website traffic worldwide now coming through mobile, short, snappy web copy is essential. No one wants to spend time on mobile sites teeming with hard to read text!
Lead-producing copy is easy, when you know how
There's no shortage of tutorials online, teaching you all the necessary basics of SEO. With even an entry-level understanding, you'll be able to add meaningful value to your business.
Use the above three pointers, to get you started. Then continue to strengthen your site's SEO with regularly updated, user-centric content and, over time, you'll see your leads increasing.
Writing is just one of the ways you can supercharge your photography business (check that post out for more!) but it's a damn good place to start.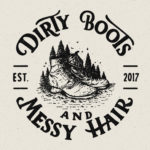 Written by:
Dirty Boots & Messy Hair Team
Connection is what it's all about. Feel free to reach out to us with any comments or questions you might have, even if it's only to say hello. If it wasn't for our beautiful community, this place just wouldn't feel the same.
Photographer Tips
08 Mar 2019