One of the best things about life as a professional wedding photographer is the chance to explore new places, see amazing new sights and work in stunning locations. Who doesn't love a job where a beautiful landscape or exciting backdrop is fundamental to the work?
However, for the conscientious and environmentally-minded modern photographer, this does present a problem, as traveling to exotic destinations can often be a bit of a disaster for the planet. From an environmental perspective, in an ideal world we would avoid long-distance travel altogether, but this sometimes (usually!) just doesn't cut it.
Thankfully for travelers in general, and wedding photographers in particular, there are a number of ways you can make your travels, whether for work or for leisure, more sustainable, and reduce your impact on the world. So, check out out tips on how to offset your carbon footprint.
Carbon offsetting is probably the best way to reduce the emissions that you just can't avoid. The scheme is a double whammy, tackling global climate change while at the same time helping to care for local communities, often providing vital employment, environmental and social benefits.
Essentially carbon offsetting helps you calculate the emissions that you can't avoid or reduce using other means, and then offers a range of projects and programs that are reducing or saving emissions elsewhere in the world for you to fund.
Using the calculator on the Carbon Footprint website you can work out exactly what your carbon footprint looks like, take a look at the advice and support offered to help you reduce it yourself, then fund an offset project to balance it all out.
It is important to understand that carbon offsetting isn't the ultimate solution to climate change and environmental damage. It provides a convenient and cost-effective way to limit or mitigate vital travel and emissions, but if you are just using it as a get-out-of-jail-free card, the benefits will be limited. It is really important to think widely about how to avoid unnecessary emissions in the first place, and make your work that little bit greener overall!
Doing your research and planning your professional trips can make a huge difference in the impact your travelling will have on the environment. If you are lucky enough to be able to pick and choose your destinations, then obviously the closer they are to home, the better.
If you can get around by foot once you are there, then that makes a huge difference over hiring a car. Trying to avoid the mega-tourist destinations so as not to contribute to already overcrowded, creaking ecosystems is great too.
If your work requires overnight stays, a bit of research into accomodation is really useful too. These days there are an abundance of great independent hotels who hold themselves to high eco-standards (often endorsed by someone like the Rainforest Alliance), and who do as much as they can to reduce guests' impact on the environment. Best of all, these hotels are often the friendliest and most charming anyway, so it's a win-win!
Some wedding photography jobs will take you to pretty far-flung, exotic places, which is amazing, but can put you out of your comfort zone. At times like this it is easy to fall back on instinct, go nuts with bottled water, eat in comfortable, tourist-friendly places, and pack a load of creature comforts. However, avoiding all of these instincts will help make your job much eco-friendlier and more sustainable!
Grab food at local joints, and experiment with local, sustainable cuisine (rice and beans can be surprisingly tasty!). Going veggie while abroad is a neat little trick to add a helping hand. Try as hard as possible to avoid bottled water, getting refills of filtered water from hotels and even bringing your own filter with you. Finally, while there will obviously be a bunch of kit you need for the job, packing as light as possible helps reduce the strain, on both the environment and your shoulders!
As a jet-setting wedding photographer your carbon footprint is always going to be a bit of a concern. However, with a bit of planning, and an adventurous mindset, there are a bunch of ways you can make a difference to your unavoidable emissions. Once you've done the things you can do to reduce your footprint, the carbon offset project is a great way to help with the rest. Happy travelling!
Looking for more photographer tips? Here are our top techniques to help you manage the demands of life as a wedding photographer.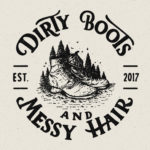 Written by:
Dirty Boots & Messy Hair Team
Connection is what it's all about. Feel free to reach out to us with any comments or questions you might have, even if it's only to say hello. If it wasn't for our beautiful community, this place just wouldn't feel the same.
Photographer Tips
10 Mar 2019