This year we're all about the traditions and norms that make 2020 feel somewhat less strange, so we are welcoming Halloween with open arms this year! 
When we reached out to the DBMH community to ask for your spookiest pictures, you guys blew.us.away. 
Prepared to be spooked. Prepare to be scared. Prepare to be amazed. Welcome to this month's challenge series: #SpookySzn
Are you ready to get your spook on… cause we sure are!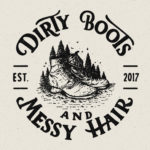 Written by:
Dirty Boots & Messy Hair Team
Connection is what it's all about. Feel free to reach out to us with any comments or questions you might have, even if it's only to say hello. If it wasn't for our beautiful community, this place just wouldn't feel the same.
Photographer Tips
30 Oct 2020