Most people grow up with mental images of their wedding day filled with fresh floral arrangements, rose arches and a flowing bouquet. But, as time passes, the realities of the demands our actions are placing on the planet are all too apparent. We're becoming more aware that fresh flowers – grown abroad and shipped around the world – can be wasteful and have a huge impact on the environment.
If you're asking yourself if there's another way to have florals at your wedding in a more sustainable way, well we think there is.
You shouldn't have to compromise on the look of your dream day to be more conscious about your consumer decisions. If you're looking for some ideas that will be just as effective as the most striking peony bouquet, read on to discover some of the amazing alternatives to floral bouquets.
Probably the closest thing you will get to the fresh alternative, the advantages here are they are generally cheaper, and can be reused.
There are specialist florists who work only with dried flowers, and create the most outstanding displays, so it's by no means a compromise. It especially lends itself to a wilder look or bohemian vibe and favorites include lavender, green foliage, grasses and Gypsophila. There are even more benefits: with dried flowers, you get to keep your bouquet in the same condition and quality as it was on your wedding day. Now you can't do that with fresh flowers, can you?
Faux flowers have come a long way from being a dusty, faded bunch sat idle for years in your grandmother's house.
New technology and manufacturing techniques mean faux flowers look more realistic than ever. The trick here is to combine faux flowers with either fresh, or dried blooms – they'll mingle in and become undetectable. Lots of florists offer this service now, and it will likely cost you a fair amount less than freshly picked flowers since the florist can reuse the stems time after time.
Florals made from paper are becoming more and more popular and consequently, a specialist art. It's also something you can DIY.
There are endless tutorials online showing you how to create an arrangement from paper – and even then, there are numerous types of paper which create different textures for petals. Flowers that lend themselves to being made out of paper include roses, peonies and ranunculi – the blousier the petal, the better. Another advantage is that you can create flowers out of colors you don't usually see in the natural world such as navy blue, neons or even ombre hues. The sky's the limit.
We're almost certain you've already clocked the trend for foliage bouquets and the good news is, these can be extremely environmentally friendly, not to mention significantly cheaper than florals.
Foliage lends itself to the DIY bride since you can forage for what you need from your local area. Grab your friends or bridal party and head out a day or two before the big day. You'll need to be flexible on the final look as it will largely depend on what you can find but you can easily create full and lush bouquets, table displays, and garlands at minimal cost and impact. Just make sure you get permission before picking anything!
If you are having a smaller, more low-key ceremony, who says you even have to carry flowers at all? Instead, you could hold the most beautiful clutch bag to match your outfit, with the benefit of being able to use it again.
Bonus points for adding a family brooch as your, "something borrowed". Usually your wedding day is the last time you get to wear your bridal outfit, but we love the idea of getting out one of those elements for anniversaries and special occasions. It'll bring back all the feels from your wedding day.
This one sounds a little off-beat but hear us out. A fan can be found for any wedding style, be that straw, feather, wooden or paper, so it could work for most themes.
We love the idea of holding a fan at a destination ceremony with the sun setting and a balmy breeze blowing. You can even go one step further and have your bridesmaids carry coordinating ones. There could be nothing chicer than a matching fan to keep you cool throughout the festivities. Plus, you could create your very own Beyoncé-wind-machine situation – a photo opportunity not to be missed.
If you're looking for the ultimate sustainable option, why not opt to go flowerless at your wedding? There's no hard, fast rule that says you have to have a bouquet, so if you prefer an environmentally friendly alternative – buck the trend!
We hope we've given you some inspiration when it comes to your floral bouquet alternative. We really don't think you need to compromise on the look of your day if you decide to move away from fresh flowers. If done well the day will look unique, personal, and arresting – your guests are sure to remember it. Props to you for thinking of the impact on the planet whilst planning your wedding. We say embrace it, there are so many options out there, you just need to find the right one for you.
Looking for more inspiration for your wedding day? Look no further than these Instagram accounts.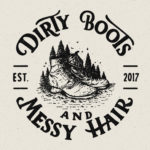 Written by:
Dirty Boots & Messy Hair Team
Connection is what it's all about. Feel free to reach out to us with any comments or questions you might have, even if it's only to say hello. If it wasn't for our beautiful community, this place just wouldn't feel the same.
Wedding Planning
22 Mar 2019