On January 14 we launched the DBMH CAMP – an online workshop experience set in the heart of Yosemite Valley, featuring four of the most recognised photographers in the industry: Janelle Elise, Benj Haisch, Anni Graham & Peyton Byford. These four walk you through all the parts of their business, teaching you all their tricks to build a thriving wedding photography business.
The DBMH CAMP was designed with one focus in mind: to hook you up with an amazing group of industry superstars and fellow spirited photographers.
If you're looking to grow your confidence and lift your photography business to new heights — you need to get involved!
From lessons in winning new clients, to becoming financially sustainable and nailing gold-standard output each time, the DBMH Online Camp has all the answers you've been looking for.
But now, let's jump right into it. Renowned elopement photographer Anni Graham and brilliant destination photographer Peyton Byford are two of our four powerhouse artists and as avid travelers they have a thing or two to teach you about professional travel.
Today we've put together some of their Dos and Don'ts of the professional traveler. Trust us, you won't want to miss this!
(And remember: the following is just the tip of the iceberg. If you want to hear all of Anni's and Peyton's travel tales, and what they've learned from their global careers, then you need to sign up to the Camp.)
We all love a spontaneous trip but traveling for work isn't the time for winging it.
From organizing trustworthy transport to packing well in advance, having a travel plan is key to a successful business trip.
Have a Plan A and a Plan B. Prepare for things to go wrong, and then you'll be sure to get everything right.
And aside from all the logistics of travel, a good plan will also ensure that your photoshoot goes smoothly too. Arriving on (or ahead of!) time, and having a pre-planned vision, will help to keep things both professional and productive — the holy grail of photoshoot success!
Do Leave Some Wiggle Room
Speaking of productivity… when you're traveling professionally, timing is everything.
You don't want to cut it too fine, but nor can you afford to spend hours and hours waiting in the departures lounge.
The key is to leave enough wiggle room to deal with the unpredictability of travel, without having too much dead time. So get to the airport a few hours before your flight, and leave enough room for any delays, disruption or confusion.
And when delays happen — as they inevitably will! — make sure you come prepped with a fully-charged laptop. That way, you can jump into emails or write that blog you've been meaning to post for so long!
In professional travel, you've gotta make delays work for you.
Do Make Yourself Comfortable
When you're traveling for work, it's important to bring your A-game to wherever you're headed.
And with a back-to-back itinerary of client meetings and photoshoots, there's not going to be much time to rest off that stiff neck or sleep away the jet lag.
That's why it's so important to keep yourself comfortable as you travel. Wear your comfiest clothes, bring your favorite pillow, and make sure that any bags you have aren't going to weigh you down or hurt your back.
Whatever works for you, just make sure that you get some downtime and are able to enjoy a bit of comfort before a busy few days ahead.
You'll regret it, if you don't!
Insurance really is one of those things we love to hate, isn't it?
It often seems like an unwelcome expense, but if the time comes for you to lean on it, then woah will you be glad you took some out!
And as a professional photographer, traveling around the world with super expensive gear, it's vital that you've got a decent insurance policy to cover your back.
From mountain ranges to secluded beaches, elopers can have a tendency to pick some pretty interesting spots to say 'I Do'. And whilst this makes the job of a wedding photographer 10x more fun, it can also raise a few risks that definitely need safeguarding.
Whether it's in case of extreme weather or rocky walkways, an elopement photographer will need to cover at least their cameras, lenses and computers with a good insurance policy.
And since you'll be traveling to new places and working professionally, you should absolutely take out some kind of health and liability insurance, too.
(And now for the don'ts…)
Don't Bring Too Much Equipment
Do you find it difficult to pack light? Well, now is the time to step up to the challenge!
Because, as tempting as it might be, it's important that you don't bring too much equipment with you on your business trip.
Why?
Firstly, there's the costs related to excess baggage. Not only will you need more insurance to cover more equipment, but you'll also have to pay more for your flight as you'll be taking more luggage on-board.
And since we're talking business trips here, you should be keeping a watchful eye on your profit margin!
After all, the more you spend — the less you take home.
Secondly, there's the risk to your equipment to consider. The more equipment you carry, the higher the chance that some of your gear will get damaged, lost or even stolen.
Thirdly, think of your body!
Us photographers already get sore backs from being on the job. And shooting elopements can be even more tasking on the body — hiking up mountains can be super fun… but gah, so tiring too! Basically, there's no need to make that worse by lugging around things you don't really need.
So once again think ahead, and really streamline what you bring with you on your trip. Bring enough to deliver the best experience possible, but not so much that you'll have to pay the price.
Don't Have An "It's Gonna Be Fine!" Mentality
Us creatives can be pretty easy-going and tend to take life as it comes. And although — usually — this serves us well, it's simply not the right mentality to have when you're traveling for business.
The truth is: if you don't have a solid plan in place… everything isn't going to be fine.
If you're overly relaxed and blasé about your journey, something will go wrong.
The combination of clients, travel and money is one that needs careful consideration.
Don't take it too easy.
Sure, have some fun, but always keep your eyes on the prize. And remember that this is business.
Ready To Travel? Not So Fast…
Hold off on packing your bags just yet! Anni and Peyton have so much more to share with us on their DBMH session.
So, head over to our Online Camp and keep your eyes peeled for further content that we are confident will change your business for the better!
See you round the campfire!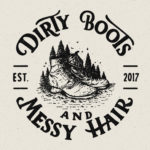 Written by:
Dirty Boots & Messy Hair Team
Connection is what it's all about. Feel free to reach out to us with any comments or questions you might have, even if it's only to say hello. If it wasn't for our beautiful community, this place just wouldn't feel the same.
Photographer Tips
09 Dec 2019