No, you are not turning into The Grinch. Christmas really does seem to come earlier and earlier each year.
And with the stores lit up with Christmas twinkles and blasting out festive tunes and from as early as mid-October, you'd be forgiven for using up all your Christmas spirit before the calendar even reaches December 1st.
So, don't worry if you're just not feeling Christmas today. Wanna know how to get into the Christmas spirit? Just take a read of our top 10 tips — enough to make anyone sing "Deck the halls!".
Ready?
1. Press 'Play' On Your Favorite Holiday Music
Mariah. Nat King Cole. Frank Sinatra. Ariana Grande. There's no judgement here! Whoever sings your favorite Christmas anthem, now is the time to lean on them.
Nothing fast-tracks you into the holiday spirit quicker than a festive sing-along. So, head over to Spotify, or wherever you stream your music from, and select one of the many Christmas-themed playlists — the perfect backing track to any of the following festively fun activities…
2. Decorate the Christmas Tree
Let's face it. Stepping through your front door and seeing the warming lights of a Christmas tree — that really is magic, isn't it?
But you need to be a little strategic about when you put up your Christmas tree, if you want it to last until January 6th.
Most trees will drop their needles within about four to six weeks of being cut. So, as it's already mid-December – go for it!
3. Binge A Festive Boxset
As with Christmas music, whatever you deem to be a festive film, is whatever you deem to be a festive film.
Some take a classic approach, favoring Miracle on 34th Street. Others prefer a slightly left-field approach, choosing Die Hard or Gremlins.
And you know what? The film you watch doesn't even need to be set at Christmas time, to get you in the holiday spirit. Perhaps it simply came out around Christmas and so reminds you of the festive excitement of childhood; the Lord of the Rings trilogy is one that springs to mind.
No matter the films you choose, get comfy and prepare for a back-to-back helping of festive feel-good. You'll be amped for Christmas in no time.
Think about it for a second: which aromas really remind you of Christmas?
Perhaps its mulled wine, or pine trees, or — most likely — its gingerbread, roasted chestnuts, Christmas cake and cinnamon.
So, bring your house to life with all those indulgent festive scents, not by heading down to a local candle store, but by rustling up a tray of delicious baked treats.
And you don't need to be a culinary whizz to get them right. Christmas cookies simply need flour, butter, sugar and your preferred Christmassy flavoring (we're big fans of coconut snowballs, if you're asking).
5. Host A Christmas Get-Together for You and Your Friends
At its heart, Christmas is a time to spend with those near and dear to you.
And what better way to do that, than by throwing a special Christmas party? After all, having the same friend-dates can get boring after a while. A festive bash is the perfect excuse to blast out your new favorite playlist and show off your holiday-inspired baking skills.
Even better: organize a secret Santa in your friendship group. Set a financial limit (say, $10 or $15) and enjoy the interrogation process of trying to work out who had who!
6. Indulge in Christmas Self-Care
Sure, spending time with friends and family is what Christmas is all about. But it's also a really important time to catch your breath and reflect upon everything else that's happened in the year so far — especially if you've been feeling low on energy.
Whether you survived a breakup, hooked up with a new crush, or won a lot more clients at work, you've probably done a lot of stuff to be proud of during 2019.
That's why you should find time to indulge in a little Christmas self-care; a little frankincense-infused face mask (it's anti-inflammatory, don't you know), a quick pre-Christmas makeover at the hair salon, or just cracking open a good bottle of wine.
Make yourself feel as fabulous as you deserve to feel this Christmas — coz, honey, you've earned it!
7. Volunteer Your Time to A Local Charity or Community Cause
After a brief pause for self-reflection, it's not uncommon to realize you want to do something to give back to your local community or help those in need.
And the holidays are a fantastic time to do this. Not only because everyone deserves to feel love at Christmas, but because this is the key time that many part-time volunteers gather together, creating an amazing atmosphere at soup kitchens, homeless shelters and animal refuge centers across the country.
Scratch below the surface, and you're sure to find a number of worthy causes right on your doorstep.
So, go on, silence The Grinch that's lurking inside you and volunteer your time to spread Christmas joy to those who need it most. And, guaranteed, you'll feel better for doing so.
8. Do Something Special This Advent
Technically speaking, advent starts on December 1st and ends December 24th, according to the Christian calendar. But you don't need to be Christian, or from any religious background, to do something that marks the special days which lead up to Christmas.
Perhaps your altruistic adventures have inspired you to do something, however small, to create social and environmental good, each day of December? It can be as minor as promising to make at least one round of coffees at the office every day, or you can go out of your way to perform a daily Random Act of Kindness.
Wherever you spread joy, you are sure to feel it reciprocated. And what's more festive than that?
9. Put Extra Effort into Wrapping Your Gifts
Unless you're uber-organized, then wrapping gifts will be one of the last things you'll do to get into the Christmas spirit. Thing is, sitting down and dedicating time to gift-wrapping each present is meditative, therapeutic, and oh-so Christmassy.
So, this year, why not make an extra effort?
Whilst, you do want your friends and family to know how much you care…. you also want to be environmentally friendly in your approach. So, your challenge is this: what can you do, to decorate your gifts in a unique and special way, without relying on plastic, foil or excess packaging?
When you've worked it out, post a photo to Instagram and tag us in it. We wanna see!
10. Immerse Yourself in Christmas Culture
Okay… so you're still not feeling festive?
In that case, it's time to bring out the big guns.
Because, as overwhelming and exhausting as the holiday season can be, even the iciest of hearts can be thawed by watching other people soak up the Christmas surroundings.
So, head to the most Christmassy place you can think of — likely a nearby department store or your neighborhood's answer to The Rockefeller Center Christmas Tree. There's nothing else you need to do, just sit, and observe.
Notice all the little kids with big, their beaming smiles. And the cute couples on nervous first dates or heart-warming fiftieth dates. If you allow yourself the time to stop and just take it all in, you may just find your Christmas spirit comes back without you having to try so hard.
Found Your Festive Spirit Yet? We Hope So
For all its potential stressors, Christmas really is a magical time of year.
But, at the end of the day, don't push yourself to feel something you're not. Maybe Christmas just isn't your holiday?
There's always Halloween, after all! And there's something really romantic about spring, too.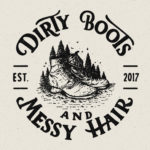 Written by:
Dirty Boots & Messy Hair Team
Connection is what it's all about. Feel free to reach out to us with any comments or questions you might have, even if it's only to say hello. If it wasn't for our beautiful community, this place just wouldn't feel the same.