So, you've got a date, yay! – one of the hard parts is over! Now for the other hard part, what are you going to do? If you're tired of the whole get dinner, grab a drink stint, here are 10 unconventional date ideas that you can do with your new tinder bae that beat the standard coffee shop meets, hands down.
A walking tour of your city
When we're walking through the same old alleyways with the abandoned sofa bed over and over, it's all too easy to miss the uniqueness and beauty of your city. If you've been stuck in a rut convinced all your city has to offer is graffiti and never-ending traffic, perhaps remind yourself of some its man-made beauty with a walking tour.
Now, you could obviously head to a tourist spot, but why not add an extra layer of fun and create your own walking tour. It's a great thing to plan with your new perspective beau too. Have a sit down and pick 4-8 places in your city you want to visit, figure out the best route, and off you go!
You've got a free romantic sight-seeing tour without all the lines!
If you haven't participated in one yourself, you've definitely heard about them: the infamous escape rooms.
There are a gazillion different types, but they all have the same premise; a physical adventure game where the players use hints and clues to strategize how to escape the room.  It's a great date idea as it forces you to work together, so no chance for awkward silences, and you also get to secretly test your new guy's ingenuity and problem-solving skills. So, should there be an apocalypse you can sleep soundly knowing your new guy has top notch survival skills.
New year, new date, new skill? Why not start off your escapade of new experiences with picking up a new skill together and take that dance/painting/pottery class you've been meaning to for so long.
It's a new and fun endeavor you can both take on together. (And hey, even if it ends up not working out, you've still got that awesome mug you made in pottery class!)
Try a modern-day scavenger hunt together; these go on in loads of cities. They are often kind of like a walking tour mixed in with activities and usually conducted by a guide. They'll have loads of activities, and you can either work together or create a little friction and play against each other for some healthy competition.
"First one to get a selfie next to the central park fountain, standing on one leg, with a pigeon in the background wins!"
If you've got some water near your city, you may want to consider a canoe or boat ride. Definitely not for everyone, the motion of waves makes some people feel incredibly relaxed… or nauseated, and you'll definitely want to find out which your date is prior to planning this. If they're someone who enjoys the water though, this could be a great date.
P.S. if you're feeling a little more bougie maybe look into a 'Hot tug', a romantic trip at sunset, surrounded by water, sat in a steaming, bubbling hot tub boat, as you sail through the canals? Yes please!
You know you've wanted to try a tandem bike, don't lie! If you've got a date coming up, consider planning a tandem bicycle ride. It's a great team building exercise as it requires you both to work together and get into a unified stride to keep the bike upright. Maybe end with a cheeky picnic lunch afterwards, you probably burnt off a load of calories simply trying to keep upright.
A date with a cute guy and an afternoon of shopping? The cosmos have aligned to give you an amazing day. Why not head to a flea market or vintage market, have a browse and check out the deals. You can even make a cute little challenge out of it with your date. Set a $20 spending limit and see who can get the best bargains.
Why not combine your aspirations for becoming a 1st class bartender with meeting the beau of your dreams? Cocktail classes are great fun, not only do you get to have a go at all these crazy and extravagant cocktails, but you also get to drink them afterwards! It's a win win!
There's something inexplicably cathartic about flickering flames. Depending on the laws of your city, maybe make a bonfire with your date and have a nice romantic evening chatting and sipping beer, whilst you watch those beautiful embers burn.
Watch the sunset or sunrise
This works whether you're dealing with an early bird or a night owl. What about a date where you plan to watch the sunrise or sunset together? Figure out when sunrise/sunset is, find a high up place in your city with a clear view and watch the magic unfold. Bonus points if you want to bring a blanket and some food and drink whilst you wait.
If you're still stumped on what to do, why not send them this list and have them pick out two or three they'd like to do? Once they've narrowed down some options you can decide out of their choices what you'd be down for, and you're good to go!
Can't see anything on this list that tickles your fancy? Here are 10 unique and totally free date night ideas for more inspiration.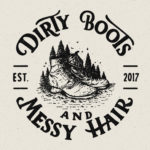 Written by:
Dirty Boots & Messy Hair Team
Connection is what it's all about. Feel free to reach out to us with any comments or questions you might have, even if it's only to say hello. If it wasn't for our beautiful community, this place just wouldn't feel the same.