As a wedding photographer, capturing beautiful images is only half of the equation. Another major part of your job is learning how to put your subjects at ease so that they can relax into the shoot. Make this happen, and your work will be magical. 
Usually this task isn't so tricky with brides. After all, they've usually spent much more time in front of the camera during their lives. Making your groom relax into a wedding shoot, on the other hand, can be quite a challenge. 
Often more shy and reserved in front of the lens, your role as wedding photographer will require you to be patient, empathetic and inclusive to get the best from your groom. To help you achieve this, let's take a look at some tips. 
Connect on a social level
Brides tend to be much more comfortable with the idea of having a photographer capture every moment of the day. Men, on the other hand, less so. Before you go into a wedding shoot cameras blazing, take the time to build trust and rapport with the groom first. 
When you first arrive on the day, keep your cameras away for the first introduction so that you can build a relationship with the groom without the distraction of all the equipment. 
During these first moments your role is not to be a photographer, but to be a friend. Just hang out for a few moments, get to know each other. You may have spent time before now getting acquainted, but you've just turned up at this guy's wedding day. He's probably a bag of nerves. Keep the camera to one side and get him feeling comfortable with what's about to come. 
Taking this time to connect on a social level will do wonders throughout the rest of your shoot. 
Brides spend a lot of time before the wedding learning about what to expect on the day. Of course this is a huge generalisation, but brides tend to be the ones steering the wedding planning ship. They're the ones who build up a knowledge of what's normal and what's not. This tends not to be the case with a lot of grooms, who are lacking a lot of that knowledge. 
That's why it's so important that you explain your role really clearly to the groom. If the groom doesn't know what to expect, when they suddenly see you doing something they weren't prepared for it can make them tense up. The last thing you want during a romantic and candid moment is for the groom to wonder why the hell you're pointing a camera in his face. 
Continue to have a running commentary with the groom throughout the day. If you're taking the couple somewhere for a shoot, explain why you are posing them the way you are (is it the lighting? The setting?) and what it is that he should be doing and why. As soon as he is aware of your decision making process, he will begin to feel more in control and confident of his actions. 
In order to get the best from your couple, you need to find ways to make everything feel unposed. this means learning how to capture them as they are, simply 'being'. This is especially true when it comes to the groom, who'll probably have a lot less life practice with posing in front of the camera. 
It's essential, then, that you don't try and force your couple into staged posed shots. Placing your couple and directing them in a shot is one thing, but you shouldn't try to control every gesture. This is only going to make them tense up. 
Your job is to observe the moment 'in between', and capture that. See how they act when they are not thinking about anything, and then be on the lookout for that moment throughout the day. This is usually when they are just standing as they normally would for a fleeting second, completely unconscious of you even being there. Capture that magic stuff, and you're guaranteed to bring the best out of your groom in your wedding photography. 
Keep the compliments subtle
This is an extension of the previous point – but in order to capture that moment 'in between', you need to try and fade into the background as much as possible. It's therefore not a great idea to continuously encourage your couple with lots of praise about how great they look in shots, as it'll only make them all the more aware of the camera being there. 
It's totally fine to encourage the things that look beautiful, but overdoing it will likely only make your groom tense up. He shouldn't be aware of how he looks on camera, it's your job to simply capture him at his best. 
Whilst we hate pointing out gender differences, annoyingly in some cases there are some socially learned behaviors that make our job different when it comes to men and women. Follow these tips to get the best from your groom over your upcoming few shoots, and soon it will become totally natural to you!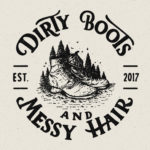 Written by:
Dirty Boots & Messy Hair Team
Connection is what it's all about. Feel free to reach out to us with any comments or questions you might have, even if it's only to say hello. If it wasn't for our beautiful community, this place just wouldn't feel the same.
Photographer Tips
08 Oct 2018