When you're planning a wedding, picking the perfect photographer will likely be one of the most important decisions for your day. But let's face it, with so many incredible wedding photographers out there, all with seemingly gorgeous portfolios, how should you pick your chosen one?
In this article we take a look at 5 golden tips to help you evaluate a photographer's portfolio, to make sure they're perfect for you.
1. Focus on the big picture, not the details
It's a really easy trap to fall in: you are viewing a photographer's images, but before you know it you are distracted by the details of the day itself. The bride's dress, the color scheme, the venue: these can all be seriously off putting if they don't align with your own tastes.
When you're reviewing a portfolio, it's therefore super important to focus on the right things. Do you like the composition of the images? What about the creative style? 
Forget the details: these are things that the photographer will have little to no control over. The portfolio isn't there to show you what your wedding will look like, but rather what kind of story your photographer will create from your day. Consider the style over the substance – cause that's what will be reflected in your images.
2. Analyse the photographer's general approach
From traditional, documentary style, right through to artistic wedding photography – every photographer has a distinct creative approach.
Wedding photographers all have their own unique aesthetics, and will shoot your day according to their signature style. It's super important that you pick someone who aligns with your tastes, so deciding on a style upfront will help to make sure you find the perfect photographer to document your magical moments. 
You might love the color and lighting that one particular photographer uses, but if they only shoot documentary style images and you're after posed shots, they're probably not going to be the right pick for you. 
3. Consider the composition
Composition refers to the way that an image is 'composed', or built up, to tell a particular story. There is a lot of science about what makes a beautiful image composition, but you don't need to worry about that. What you should consider, however is which subjects the photographer tends to make the focus of their shots. Perhaps they focus solely on the bride and groom, perhaps it's the small details of the day, or it could be candid shots of the smiling faces of family and friends. 
There's no right and wrong to how the photographer works with composition to tell a story. You should just ask yourself if it's the kind of story you want to tell about your day.
Make sure that the images are well balanced, not too cluttered, and don't have tons of dead space in them. A good photographer will know how to create images that are pleasing to the eye, and your eye is as good as any to check this.
Not all photographers are able to work with lighting in the same way. If, for example, a portfolio doesn't include any indoor shots with artificial lighting (i.e. party shots on the dance floor), but this is something you definitely want to have in your own wedding photo set, then it's definitely important to ask your potential photographer to see some examples of those kinds of shots.
A lot of photographers tend not to feature this kind of photography on their portfolios (even though they might shoot it beautifully), so make sure you ask to see a complete wedding gallery to get a full picture of the photographer's style and capability. 
All photographers play with light differently. Some prefer really dark and moody images, others bright and airy ones. Each photographer will user light to create a different emotion. So ask yourself how the photographs make you feel, and if this aligns with the vibe you're after for your day.
An important part of wedding photography is being able to make the subjects (aka you!) feel completely at ease. You should forget that the photographer is there entirely. So check the images to see how relaxed and comfortable the couple and their guests look. If they are feel forced or stiff in any way, then this should signal alarm bells.
Whilst these 5 tips will help you to make an informed review of a photographer's portfolio, remember to always speak with the photographer in person before hiring them. It's so important that you have good chemistry together and that you 'click', which is something you simply won't be able to gauge from a portfolio.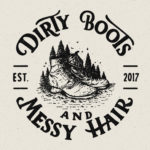 Written by:
Dirty Boots & Messy Hair Team
Connection is what it's all about. Feel free to reach out to us with any comments or questions you might have, even if it's only to say hello. If it wasn't for our beautiful community, this place just wouldn't feel the same.
Wedding Planning
06 Oct 2018